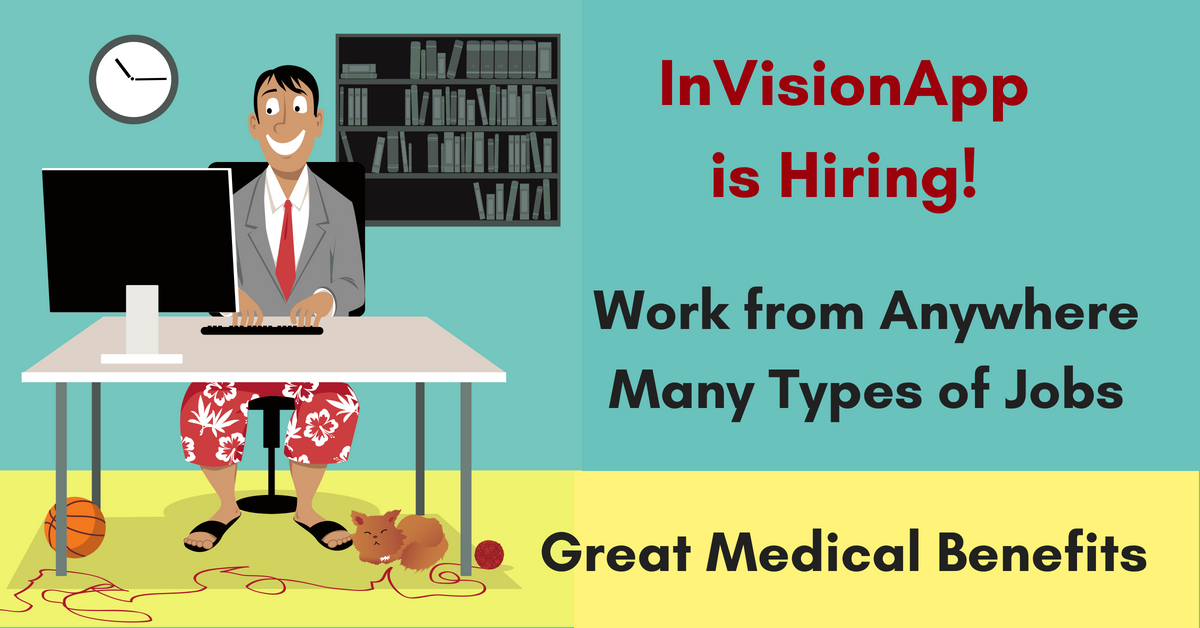 by Chris Durst June 5, 2018
InVisionApp – you may not know their name, but you probably use their products. More than 4 million people—at tens of thousands of companies, including eighty percent of the Fortune 100, and brands like Airbnb, Amazon, HBO, Netflix, Slack, Starbucks and Uber—use them to make their products.
The company has a robust work from home program and they offer great medical benefits. Current and former employees rate the company 4.7 out of 5 stars on Glassdoor.
Current openings include Customer Advocate, Recruiting Coordinator, Problem Coordinator, Customer Success Manager and many more. "Work from anywhere."
Here's a bit more from their site:
Work from Anywhere
Who says you need to move to work at a great company? Not us. We know there's great talent all over the place and we are a completely distributed company. Do great work from an environment that you're comfortable in.
Health & Wellness
We've got awesome medical insurance with broad personal coverage, plus offer free gym memberships to help you stay vibrant and full of youthful vigor. Love your work but don't neglect yourself in the process!
Salary & Options
We are a funded startup with a bootstrap mentality, and we really value our talented team. What's that mean for you? Highly competitive salaries PLUS great options packages that get you in early on what is going to be a bright future.
Learn & Grow
Learning is a lifestyle. We want you to have every opportunity to stay fresh and up to date on the trends and technologies in our industry. Generous equipment allowances and conference/travel budgets for everyone!
Click here to learn more and to apply. For more jobs like these, be sure to check our Newest Jobs & Gigs page. To get our job postings ASAP, like our Facebook page and check your feed for our posts. May you be rocking your Rebellion soon!
PLEASE SHARE this post – turn your friends into Rat Race Rebels!