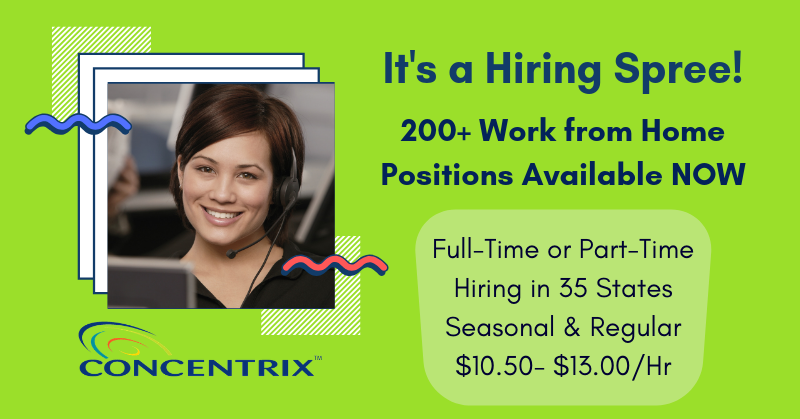 by Chris Durst     Sept. 11, 2019
We just received a call from the Talent Acquisition team at Concentrix and they are excited to announce a HIRING SPREE! They have hundreds of Full-Time and Part-Time Work From Home Representative positions to fill.
That means it's a great time to get on board with a this highly-rated company.
In addition to being featured regularly as a screened, legitimate hiring company on the Rat Race Rebellion site, and receiving great reviews from the RRRebels who work with the company, Concentrix wins praise elsewhere:
Rated 3.4 out of 5 stars on Indeed
Rated 3.7 out of 5 stars on Glassdoor
Ranked in the Top 100 Companies by FlexJobs
Many of the current openings are seasonal, however, in preparing this sponsored post, we spoke with company reps and were told that, whenever possible, Concentrix makes a practice of inviting well-performing seasonal employees to join their team in regular full- and part-time positions.
---
AT-A-GLANCE

Employee or Independent Contractor:
These are EMPLOYEE roles, rather than independent contractor, that means you'll get paid training and there are no fees.
Hiring States:
The company is hiring from these 35 US states: AL, AR, AZ, CO, DE, FL, GA, IA, ID, IN, KS, KY, LA, MI, MN, MO, MS, NC, ND, NH, NM, NV, OH, OK, PA, SC, SD, TN, TX, UT, VA, VT, WI, WV,  and WY. (If you're not living in a hiring area, we encourage you to share this post with family and friends who are.)
Industries Served:
If you crave diversity in your work, you'll find plenty at Concentrix. The company provides services to clients in ten industry verticals: automotive; banking and financial services; insurance; healthcare; technology; consumer electronics; media and communications; retail and e-commerce; travel and transportation; energy and public-sector. Their clients — that is, the accounts you'll be servicing — include 80 Fortune 500 companies.
Pay:
The pay range for these positions is $10.50- $13.00/Hr, with the majority being over the $10.50 minimum. Pay is hourly, not by call or by talk time as with some other companies! Pay is every two weeks.
Benefits:
Comprehensive benefits package for full-time regular employees.
Length of Hiring Process:
Usually just 7 – 10 days.
---
Concentrix has 225K staff members — many of whom work from home and love the way these positions fit into their lives. Here are two testimonials from among hundreds the company has on file:
I found it challenging to find a position I could be available for my children, that is until I heard about Concentrix. I have an 11yr and 12 yr old and it is nice to be working from home as they arrive from school. My family understands and respects my work time and provides a distraction free work environment so that I can focus during my shift. Working from home saves me a ton of money on gas, professional clothing attire and wear and tear on my vehicle to name a few.  – M. Green, Work at home Representative
My husband is in the military and PCS every couple of years, I am truly blessed to find a position I can take my job with me with every move. It gives me comfort that I can provide additional income to my family all while continuing to grow in my career.  – M. Griffin employee at Concentrix
If you're ready to become part of the Concentrix team, click here to learn more and to apply today! The HIRING SPREE won't last long — act quickly, share quickly!