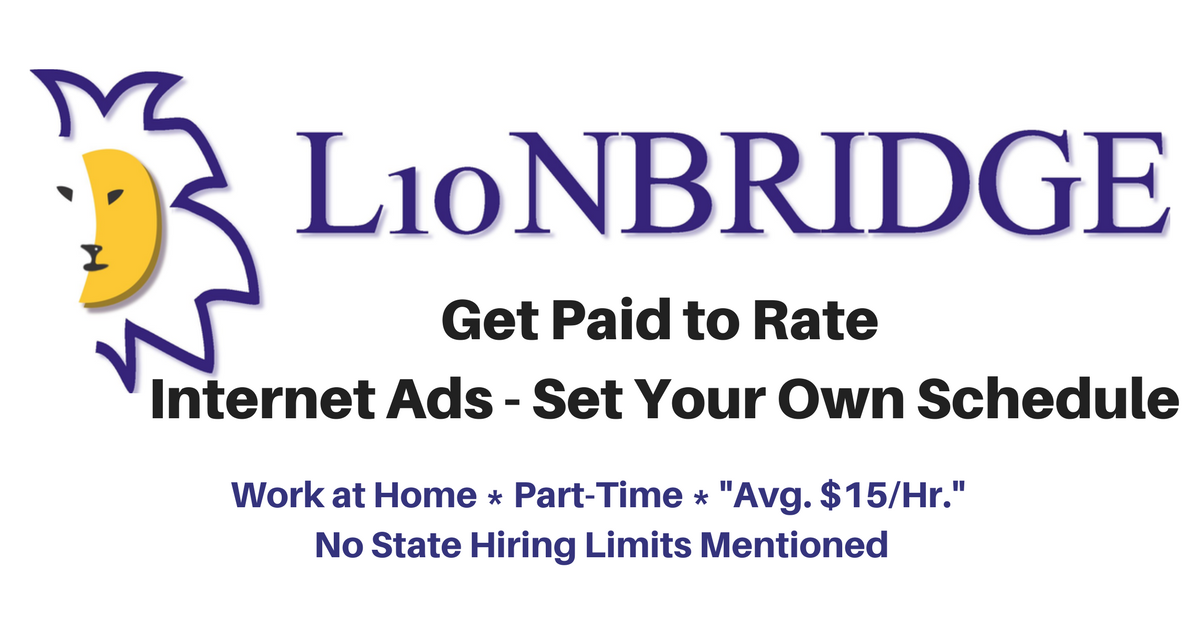 By Mike Haaren – Co-Founder – Sept. 26, 2017
Work from Home Jobs – HS Diploma Needed – Part-Time Ads Assessors – Set Your Own Schedule – "Avg. Pay $15/Hr." per Employee Reviews – No State Hiring Restrictions Given
If you're online often, have a HS diploma, and have been living in the US for the past three years, you may want to have a look at Lionbridge's part-time Ads Assessors jobs.
In a nutshell, using their online tool, you'll be rating ads in search engine results based on how relevant they are to the search terms used.
Tech Requirements
"The majority of the task types will require both a desktop/laptop and a smartphone," the company says. For the smartphone, you'll need to have — or get an inexpensive model of — an Android 4.1 or higher. (If you don't have one, you don't need to spend a lot. You can find good prices online.)




But Be Prepared for Tests
RRR Facebook members often mention the extensive testing that Lionbridge does before it hires. It can be a pain, and I'm no fan of tests myself; in school I messed up every standardized test I ever took. (But then again, as I've always said, I'm not a standardized person.) But looking at it from the company's viewpoint, they want to be sure they're getting people who really fit the job.
And since they're hiring people remotely, where workers may be hundreds or even thousands of miles away, the fit becomes even more important. But I still hate tests, and I sympathize if you do, too.
It can also take a while to hear back from them. A wait time of weeks is not uncommon, and some people have waited months. While you're waiting, keep applying for other jobs and gigs, so you won't have lost time if it doesn't work out. (We always tell folks not to put all their eggs in one basket, even if it's a "dream job." Too easy for those eggs to get broken!)
How Much Will You Make?
The job listing doesn't mention the pay rate, though employee reviews on Glassdoor say it pays an average of $15/hr. However, that's based on only two salary reports, and it's not a starting rate, but an average. So "your mileage may vary." The figures we often hear for jobs like this are $12-$15/hr.
Employee reviews give the company 3.5 stars out of 5 on Glassdoor, and on Indeed as well. That's not the highest we've seen for WFH jobs, but probably a little above average.




To go to the job listing and to apply, click here. For more jobs like these, check our Newest Jobs & Gigs page. To be the first to hear about jobs like these, like our Facebook page. Good luck in your work from home plans!
PLEASE SHARE this post – turn your friends into Rat Race Rebels!