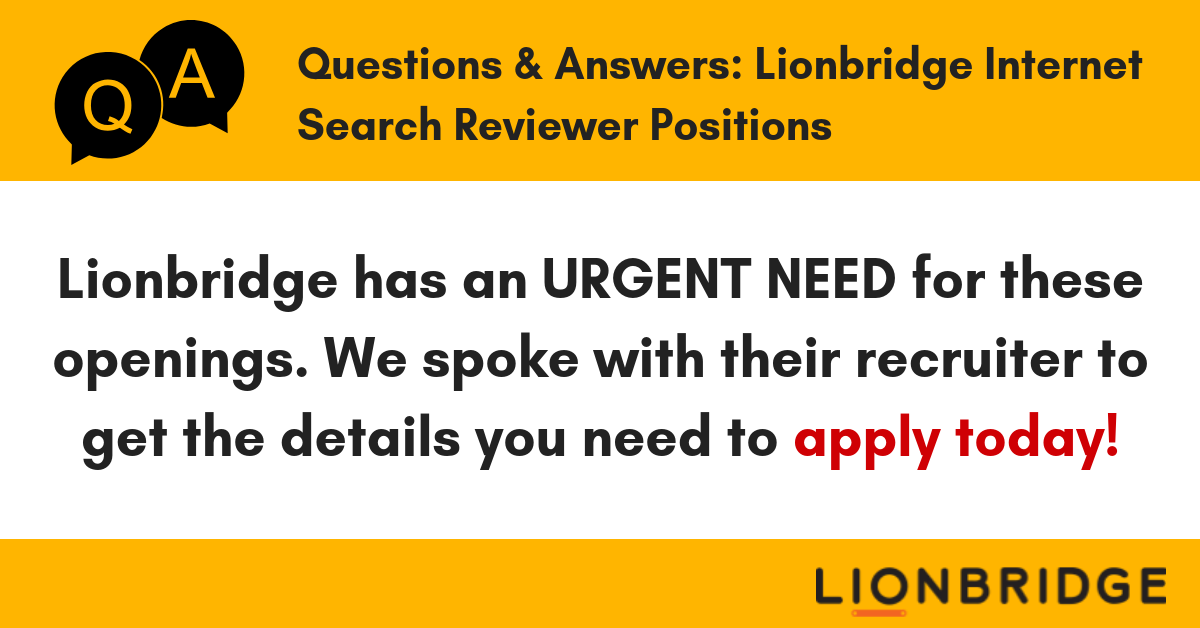 by Chris Durst     Nov. 27, 2018
If you've been following our site for a while, you're likely familiar with Lionbridge. We mention this legitimate company on a regular basis and many RRRebels are working very happily with the company from their homes. (Disclosure — This is one of our rare sponsored posts, and we were paid a fee to write it. We've been mentioning Lionbridge for years for free, but this one's paid.)
Currently, Lionbridge has an "URGENT NEED" for US Android and Desktop Internet Search Reviewers (Reviewers). This makes it an ideal time to get on board with them.
The company is hiring from across the United States, and these part-time independent contractor roles that are 100% work from home.

Since the company is seeking so many people for this role, we reached out to their recruiter, Donna, for more information. Here's what we found out:
RRR: Can you give us a sense of what the US Android and Desktop Internet Search Reviewer role involves?
Lionbridge: In the simplest terms, what you'll be doing is evaluating websites and products using your Android smartphone and your desktop/laptop PC.
Looking at it more deeply, you'll be accessing accessing tasks both "on the go" and from your desktop PC at home using both a custom App on your Android smartphone and your desktop/laptop PC.
You will be evaluating Apps and product quality and online search results in order to improve their content and quality. You will be required to provide feedback on content found in new products and search engine results. You will play a part in improving the quality of one of the largest search engines in the world using both your desktop PC and Android cell phone device.
Ultimately, your work will be to contribute towards making desktop and mobile internet search more exciting, relevant and interesting for all end users in the United States.
CLICK HERE TO APPLY FOR THIS POSITION NOW
RRR: So that our readers will know if they are a good fit, can you tell me who is suitable for this job?
Lionbridge: The ideal candidate is a highly tech savvy Android user who has a familiarity with a wide variety of Apps in the Play Store and a strong interest in all forms of social media.
Gmail plays an important role in executing this role, so it's important that this person is an active daily user of their Gmail Account.
In addition to owning and using a desktop/laptop, candidates should have an Android phone that is updated to the latest OS version (currently v6.0 Marshmallow).
Given the nature of the work, applicants must be familiar with downloading Apps on their Android smartphone and they must also be willing to download certain required Apps through the Android Play Store.
Certain tasks will also require Reviewers to use your desktop/laptop PC in conjunction with your smartphone, so applicants must own a desktop/laptop PC.
CLICK HERE TO APPLY FOR THIS POSITION NOW
RRR: What are the main requirements for the job?
Lionbridge: Here's a list to put it all in one place!
Fluency in written and verbal English
You must own a Desktop/Laptop PC
You must own and use an Android Smartphone (we require users to have the latest OS version currently v6.0 Marshmallow) to complete tasks.
Latest version of the Google Search App installed on your Android cell phone
You must be highly Tech-Savvy and familiar with a variety of Android cell phone Apps
Willingness to download Apps regularly from the Play Store
Gmail must be your primary Email account and used frequently (daily)
Active daily user of Gmail, Google+ and all forms of social media including Twitter & Facebook. Some tasks will be personalized/Social Media based.
You must be living in the United States for the last 3 consecutive years
Experience in use of Android Smartphones and a variety of apps and web browsers to navigate and interact with a variety of content
Some mobile tasks will be accessed through a specific custom App that you will be required to download on your Android cell phone
You must have familiarity with current and historical business, media, sport, news, social media and cultural affairs in the United States
CLICK HERE TO APPLY FOR THIS POSITION NOW
RRR: We have heard from dozens of Rat Race Rebellion followers who are currently working with Lionbridge and loving it so, what's the next step for other RRRebels who want to get on board with your company?
Lionbridge: We are excited to hear from everyone who lives in our hiring area and meets the requirements I mentioned. We have a high demand for US Android and Desktop Internet Search Reviewers right now, so I strongly encourage people to apply as soon as possible – our Recruitment Team members are waiting to hear from you now and we'll process your application as quickly as we can.
PLEASE CLICK ON THIS LINK TO APPLY – https://goo.gl/dzhv7H.
RRR: Any pointers or tips to help streamline the application process?
Lionbridge: Absolutely!
Please complete the application using a DESKTOP/LAPTOP PC rather than a smartphone.
If you've applied in the past, your email address may already be registered with us. If you have any issues submitting your application or receiving a notification that your email address is already registered please contact us @ [email protected] for assistance.
Read and follow the instructions carefully! This is a detail-oriented job and your ability and willingness to follow the instructions in the application phase are taken into consideration as your details are reviewed.
We are unable to offer more than one Internet Search Reviewer position per IP address. So, if someone in your home or using your router is already working with us, we cannot consider you at this time.
CLICK HERE TO APPLY FOR THIS POSITION NOW
PLEASE SHARE this post – turn your friends into Rat Race Rebels!