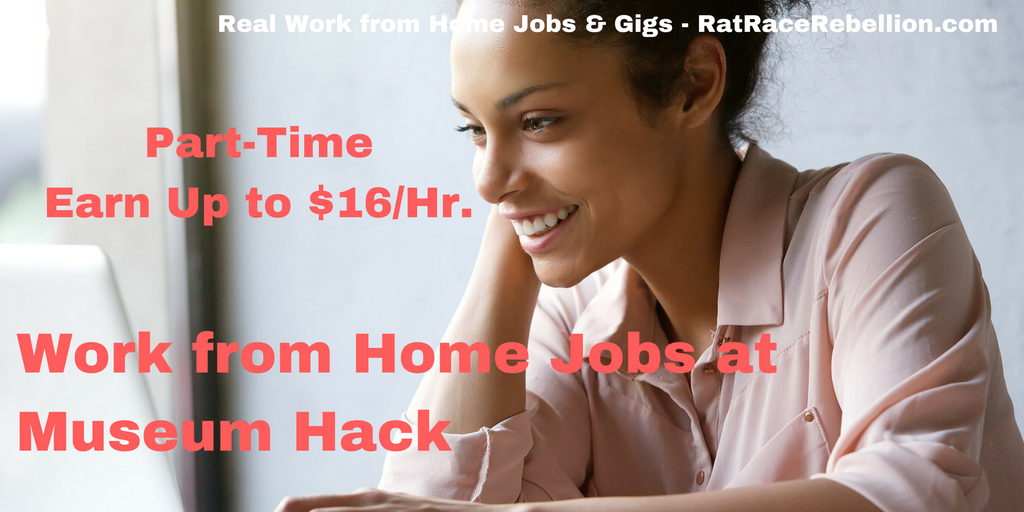 By Mike Haaren – Sept. 21, 2016
Work from Home Jobs at Museum Hack
Museum Hack is a growing young company making a big splash. Their team includes Virtual Assistants and others working from home. They're set on turning museum visits into fun, memorable events.
"We love our Virtual Assistants and remote team. We've flown many of them to NYC for team building," the company says.
Right now, they want to fill these part-time openings. All can be based in the US or Canada. Applicants must be able to work east coast time zone hours:
— Virtual Assistant / Personal Assistant to the CEO: Pay is $13-$16/hr., 10-15 hrs./wk. Requirements include HS diploma or equivalent, at least one year of administrative experience, "one year as a virtual assistant or work-from-home." You can see the CEO, Nick Gray, in this TED talk.
— Remote Marketing Associate: Pay is $12-$15/hr., 10-25 hrs./wk. "We are willing to train you up on our marketing tools and techniques, but you should have a personal website and some social media accounts to show us that you're savvy already."
______________
Get a $5 signup bonus and cash for surveys at Swagbucks, another RRR survey site pick.
_____________
— Remote Sales Support Representative: "No cold calls!" Pay is $12-$16/hr., 10-30 hrs./wk. "Accept and return phone calls to our new customers to answer their questions about our company."
— Remote Sales Representative: "No cold calls!" Pay is $12-$16/hr., 10-30 hrs./wk. Accept and return phone calls to new customers. "You will call future guests who have emailed us to find out what kind of event they would like, and get them excited about coming to the best museums on Earth with us."
To go straight to the jobs, click here. Good luck!
PLEASE SHARE this post – turn your friends into Rat Race Rebels!
BE SURE TO CHECK OUT OUR OTHER RECENT POSTS FOR MORE JOBS