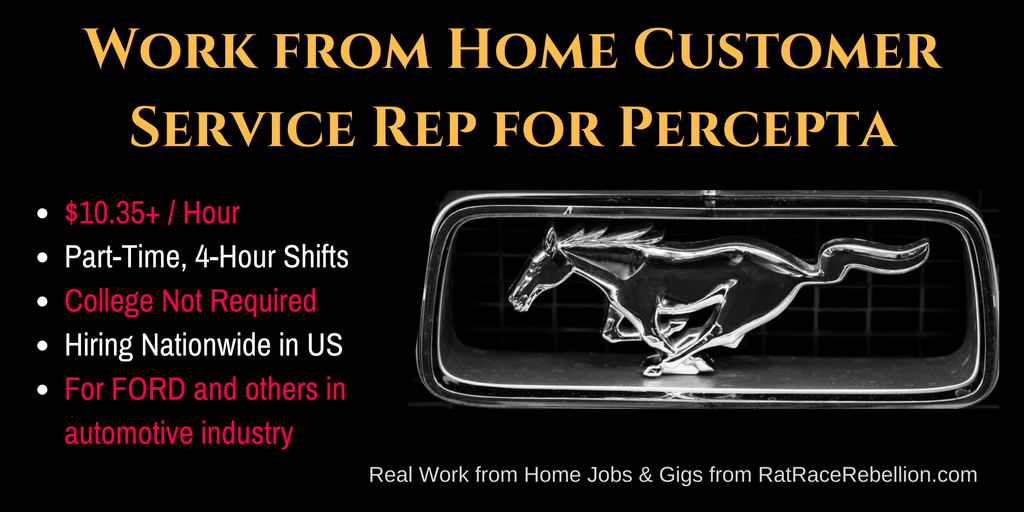 by Chris Durst      Dec. 6, 2016
Percepta, a provider of customer relationship management (CRM) services and solutions to the automotive industry (primarily Ford Motor Company), is hiring Work at Home Customer Care Agents Nationwide in the US.
These are part-time positions and pay starts at $10.35/hour.
From their site:
The @Home Customer Care Representative works under the direct, virtual supervision of the Team Leader and is responsible for providing a timely and professional service in response to a wide variety of inquiries and concerns by using available resources to our US and Canadian retail customers and dealers.  The @Home CCR will learn and execute the complete call handling process, meet expected customer service levels, support business performance goals of the program by providing a full range customer service experience, and answer regular customer inquiries and concerns via telephone, chat, social media and email.  All job functions, trainings, and meetings will be conducted virtually via the CCR's @home resources and tools.

Responsibilities
Promptly processes and answers/resolves customer inquiries, concerns or technical questions, determining the appropriate actions based upon job aids, research, and existing desktop solution tools and taking the appropriate action with utmost priority, speed, and accuracy to ensure service level metrics are achieved and excellent service is provided.
Communicate professional, grammatically correct verbal and written responses to customer inquiries and concerns; educate the customer on client products and services.
Understand use of technology, scripts, and product knowledge. Actively listens to the consumer providing answers, while controlling the call to lead the consumer in an efficient professional manner.
Act as a liaison between customers and dealerships, providing excellent service to both by following up and being organized and knowledgeable.
Handle difficult customer issues and avoiding escalation whenever possible in a positive and professional manner.
Ensure that all customer contacts are properly logged into FMC360, the CRC's contact system, to allow for an accurate historical view of customer's contacts; manage follow-up log and audit documentation of customer files.
Responds to emails received, using the appropriate escalation process.
Use additional resources and escalation points including: diagnostic information, technical manuals, and call history log to find solutions for basic to intermediate level issues.
Master desktop applications, such as FMC360, EyeQ, Intranet, AAF, Search engine, etc.
Follow-up with the customer if required, to ensure the full resolution of the problem.
Employs customer satisfaction (e. g. AWA) tools according to guidelines.
Recommends changes to departmental policies and procedures to improve support services provided to the customer, keeping the Team Leader informed of any issues as they arise.
Attend team meetings, pep sessions, focus groups, and training sessions as scheduled.
Provides recommendations to Team Leader regarding the resolution of recurring problems.
Assists in formulation of problem solving techniques for newly discovered issues.
Maintain exceptional product knowledge as it relates to technical support.
Remains knowledgeable of product and service offerings, current industry products and technologies.
Supports the operations through business processes and practices designed to support employee retention, productivity, profitability, and consumer satisfaction.
Suggest marketing offers to customers during service calls.
Handle additional projects and assignments as directed.
Work from Home Environment
Must be able to provide a quiet, designated space for a home office with a door, free from any distractions and outside noises.
Must provide high-speed internet connection (minimum internet speeds of 2.0 Mbps upload and 10.0 Mbps download).
Must have an existing Personal Home Computer – desktop or laptop approved (no Linux, tablets, Chromebooks, or Apple devices allowed) with the following:

Windows Operating System: Windows 7, 8, 8.1, or 10
4 GB RAM or more
Internet Explorer version 8, 9, 10 or 11 (please contact Percepta Helpdesk for required IE 11 settings)
Anti-Virus software installed and current
Anti-Malware software installed and current
Wired network connection (WI-FI not supported)
Two hard-wired Headsets and one headset cable will be provided, along with a VPN token to connect to the network.

Click here for full details and to apply!
PLEASE SHARE this post – turn your friends into Rat Race Rebels!
[social_warfare]