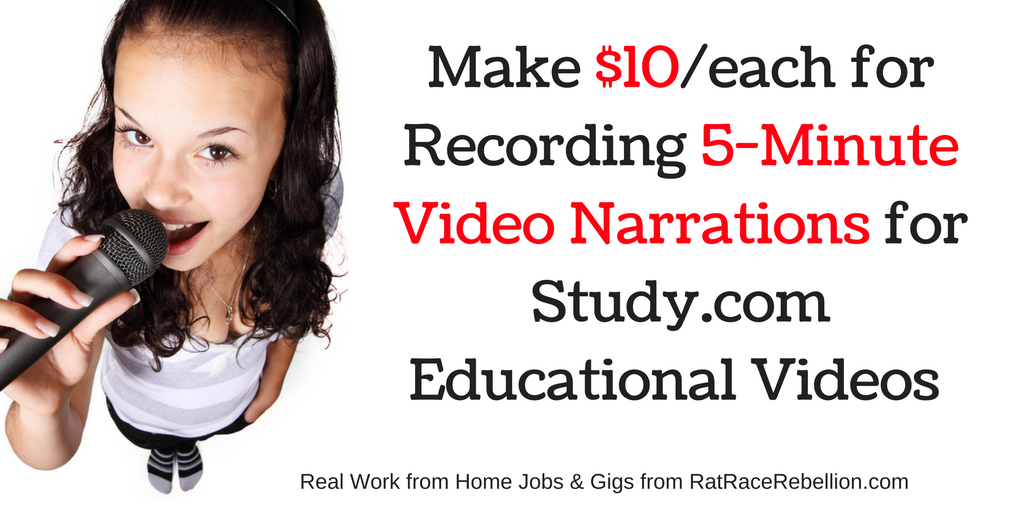 by Chris Durst     Oct. 31, 2016
Study.com is on a quest to make education more fun by creating awesome online video lessons with millions of eager students. At the same time, they're working to lower the barriers to education by making their courses flexible and affordable.
The company is currently seeking Voice Over Artists to narrate their educational videos.
They want people who are passionate and can help them to create a library of short, engaging online video lessons. "The ideal contract voice over artist can sound authoritative on topics that he/she may not be familiar with, and can make even the dullest subject matter sound fascinating. In order to join us on our quest, you must answer these riddles three (just kidding, but you do need to have the qualifications detailed below):
Are you able to produce high-quality, background-noise-free audio?
Do you have strong communication skills?
Do you have your own recording equipment?
Fantastic! Our contract voice over artists will be responsible for bringing our educational videos to life by:
Providing high quality voice-over work for our video lessons
Bringing a wide variety of academic texts to life with clear and engaging narration
In exchange for your services on this quest, we provide:
Payment: Timely, reliable payments twice a month. $10 per narrated video (they're usually ~ 5 minutes long)
Flexibility: The ability to work a flexible schedule, from home, in your PJs at 3 a.m. if you choose
Support: Access to an incredibly supportive in-house team to answer your questions and lend a hand
Warm Fuzzies: The satisfaction of helping millions of students each month on their own quests, whether it's a GED, affordable college credit, or just general enlightenment"
To learn more about this Voice Over opportunity with Study.com click here!
PLEASE SHARE this post – turn your friends into Rat Race Rebels!
BE SURE TO CHECK OUT OUR OTHER RECENT POSTS FOR MORE JOBS