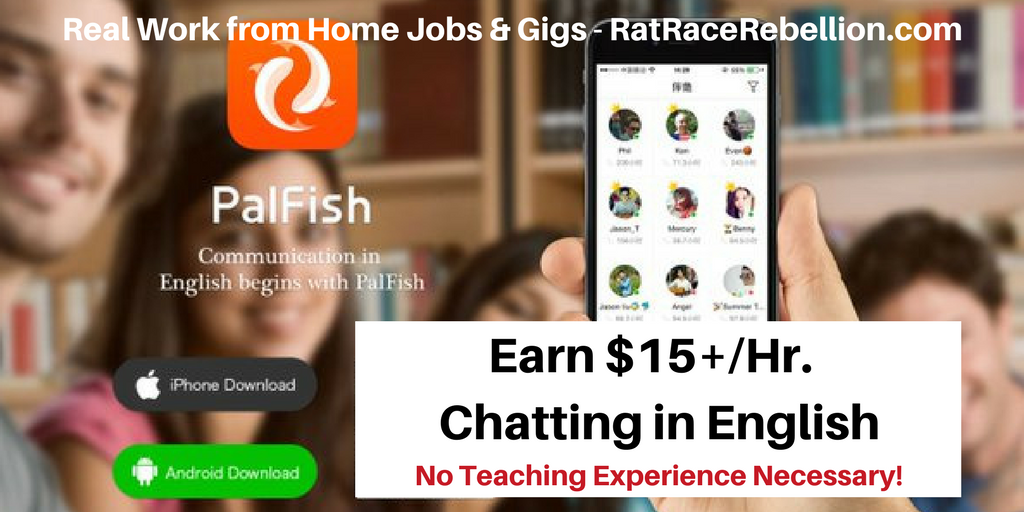 By Mike Haaren – Rat Race Rebellion Co-Founder – Oct. 23, 2018
Work from Home Jobs – Get Paid to Chat with Chinese Students – Hiring Nationwide – No Experience Required – Set Your Own Hours
Millions of Chinese people are learning English (many just for leisure), and they need to practice conversation. Legitimate apps like Palfish pay you to help them. No experience required. All you need is a smartphone and the app, for iOS or Android. Set your own schedule.
"You don't need to have teaching experience; you don't have to be in China. It's basically a flexible part-time job," says the company. You'll need to be proficient in English, but you probably already knew that. Sessions are by video chat.
Pay 
Reportedly, people are charging an average of about $13/hr. However, you can earn $15/hr. or more if you set up a class and teach multiple students at once. Some teachers are charging $30/hr. and are still popular, the company says. (The record for an hour is $290, Palfish says.)
For details, click here and scroll down. Some readers report that iPhone has been giving an "untrusted" message for the Palfish app. However, if you search for it in the App Store and download it from there, it should work fine. (With thanks to Candice M. for the tip!) You can also see Palfish's Facebook page, where many questions are answered. To get the app, click here. If you run into problems with the app or with registering, or have other questions, be sure to check their Facebook posts. Good luck!
PLEASE SHARE this post – turn your friends into Rat Race Rebels!
[social_warfare]