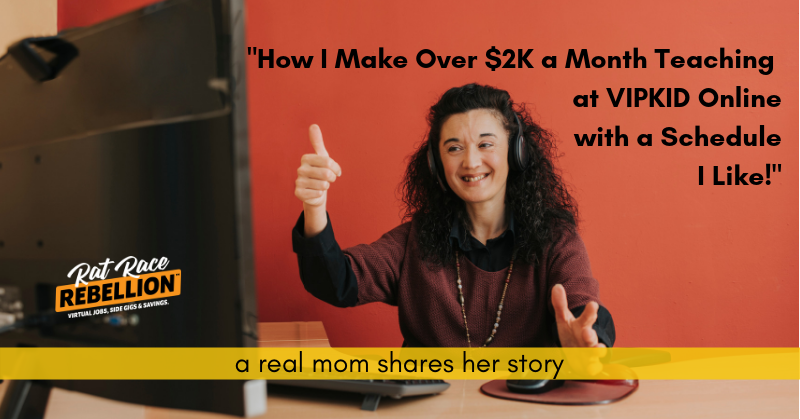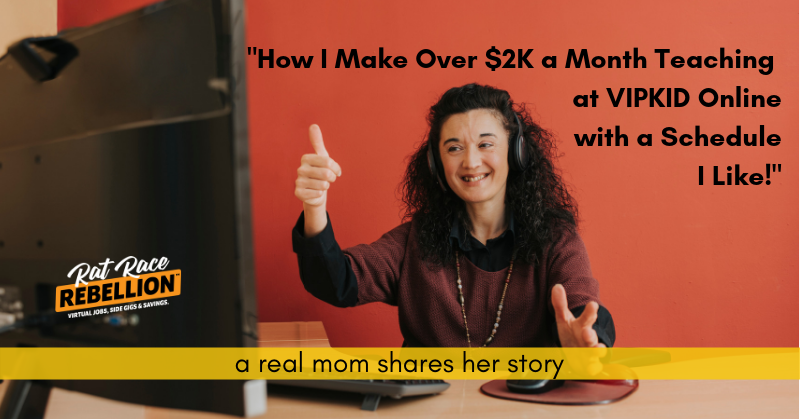 By Mike Haaren – RRR Co-Founder – Updated May 8, 2019
Work from Home Jobs – "How I Make $2,300/Month Teaching at VIPKID with a Schedule I Like" – No Direct Teaching Experience Required – Informal Coaching, Mentoring, Tutoring, Alternative Education is Fine
VIPKID, which pays coaches, mentors, tutors and teachers up to $22/hr. to teach English to Chinese children online, has become a popular work from home side gig. One of our Facebook members, Shawna Phillips, a mom who says she was desperate to stay at home, makes $2,300 a month part-time with VIPKID, with a schedule she likes. (Disclosure – Some of the links here are affiliate links which pay RRR a small fee if you use them. It helps us keep the computers on. Thanks!)
We asked Shawna to explain how she landed the job and what her schedule is like. She also explains how a friend makes $4,000 per month as a VIPKID teacher. Lastly, we asked her to share her tips on getting hired, and the pros and cons of the job.
~*~*~*~*~*~*~*~
How I Landed the Job
I found this job simply googling and doing normal research, as a mom desperate to stay at home. I stumbled upon the job from one of their ads.
For getting hired, here are the main tips, from what worked for me.
1. Be yourself, and don't be shy — go all out during the interview process. There will be a Mock 1 class, and if most people do a great job they will not need to proceed to Mock 2. The second mock class gives you a chance to learn from your Mock 1, to study your material, extra carefully.
2. You must have a bachelor's degree or higher in any field, but "teaching experience" can include teaching your child how to ride a bike, or volunteering at your church. You need at least one year's teaching experience, but this can range from teaching your own child or a child how to tie their own shoe, on up. Another example of teaching can be volunteering at a church, or teaching someone how to ride a bike. With all of those, you are teaching.
3. You must have an excellent internet speed, a laptop, a webcam and a headset.




How I Make $2,300 per Month with a Schedule I Like
I play it smart, adding to my teaching income by recruiting people to the company. [Referral fees vary, but some teachers report $50 to $60 per referral. — Mike]. So my way of making $2,300 is to recruit people to the company, and of course, teach to the students.
I work from 9 pm Eastern, which is 9 am in Beijing, until 3 am or 6 am Eastern. With that being said, it all depends on how many bookings I receive for that month. I always make a new video to keep my bio and profile up to date and to try to receive bookings from new students.
Pay
Pay can range from $14 to $22 per hour. Your application and interview and mock teaching class all determine your pay. Your resume, your skills, your degree and your attitude toward teaching all count. But a lot of the pay has to do with your interview. [For more on pay rates and incentives, see VIPKID's FAQ page, via link on upper right of this linked page. — Mike]
How My Friend Makes $4,000 per Month
My friend, another VIPKID employee, makes $4,000 just working all hours that are available to him from the company, from 9 pm until 730 am Eastern Time, with back-to-back time slots. He works all night and part of the day to earn the $4,000. He works really hard, but says it's worth staying up all night, especially because he's able to stay home with his family.




Pros and Cons of the Job
Pros:
1. Saving gas, not driving to work or staying in traffic to and from work.
2. Picking the time when you want to want to work; and there are no maximum or minimum hours.
3. We get the chance to receive more money, from incentives.
4. You receive extra pay just for finishing a class on time.
5. You receive extra pay just for recruiting people to the company.
6. You receive extra pay, once a potential student has signed up with the company under your name, just from teaching him or her.
7. If you cannot pass your interview or mock class, you can still make a new email address and reapply.
8. The best part is the fact that you get to know your students and create a special bond. Hearing one of the students say, "I Love You Teacher" melted my heart.
9. You will receive training to get you geared up and ready, and a mentor who will coach you and guide you.
Cons:
1. You can only have so many cancels with the company. Once you reach your max, you're out.
2. You can only receive so many "bad apple" ratings from a parent. The apple rating ranges from 1-5, 5 being the best score.
3. You must compete with other teachers to receive more bookings.
4. You can't be late for a class; you'll lose parents who are trying to book you.
5. If you cannot work on the students' time, this is not for you.
6. If you have barking dogs or other pets that will distract you, or distract the students, then this is not the job for you.
7. It will be quite difficult to work when you have babies, trust me; I've seen it all, and it has happened to a former employee.




To go straight to the job, click here. For more jobs and side gigs, check our Newest Jobs & Gigs page. To be the first to hear about jobs like this, like our Facebook page and check your feed for our posts. May you be working from home soon!
PLEASE SHARE this post – turn your friends into Rat Race Rebels!
[social_warfare]