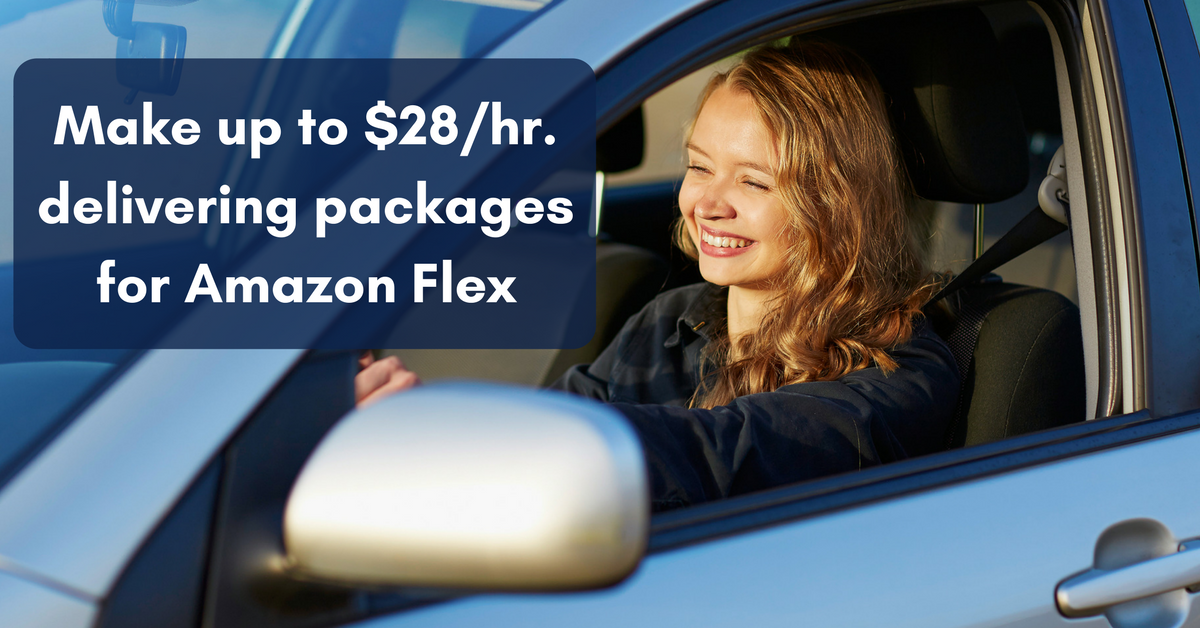 By Mike Haaren – Rat Race Rebellion Co-Founder – April 17, 2018
Work from Home Jobs & Side Gigs – P/T Amazon Flex Drivers Needed
Update June 29, 2018 — Since we wrote this, Amazon has changed its hiring locations, which it does often. San Francisco — which is where Drivers were reporting $28+/hr. — is no longer on the list.
As of today, hiring areas include:
Baltimore
Boston
Indianapolis
Long Island
Philadelphia
Pittsburgh
New Jersey
New York City
***
If you'd like to make $18-$28+ an hour delivering packages, groceries or restaurant orders locally in your own car, Amazon Flex continues to hire. Set your own schedule. These jobs are much like earning extra cash driving for UberEats, though UberEats is restaurant orders only.
No Car? Check Lyft
If you don't have access to a car, Lyft has an unlimited miles rental program — "personal use OK" — with Hertz and Flexdrive. Right now, it's available in these cities:
Austin Atlanta Baltimore Boston Chicago Dallas/Fort Worth Denver Houston Las Vegas Los Angeles Miami Nashville New Orleans Orange County Orlando Philadelphia Phoenix Portland San Diego Sacramento San Francisco San Jose Tampa Bay Washington, D.C.
For details, sign up here (this is our affiliate link, and we'll earn a small fee to keep the computers on if you use it). Then see the "Vehicles" tab of your Driver Dashboard and tap the "Rent a Vehicle" button.
Bear in mind that it's still not certain that the Lyft program's definition of personal use includes things like Amazon Flex and other delivery jobs. I've reached out to Lyft but haven't heard back yet. Will update here when I do.




My Experience with Amazon Flex Drivers
I ordered things from Amazon regularly when I worked from home in Fairfax County, Virginia. With the nightmare traffic and my work schedule, it often made better sense to order stuff — office supplies, clothes, even groceries — from Amazon. Flex drivers would often make the deliveries. They'd bring things right to my door, and I'd give them a cash tip.
How Much are the Tips?
Cash tips are a definite plus, since they can go on top of the "recommended" tip that Amazon automatically enters on the customer's order. That tip is $5 or 10%, whichever is greater. Experienced drivers say you should expect to make about $3-$5 an hour in tips, in addition to your hourly rate.
But where you are driving counts, too. The best cities for tipping generally are Denver, Chicago, Tampa, Atlanta, and Austin, surveys say. The worst states are Delaware, Hawaii and South Dakota.
Who Are "Typical Flex Drivers"?
The drivers I met were everyday people, young and older, men and women (fewer women) driving their own cars. The drivers seemed to like the job all right, though of course they wouldn't necessarily tell a customer if they didn't.
The job's not for everybody — you have to not mind driving, and there's wear and tear on your car (unless you're driving a rental.) And I'm sure customers aren't always easy to deal with, either, though that's true for any customer service job. Flex Drivers on Glassdoor give it 2.4 to 2.6 stars out of 5, and 3.4 on Indeed.


Hiring Cities
Amazon says Flex is available now in over 50 cities and states. These range from Atlanta and Akron to Utah and Virginia Beach. They include the San Francisco Bay area, which is where Drivers reportedly earn an average of $28.18/hr. For the full list, click here. If your location isn't included, you can earn cash driving for UberEats, as mentioned. You can also sign up for Amazon's waitlist here. It's steadily expanding to more cities, so keep an eye on your inbox.




Requirements
Besides a vehicle, requirements include a background check and smartphone. Android and iPhone are both OK per Amazon's FAQs  — Android 6.0 or newer, iPhone 5 or newer. (If you need an Android for your city, there are low-cost models available, if your budget permits. And for $18-$28 an hour, a phone upgrade may be worth it if you have an older model.)
You'll use the app to reserve blocks of time when you want to work. Some blocks will be busier than others, and the same goes for cities.
Payment 
Payment is on Tuesdays and Fridays, by direct deposit to your bank account. "Payments typically appear on the next business day," Amazon says.




To go to the jobs, click here. For the FAQs, click here. For more jobs like these, check our Newest Jobs & Gigs page. To be the first to hear about jobs like these, like our Facebook page. Good luck in your side gig plans!
PLEASE SHARE this post – turn your friends into Rat Race Rebels!
[social_warfare]