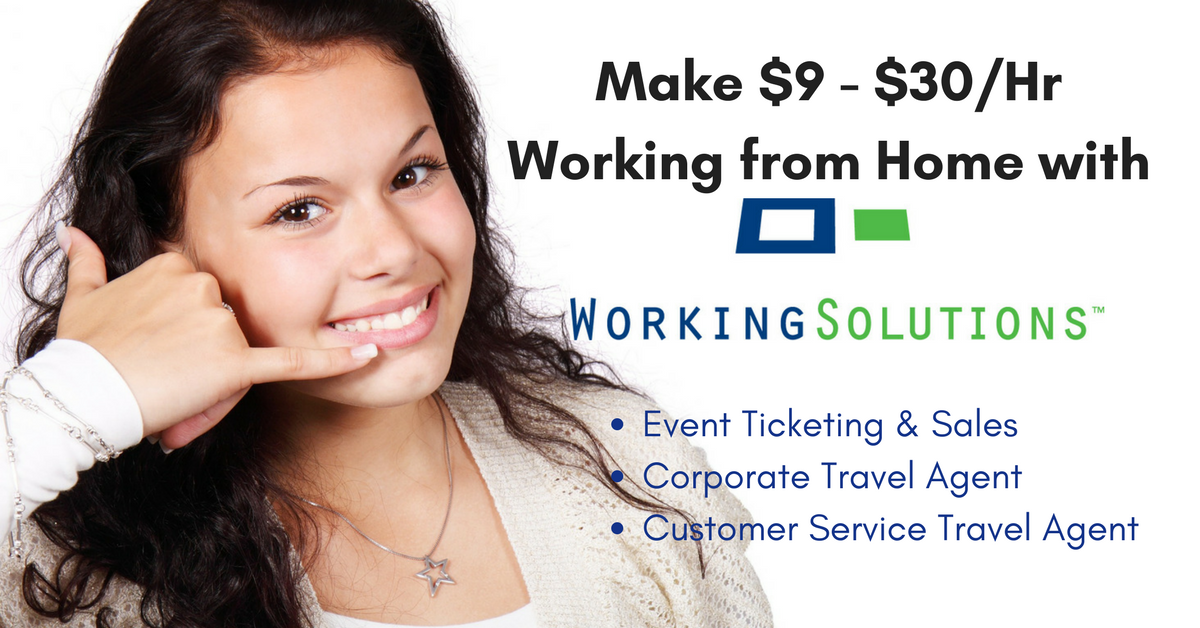 by Chris Durst     July 31, 2017
Working Solutions is not new to the "work from home" arena – they've been around since 1996 and they have a great reputation. On Glassdoor, the company has been reviewed by 420 people and they rate the company 4 out of 5 stars.
Note: Working Solutions is currently not accepting applications from candidates residing in CA, NY, PA or WA.
Currently, they have a number of positions available, including Event Ticketing & Sales, Corporate Travel Agent, and Customer Service Travel Agent (also available in bilingual French).
COOL PLUS – I just spoke with a rep from Working Solutions regarding the Travel Agent roles, and she said, "They don't have to have any formal training as a travel agent – we will train them just need good customer service skills."
The company works with a group of qualified independent contractors who handle customer service and sales for a wide variety of clients. (If you are not sure about the differences between being an independent contractor and being an employee, please take a few minutes to watch our video explaining the two.)
As a new contractor with the company, you'll need to work for at least 50 hours on one program before you can put in for additional work on other programs. After that, according to Working Solutions, "agents are typically eligible to work on two programs at once."
Regarding pay, they state on their site, "Each program is paid differently. Some pay by the record or entry, while others pay by talk minutes, sales, or a combination of both. Some agents may be paid a set amount per program. Agents have earned the equivalent of anywhere from $9 an hour to $30 an hour, depending on the program. Your income will vary, based on the work you are doing, your performance, how much work is available, and how much time you put in."
Remember, as an independent contractor, the work may ebb and flow – with many hours available during peak seasons and fewer hours available during slow periods.
Click here to see their current job listings and here to see their FAQ for answers to any questions you may have. For more jobs like these see our Newest Jobs & Gigs page. To be the first to hear about jobs we post, like our Facebook page.
PLEASE SHARE this post – turn your friends into Rat Race Rebels!