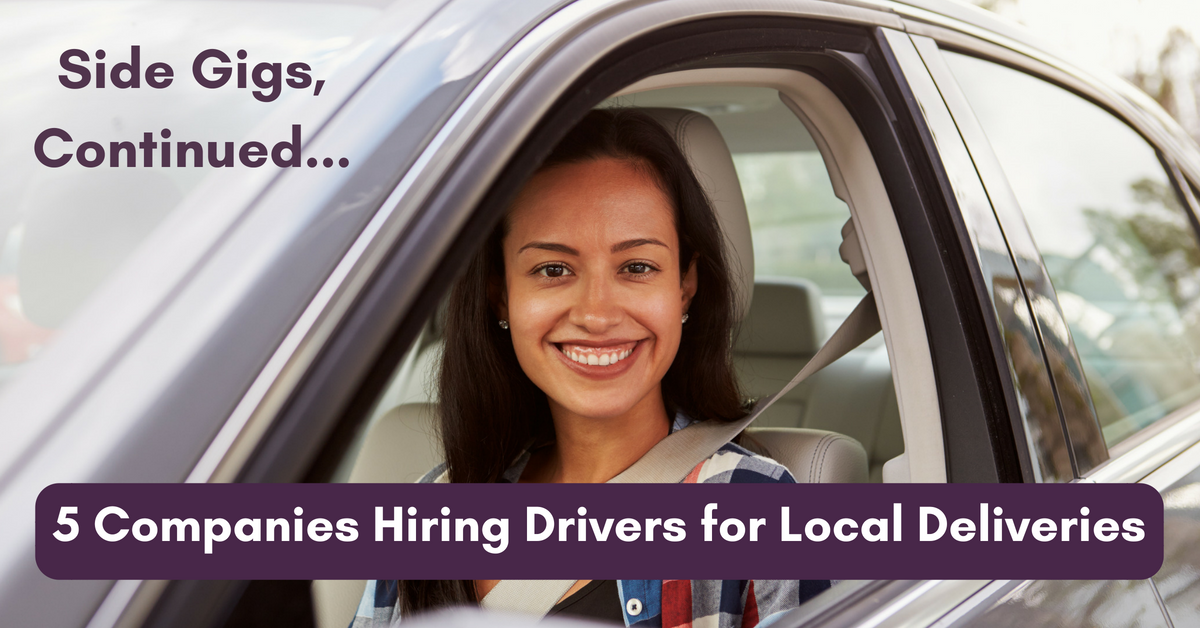 By Mike Haaren – Rat Race Rebellion Co-Founder – May 15, 2018
More and more people are ordering online and asking for home delivery. Everything from Chinese food to groceries to gardening gloves. Many of the deliveries are being made by everyday folks with a car. No special training, no fancy whip, no sales involved. Just get the goodies from point A to point B.
If you've got a car and are looking for a side gig, this might be a fit. And you can set your own schedule, as well. But when you're looking at the hourly rates the companies or other drivers mention, don't forget to take your costs into account. Gas, insurance, wear-and-tear on your car. Some gigs will be a better deal than others.
Two of the most popular options are Amazon Flex and UberEats. But there's also Shipt, Postmates, Deliv, and others.
Amazon Flex
Amazon Flex reportedly pays between $18 and $28/hr., depending on where you live. Amazon says Flex is available now in over 50 cities and states. These range from Atlanta and Akron to Utah and Virginia Beach. They include the San Francisco Bay area, which is where Drivers reportedly earn an average of $28.18/hr. For more on Amazon Flex, click here.
UberEats
If you have a reliable car (or a bike or scooter), UberEats could be a good option. Uber is expanding its UberEats service across the US, and needs Couriers to make it happen.
You're probably familiar with Uber, and maybe you've taken a ride with an Uber driver. UberEats is a bit different, since drivers take meals to customers rather than driving people. This is why the car requirements aren't very strict. Just about any vehicle will do. Hourly pay varies widely, depending on where you live, whether "surge" and "boost" rates are in effect, how you manage your orders, etc. To find out more, click here.




Shipt, Postmates and Deliv
As I mentioned, the list of driver gigs is growing steadily. I'll highlight some of the ones we've written about, with links to the posts for more detail. Stay tuned for more options as the "home delivery" trend continues to grow!
Shipt
Shipt, which is owned by Target, pays up to $25/hr. for people to shop for groceries and deliver them locally. Overall income depends on how active you are. Some folks have done over 20 shops per day, which is good income but an awful lot of shopping! But you don't have to shop that often; it's up to you. For more on Shipt, click here.
Postmates
Postmates is another legitimate side-driving option. They pay up to $25/hr., plus tips, the company says, though the average appears to be about $10-$15 — depending on location, surge pricing, etc. You'll be taking food or merchandise to local folks on your own schedule. Pay is by direct deposit 4-7 business days after the delivery. For more on Postmates, click here.




Deliv
Deliv is hiring Drivers to make local package deliveries. Pay reportedly ranges from $14 to $20/hr., with an occasional mention of higher rates. However, in the driving gigs we've seen, higher rates usually take awhile — you have to learn to "work the system" — and sometimes they apply only to certain big cities.
Deliv also pays Drivers a "Time on Task" rate, which reportedly varies. But Drivers say that if you book a block of time and don't get any deliveries, you'll still get paid one-half of your Time on Task rate. For more on Deliv, click here.
For more side gigs to choose from, see our Newest Jobs & Gigs page. To be the first to hear about the gigs and jobs we post, like our Facebook page. Our FB members also generously share tips on what it's like to work for different companies, and they offer to make referrals to their employers, too. These can can really help when you're applying for a job. Good luck in your next steps!
PLEASE SHARE this post – turn your friends into Rat Race Rebels!