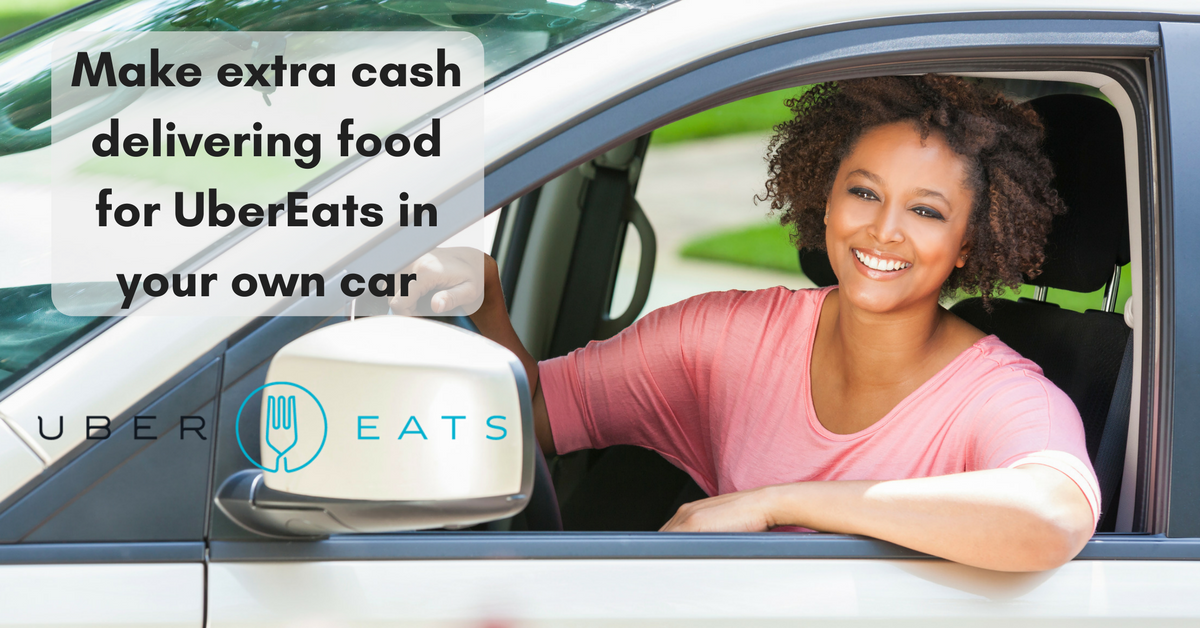 By Mike Haaren – Rat Race Rebellion Co-Founder – Updated June 29, 2018
If you have a reliable car (or a biker or scooter) and you'd like to make some cash on the side, UberEats could be a good option. Uber is expanding its UberEats service across the US, and needs Couriers to make it happen. (Disclosure – This post includes affiliate links, and Uber will pay us a small fee if you use us to sign up with them. Helps us buy Cheez-Its for the rebellious rats here. Thank you!)
You've probably heard of Uber by now, and maybe even taken a ride with an Uber driver. UberEats is a bit different, since you're driving meals to customers rather than people to places. This is why you don't need a late-model car for UberEats, as you would if you were driving people with Uber. Just about any vehicle will do. To find out more now, click here.




How Does It Work?
Just as regular Uber Drivers do, you'll have an app that you'll log into when you're ready to start delivering. UberEats is available 24/7, and you can choose when you want to work. Orders will come in on the app, with the location of the restaurant for pickup and other details. You can decide whether you want to accept any order; it's up to you.
How Much Can I Make?
Hourly pay varies widely, depending on such factors as the metro area, whether "surge" and "boost" rates are in effect, how you manage your orders, and tips. (Keep in mind, too, that you'll have expenses like gas, car maintenance and insurance.) Tipping was a sore point with many Couriers — earlier policies discouraged it — but Uber has since changed course and made tipping easier. But much will depend on your metro area and the types of customers you're serving.




Couriers do say you can easily increase your earnings by working during surge times — busy periods around lunchtime and dinner. Another strategy is to wait to turn on the app — which tells Uber you're available for orders — until you're in an area with a high density of restaurants, and lots of people living not far away (more orders with less driving distance).
For more detail and to apply, click here.  For more on becoming a Driver with Uber and delivering folks rather than food, click here. For more gigs like this, see our Newest Jobs & Gigs page. Happy Driving!
PLEASE SHARE this post – turn your friends into Rat Race Rebels!