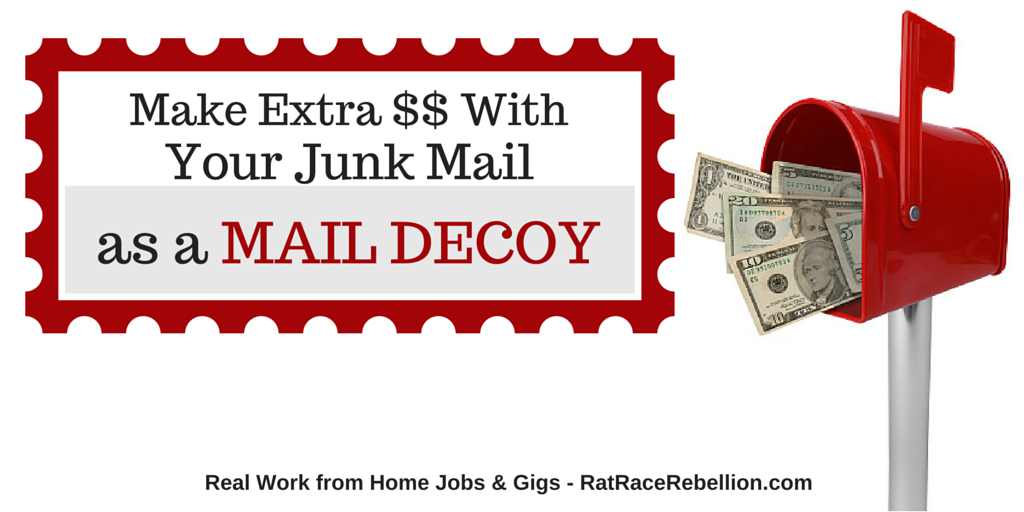 by Chris Durst    July 22, 2016
When companies pay to have marketing pieces sent out via bulk mail, they want to make sure the mail is sent out when it was supposed to and that it arrives in good condition.
Enter the MAIL DECOY!
A mail decoy agrees to be included on certain mailing lists and then, when they receive the expected pieces, they mark the date on each piece and enter it in the website. Decoys are usually asked to save the mailings for a specific period of time and may occasionally be asked to forward certain items to the company.
Here are three companies you can sign up/apply with:
ReportEZ
This one is run by IBM. They have been contracted by the USPS to measure how they perform.
If you qualify to participate, you will be sent a handheld scanner that plugs directly into your personal computer. You will use this scanner to scan certain barcodes on the mail which you want to report onto their website.
For compensation, you will accrue points each month which can be redeemed at retailers across the nation via the Corporate Rewards Program.
---
US Monitor
This company pays $10/month, plus .25 cents per mail item processed. They do insist that mail be processed on the day it's received.
I like this one because even though you aren't guaranteed to receive mail, you'll still get the $10 a month!
---
---
The Hauser Group
Pay is only about .10 cents per item received and logged and they pay three times annually. That's a long wait in between payments but, at .10 cents per item, it takes a while to build up enough to make sending a check worth the cost. 🙂
BOTTOM LINE
You won't get rich being a mail decoy but, if you're going to receive junk mail you may as well get paid for it!
PLEASE SHARE this post – turn your friends into Rat Race Rebels!
[social_warfare]
BE SURE TO CHECK OUT OUR OTHER RECENT POSTS FOR MORE JOBS