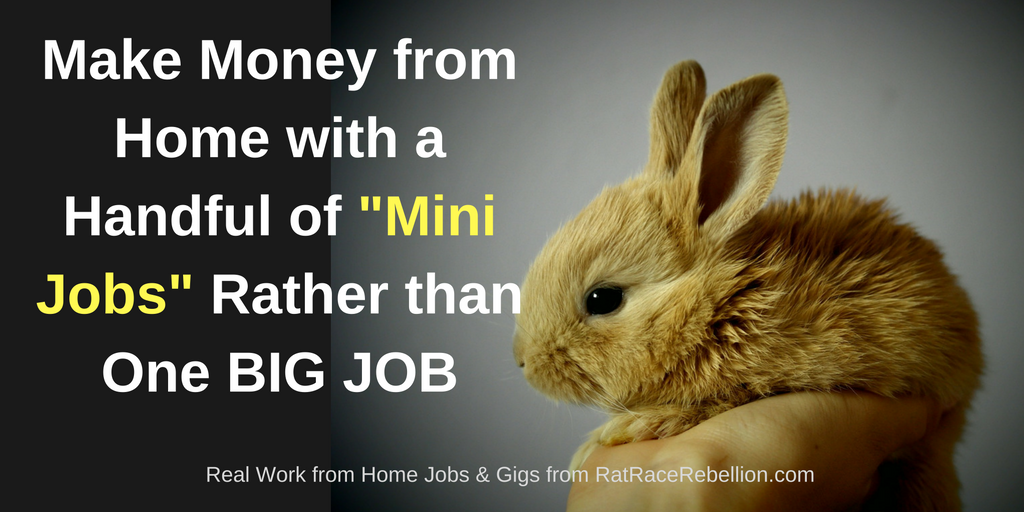 by Chris Durst Nov. 12, 2016
For many people, finding a work from home job that fits their lifestyle needs (or preferences) can be really difficult. The reasons are different for each person, but may include the need for:
a lot of flexibility
unusual hours
work that can have background noise
work that doesn't require a landline phone
work that doesn't require a college education
work for someone who has a limited skill set
work that can be done with interruptions
Whatever your unique needs are, you may find that grabbing up a handful of "mini jobs" is a great way to bring in some income while you look for your ideal job (or as your regular source of income if you prefer)!
The jobs are mini, but the income doesn't have to be.
Here are a few resources to get you started on your way to your own "mini Rat Race Rebellion!"
Artistic
CafePress
---
Review Music
---
Review Websites
---
Performing Various Tasks
---
Mystery Shopping (Yes, there is such a thing as legitimate mystery shopping.)
---
Drive People, Drive Stuff
Uber (RRR receives a fee from Uber if you use this link to sign up and drive. We used to recommend Uber for free. Now we've added the link.)
---
These are just the tip of a VERY LARGE, VERY DIVERSE iceberg!
Check out our BIG LIST of Work from Home Jobs & Gigs – sort by "Job Type" and you'll find hundreds of great options!
PLEASE SHARE this post – turn your friends into Rat Race Rebels!