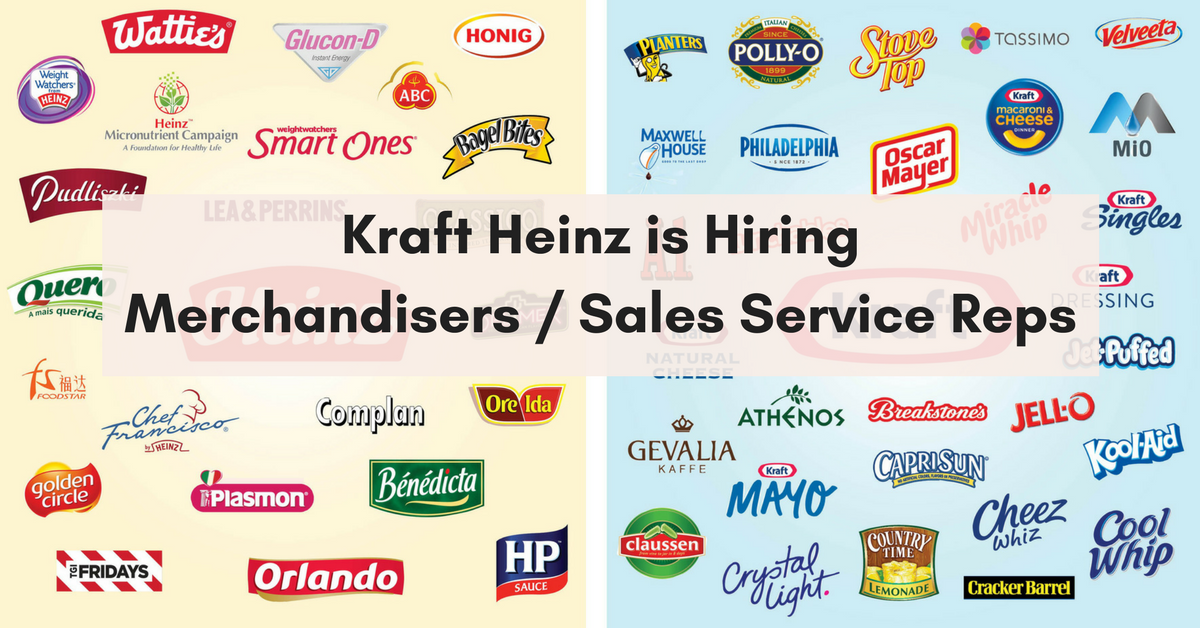 by Chris Durst    May 9, 2017
NOTE: This job requires that you visit local stores, but all paperwork will be managed from your home office – making this a work FROM home as opposed to a work AT home position.
Kraft Heinz Company produces some of the best-known brands in the US and around the world, including Kraft, Velveeta, Oscar Mayer, Jello-o, Kool-Aid, OreIda, Smart Ones, Philadelphia, Bagel Bites, Lunchables, Planters, and more.
The company represents over $29 billion in revenue and is the 3rd largest food and beverage company in North America. Here's your chance to get a slice of that $29 billion. 🙂
The company is now hiring  Part Time Sales Service Representatives (SSR) – commonly referred to as "Merchandisers."
The position involves visiting local stores and setting up and maintaining the Kraft Heinz displays and product shelves. You'll be rotating the stock, making sure pricing is correct, and reporting problems and opportunities back to the company.
The company does not list the pay, but our research indicates it's between $11 – $14 per hour.


Here's how the company describes the opportunity:
The SSR position is designed to properly fulfill merchandising needs of our customers. Areas of focus for this open role will include effectively merchandising Kraft Heinz portfolio of products and helping to bring the brands vision & strategies to life in-store while also helping to deliver against the annual business targets. The SSR will be responsible for building and maintaining neatly merchandised displays and shelves, maintaining full shelf conditions, managing properly rotated stock, assisting with shelving resets and ensuring accurate price tags / POS are in place for all departments. The SSR will also be responsible for identifying and communicating individual store problems and opportunities to the appropriate Kraft Heinz personnel.
Further, this role will be responsible for maintaining a timely and accurate call schedule for the assigned store territory.


Key Components of the role
Provide customer with neatly merchandised displays and shelves, maintain full shelf conditions, properly rotated stock and accurate price tags/POS in all departments.
Provide support during shelf resets for assigned stores.
Maintain a timely and accurate call schedule.
Establish and maintain a rapport with key store individuals and Kraft Heinz Customer Business Team.
Identify and communicate individual store problems and opportunities to the appropriate Kraft Heinz personnel.
Click here for full details and to apply. For more jobs like this, see our Newest Jobs & Gigs page.  To be the first to hear about jobs like this, like our Facebook page. Good luck in your work from home plans!
PLEASE SHARE this post – turn your friends into Rat Race Rebels!