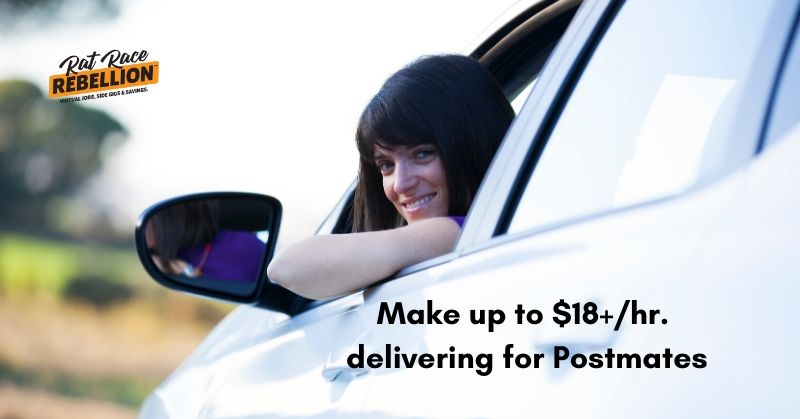 By Mike Haaren – Rat Race Rebellion Co-Founder – Jan. 15, 2020
Extra Cash/Side Gig – Make Local Deliveries in Your Car for Postmates (Bicycle, Car, Foot, Motorcycle, Scooter, Truck, or Van)
If you're looking for an extra-cash gig, Postmates continues to hire Couriers to make local deliveries in their own cars. You'll be taking food or merchandise to customers on your own schedule. Pays a median of $19/hr. during peak times, the company says, though the average range appears to be about $9-$15 — depending on location, surge pricing, etc.
Requirements
Insured vehicle
Cell phone for the app (Android or iOS)
Pass background check
Be 18 or older
Tips for Maximizing Your Pay
If you decide to become a Driver, there are ways to increase your pay. For example, stacking up your deliveries to minimize drive time, or going to "hot spots" — locations where a lot of deliveries are being made. Using an app like Waze can also minimize your travel time. And experts say that if you actually give the customer the receipt for their order, you'll be much more likely to get a good tip.
Active Metro Areas / Where to Apply
For details and to apply, click here. Postmates is active in hundreds of metro areas across the US. For the list, click here and click on "View More." For Driver FAQs, click here. For more tips on boosting your pay, see this article on Ridester, a site that specializes in on-demand Driver content — 11 Unique Tricks for Earning More Money as a Postmates Courier. It's a bit dated now, but still useful. For more jobs like these, check our Newest Jobs & Gigs page. Good luck in your rebellion!
PLEASE SHARE this post – turn your friends into Rat Race Rebels!
[social_warfare]