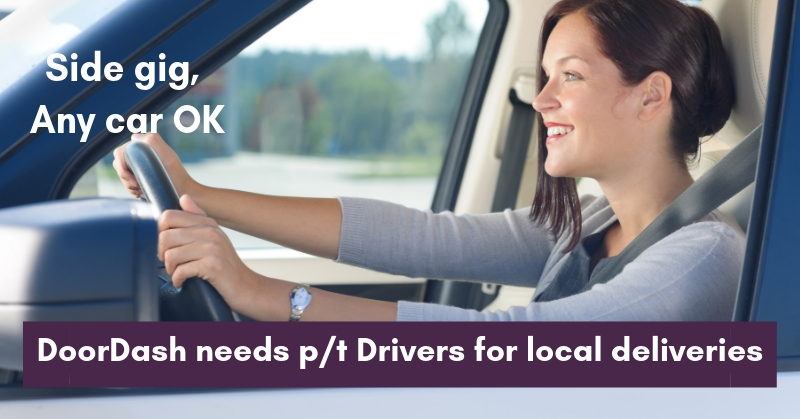 By Mike Haaren – Rat Race Rebellion Co-Founder – June 4, 2019
If you're looking for a side gig, DoorDash — like Amazon Flex, Postmates and Deliv — pays people to make local deliveries in their own car. Any vehicle will do, and insurance is provided. The goods are usually food orders (as with Uber Eats, included in a banner below).
DoorDash is currently available in over 800 cities in the US and Canada, so this is just a sampling.
Albuquerque
Anchorage
Arkansas
Atlanta
Austin
Birmingham
Boise
Boston
Calgary
Central Illinois
Charlotte
Chicago
Cleveland
Dallas
Denver/Boulder
Des Moines
Detroit
East Tennessee
Edmonton
El Paso
Evansville
Grand Rapids
Greenville
Hawaii
Houston
Indianapolis
Jackson
Jacksonville
Kansas City
Kentucky
Las Vegas
Memphis
Miami
Milwaukee
Minneapolis
Nashville
Nebraska
New Orleans
New York
Northern California
Northern Indiana
Ohio
Oklahoma
Orlando
Ottawa
Philadelphia
Phoenix
Pittsburgh
Portland
Raleigh-Durham
Reno
Richmond
Salt Lake City
San Antonio
Seattle
Shreveport
South Texas
Southern California
Spokane
St. Louis
Tampa
Toronto
Upstate NY
Vancouver
Virginia Beach
Washington, D.C.
Wichita
How It Works
DoorDash is an on-demand delivery service that lets people order food from restaurants across the US and Canada. Everything's done by app. Part-time Drivers log onto the app when they're ready to work, accept the orders they want and deliver the eats.
Pay
DoorDash ads say you can make up to $25/hr. But that appears to be more likely in higher-paying areas like San Francisco, and whether you're delivering during peak times. (The average pay seems to be around $12/hr.) It will also depend on how well your customers tip, which depends in large part on the city, the customer, etc. For a rough idea on tip rates by state (including DC), see this study. (HI and DC are the worst, MS, IA, KY, AK, IN, DE, WV, AZ, ID the best.)
Here's what the company says about pay: "DoorDash will show you the guaranteed minimum you'll earn for completing a delivery before you choose to accept or reject that order. The guaranteed minimum is based on a variety of factors including the size of the order, whether you have to place the order in person, and the projected driving distance, traffic, parking, and wait time at the store."
You can find more on pay here. Payment is weekly by direct deposit to your bank account.




As with all delivery jobs, you'll also need to subtract gas and car maintenance from your pay. DoorDash provides insurance to Drivers (for damage to other vehicles and third-party personal injuries), which is unusual. As with other delivery companies, you'll be an independent contractor (no taxes withheld) rather than an employee.
What You'll Need
— an iOS or Android smartphone
— a vehicle (any will do)
— pass a criminal background check
— be at least 18
— have a clean driving record




For details and to apply, click here. For more jobs like these, check our Newest Jobs & Gigs page. To be the first to hear about jobs like these, like our Facebook page. May you be side-gigging and earning extra cash soon!
PLEASE SHARE this post – turn your friends into Rat Race Rebels!