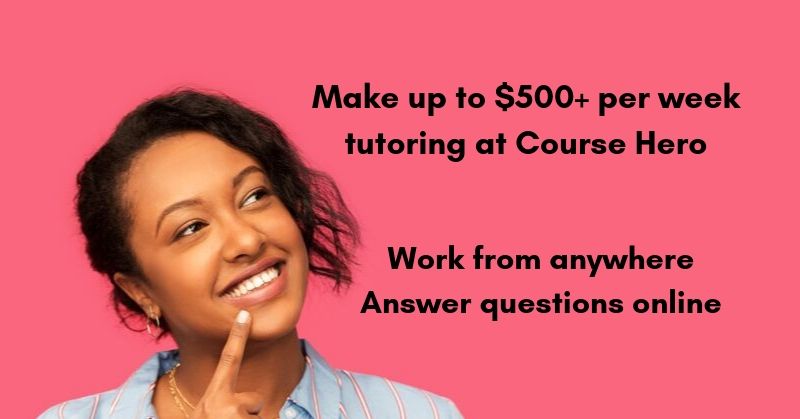 By Mike Haaren – Co-Founder Rat Race Rebellion – Updated Oct. 9, 2020
Disclosure – Some of the links below are affiliate links, which pay RRR a small commission if you use them. Helps us keep the computers running. All products or services have been verified and/or used by us. Thanks!
If you're looking for a flexible non-phone side gig, Course Hero might be a fit. Their active Tutors earn about $300 per week, the company says. "Top Tutors average $500 per week." Work from anywhere in the US, answering questions online. Work when you want.
What are the requirements?
Essentially, the company is looking for people with expertise. If you're claiming expertise in an area where a college degree would be expected — science, for example — then you'll need one. Your credentials are key. "We believe that experts take all forms and therefore do not require that you be a certified tutor or professor. However, you do need to share sufficient credentials to prove that you have an expertise in the categories which you would like to tutor," the company says.
How payment works
Course Hero Tutors access a range of questions that they can answer for pay. Tutors earn $3 per question when their answer is accepted. (There's no limit to the number of questions a Tutor can answer.) As mentioned, active Tutors reportedly earn about $300 per week. Tutors can be paid once they earn $20.




People who could be good candidates for Tutors
No side gig is a fit for everybody. Some folks need a full-time [email protected] job, or they're looking for a job with benefits. Tutoring jobs are more like "freelancing." But if one of these categories describes you, you may want to check it out:
If you're looking for flexible work from home
You're looking for a "portable" work option (you're a military spouse, for example)
You're an undergrad or grad student looking for supplemental income
You want to start a career in education, or you're already active
You're a retired veteran looking for supplemental income
You're a Tutor looking for additional work
You're a retired Educator
Difference between Course Hero and other tutoring options
You may have seen other tutoring openings with companies like VIPKID or Education First. However, these involve teaching English online to children in China, rather than answering questions for a fee.
PLEASE SHARE this post – turn your friends into Rat Race Rebels!