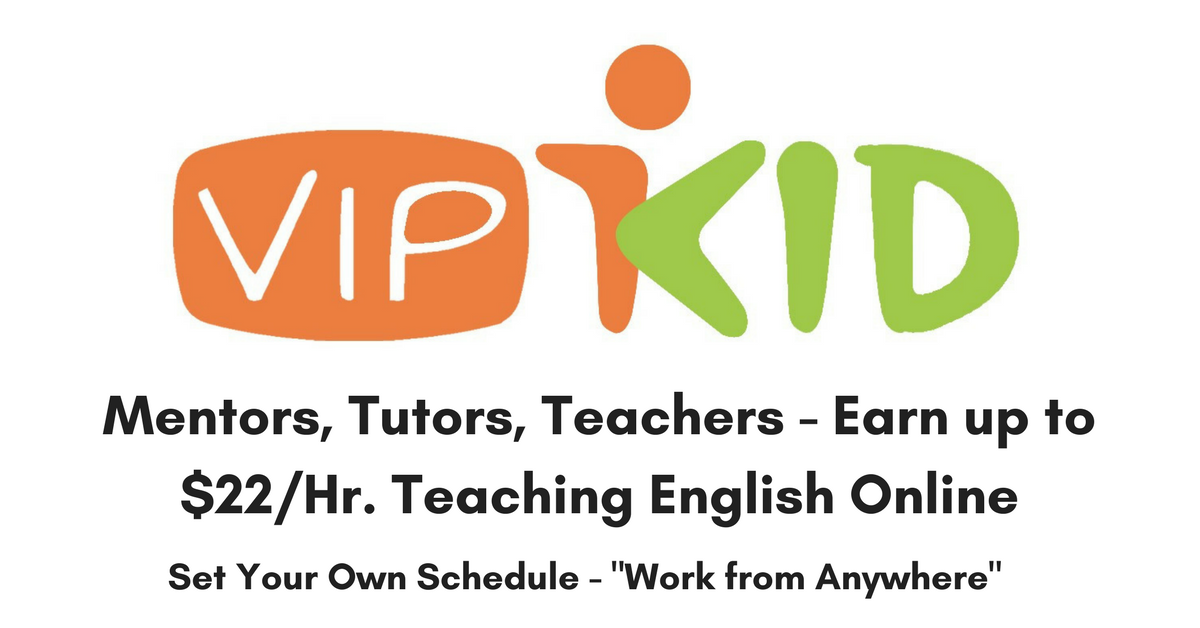 By Mike Haaren – Co-Founder – Aug. 23, 2017
Work from Home Jobs – Teach Chinese Children English Online – Part-Time – Up to $22/Hr., Minimum $14/Hr. – "Work from Anywhere"
(Disclosure – The text includes our affiliate link, which pays us a small fee if you use it. This helps us keep the computers on. Thanks!)
VIPKID is actively recruiting people to teach Chinese children English online. They pay quite a bit more than typical online English teaching employers — up to $22/hr.
If you'd like to earn a good hourly rate from home on your own schedule, VIPKID is on a hiring streak. The company just raised $200M in financing from Sequoia Capital, among others — the firm that funded Apple when Steve Jobs still looked like a hippy — so there should be plenty of funds for teachers.
You can work as few as 7 1/2 hours/week, or much more if you prefer.
To get started, you'll need a bachelor's degree in any field, and one school year of teaching, mentoring, tutoring or alternative education. (No degree or experience? You can still make $10/hr. teaching for NiceTalk. Cambly and PalFish are options, too.)




"$75,000 a Year" Is Possible (But It's a Lot of Hours!)
Some VIPKID teachers, like Dan Didio, reportedly make $75,000 a year, but he teaches over 65 hours a week. I was an English conversation teacher in Italy, and 65 hours a week would have killed me. If you're like me, you'd be happy at 20-30 hours per week.
But even if you're only working the recommended minimum of 7 1/2 hours a week and earning the minimum of $14/hr., that's still $420 a month. Not a bad side gig. (The company itself gets good grades. Reviews on Glassdoor give it 4 stars out of 5.)
In VIPKID's words, "Our teachers receive a minimum payment of US $14-$18/hour. There are incentives for every lesson, so the payment ranges from US $14-22/hour."
Freelance Status
You'll be working as an independent contractor, aka freelancing. This essentially means you don't get employee benefits or job security, but you are free to set your own schedule and take other gigs elsewhere.
Payment
Teachers are paid by direct bank deposit between the 10th and 15th of each month.




Tech Requirements
The technical requirements for the job include:
— PC or MAC
— Desktop, Laptop, MAC, Surface
— Headset with a microphone, stable output and input
— HD External camera or HD integrated camera (most laptops have it)
— Windows 7, Windows 8, Windows 10, MAC OS 10.8x
For details and to apply, click here. For more jobs like this, check our Newest Jobs & Gigs page. To be the first to hear about jobs like this, like our Facebook page and check your feed for our posts. The screened affiliate link for VIPKID helps us keep the computers on. Thanks! May you be rocking your Rebellion soon!
PLEASE SHARE this post – turn your friends into Rat Race Rebels!