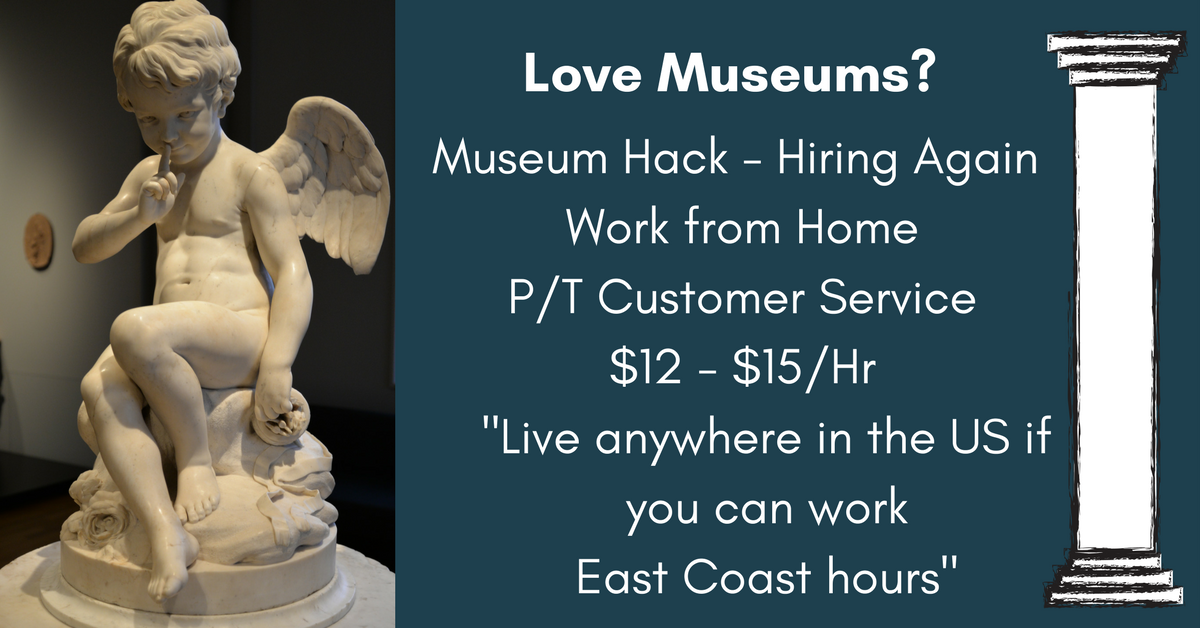 By Mike Haaren — Rat Race Rebellion Co-Founder — April 25, 2018
Work from Home – Museum Hack – Nationwide – Part-Time – $12-$15/Hr. – "Email Support, Sometimes Phone"
We've been covering Museum Hack for several years now. It's a young-and-growing company that offers fun and offbeat museum tours and cultural events to corporate and private clients.
In this job you can work from anywhere in the US if you're available during East Coast hours, the company says. "About 29 hours per week with the possibility of more hours."
You'll be helping the company message and respond to their customers via email and sometimes via telephone, among other tasks. You'll be working on their help desk (Groove), Slack, Google Docs, Gmail, Google Calendar, and other web-based services.
Here's what they have to say:
Museum Hack is a creative company that offers irreverent, renegade museum tours and cultural offsites to corporate and private clients. Museum Hack has uplifted the lives of tens of thousands of new museum guests. We work at renowned cultural institutions and quirky locations in New York City, DC, San Francisco, Chicago, and LA to bring these innovative experiences to companies and groups.
Museum Hack has been featured by The Wall Street Journal, The Washington Post, PBS, TimeOut New York, Huffington Post, TEDx, and more. Beloved clients include private citizens, schools, industry groups, and large companies like Google, Lego, LinkedIn, and CitiBank.
More about the job, in their words —
JOB DUTIES
— Use our help desk software to respond to clients via email (and sometimes phone) to answer questions regarding booking, invoices, etc.
— Use our software to invoice clients
— Play air traffic control for incoming phone calls, text messages, and voicemails. You will occasionally be required to make outgoing phone calls (but we'll never ask you to cold call anyone!)
— Manage difficult situations / unhappy customers and escalate when necessary
— Assist in Public Tour Support such as tour cancellations and sending out Official Tour Confirmations (OTCs) once client has submitted payment (experience with scheduling a plus!)
— Input and manage events in Google Calendar
— Supply ordering
— Other customer service / admin duties as assigned
JOB REQUIREMENTS
— Authorized to work in the US
— Previous customer service experience
— You have a home office and prior experience working remotely
— Must have nearly perfect written English skills and amazingly awesome spoken English skills. Creative writing skills a plus!
— Quick learner
— Detail oriented
— High quality work: You are an efficient individual who makes projects happen behind the scenes with a fine eye for details (in short: you get shit done)
— Technically inclined, able to pick up new things quickly: we use a lot of web-based services (including, but not limited to: Google Docs, Gmail, Google Calendar, Slack, Help Scout, Xero, PandaDoc, Base CRM)
— Flexibility quotient high: Things can and do change on a dime around here — you gotta go with the flow, and be ready to kick it into high gear at a moment's notice
— Be fun and exciting without using too many exclamation marks!!!!!!!!!
HOURS / PAY
About 29 hours per week with the possibility of more hours
Must be available Monday – Friday 9am – 2pm ET
Must be available to work every other weekend starting no later than 10:30am ET, approximately 1 hour per day over the course of the day
$12 to $15 per hour, DOE
MORE INFO
Many people on our team are remote and work from home
Our company is GROWING! We are an innovative arts-based business in New York City. Find out more about us by watching our CEO Nick's Tedx Talk.
Per the company, "NO CALLS, EMAILS, OR SOCIAL MEDIA MESSAGES: We love that you are enthusiastic and want to learn more about the job or the progress of your application. But please, no phone calls, emails, or social media messages. We only accept applications via our job website."
Click here for full details and to apply. For more jobs like these, check our Newest Jobs & Gigs page. To be the first to hear about jobs like these, like our Facebook page. Good luck in your next steps toward working from home!
PLEASE SHARE this post – turn your friends into Rat Race Rebels!