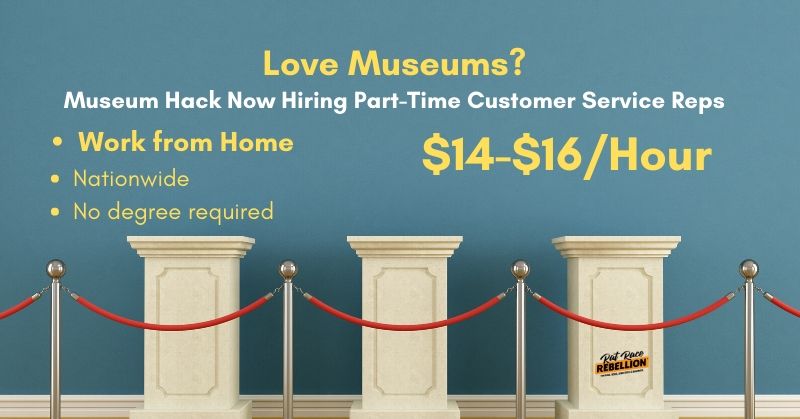 By Mike Haaren – Co-Founder Rat Race Rebellion – Updated Dec. 23, 2019
Museum Hack — which specializes in "renegade small-group museum tours" — is looking for one or more part-time work from home Customer Service and Scheduling Reps. No college required. "You can work from anywhere in the US if you're available on East Coast hours," the company says.
Pay is $14-$16/hr. Work 10-15/hrs. per week.
Here's what the company has to say about the job:
JOB DUTIES
— Use our help desk software to respond to clients via email (and sometimes phone and / or text) to answer questions regarding bookings, invoices, etc.
— Manage difficult situations / unhappy customers and escalate when necessary
— Other customer service / admin duties as assigned
— Use our software to send invoices to clients
— Input and manage events in Google Calendar
— Ensure accurate and timely scheduling across multiple cities for our public tours and send out official tour confirmations (OTCs) to clients
— Schedule shifts in a way that fits the needs of the guests, guides, and optimizes labor costs
— Assist in booking special guests (ex. photographers, musicians, magicians, etc) for tours as needed
— Assist in booking flights, hotel stay, and other transportation arrangements for staff as needed
— Various tasks as assigned
JOB REQUIREMENTS
— Previous customer service experience
— Previous scheduling and travel booking experience
— Previous experience working remotely
— Flexibility to work Eastern USA time zone business hours
— Monday & Friday: 3pm-6pm ET (with the option to stay later if workload calls for it)
— Saturday & Sunday: 9:30am-12pm ET & 4pm-5pm ET
— Must have nearly perfect written English skills and awesome spoken English skills
— Quick learner
— Detail and process oriented
— High quality work: You are an efficient individual who makes projects happen behind the scenes with a fine eye for details (in short: you get shit done right!)
— Technically inclined, able to pick up new things quickly: we use a lot of web-based services (including, but not limited to: Google Docs, Gmail, Google Calendar, Slack, Xero, PandaDoc, Base CRM)
— Flexibility quotient high: Things can and do change on a dime around here — you gotta go with the flow and be ready to kick it into high gear at a moment's notice
— Be fun and exciting without using too many exclamation marks!!!!!!!!!
— Must have reliable access to fast Wifi and use of a personal computer
— Authorized to work in the US
HOURS / PAY
— Estimated 10-15 hours per week
— You should be available to work a flexible amount of hours in the Eastern Time Zone (UTC-05:00)
Monday: 10am-2pm ET (with the option to stay later if workload calls for it)
Tuesday – Friday: 10am-12pm ET (with the option to stay later if workload calls for it)
— $14 to $16 per hour, DOE
Click here for more and to apply. For more jobs like these see our Newest Jobs & Gigs page. To be the first to hear about jobs we post, like our Facebook page and check your feed for our posts. May you be working from home soon!
PLEASE SHARE this post – turn your friends into Rat Race Rebels!