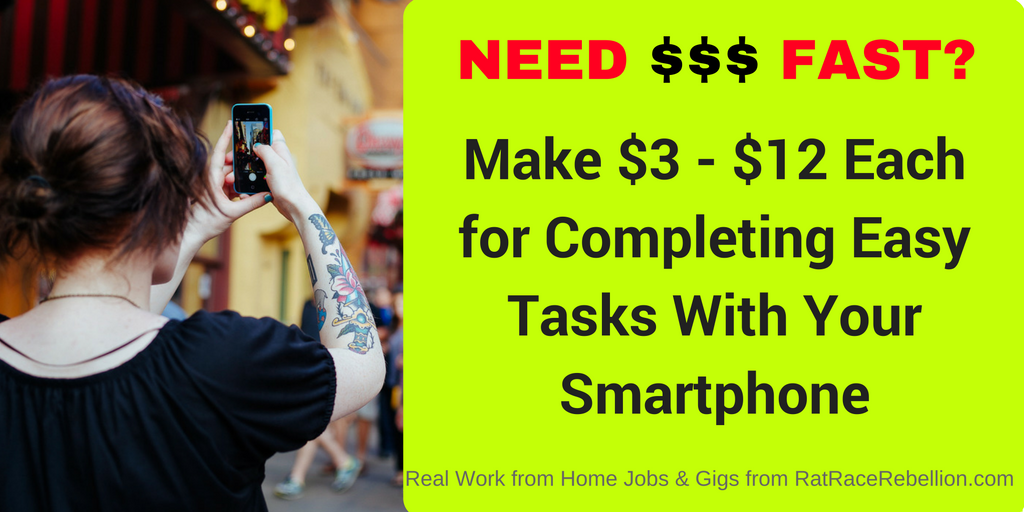 by Chris Durst Nov. 9, 2016
We've heard from many people who are doing this and loving it!
If you have an iPhone or Android device, the Field Agent app is a great way to make some easy money collecting photos, video, and information from stores and many other locations. (This information is often used by businesses to better serve customers.)
I have tried this and it's super simple – you download the app (free), sign up with an email address, zip code and birth date, answer a few questions that will help them to determine which tasks you're qualified for, and you'll be presented with a list of tasks in your area (if there are any at the moment). You'll receive an email with more instructions, and you'll need to verify your mobile phone by noting the number they send to you via text.

I don't live near very much, but I just checked and there is a $5 task at the Dollar Store that's about 15 minutes from here. This particular task involves taking "up to 11 photos" and answering "6 questions about the entrance doors and scanners in store." I wouldn't jump in my car and run over there but, if I am out and around and find myself near that location, I'll do it in a heartbeat!
Every task comes with a time limit, a payment amount, and a description. If you accept the task, you'll get full instructions so you can get right to it!
By the way, there's NO MINIMUM CASH OUT, so you can do a task and cash out as soon as the payment is posted to your account.
From their site:
How much does it pay?
Jobs typically pay between $3 and $12 each. The money you make with Field Agent is real. It works like this: your earnings are stored in your Field Agent account until you decide to "cashout" (i.e., withdraw money). Cashout allows you to send money to your PayPal or Dwolla account.
---
What will I be asked to do?
A variety of jobs are available through the Field Agent app. Common jobs include price checks, in-store display checks, and consumer surveys. The app may, for instance, ask you to go to a designated store, find a specific product, take a photo of it, and, then, answer a few questions about it (e.g., How much does the product cost?). Consumer surveys, on the other hand, can often be taken from anywhere, and are intended to help companies better understand consumers like you.
Getting started is easy, just click here for more information and instructions about downloading the Field Agent app.
PLEASE SHARE this post – turn your friends into Rat Race Rebels!