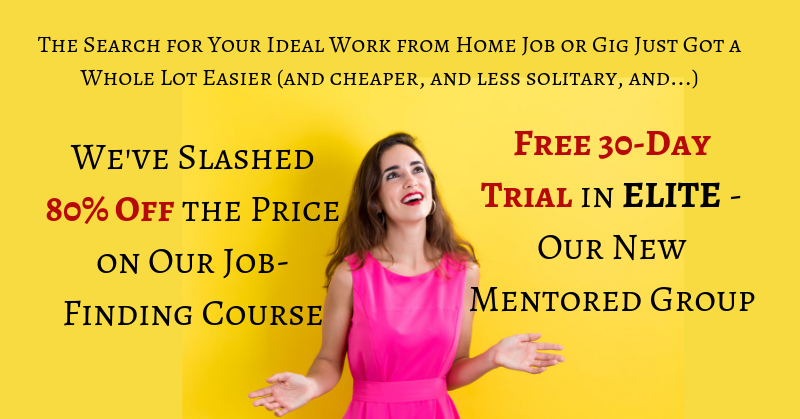 We always try to bring the best resources we can to as many people who need them. So we're excited to be making TWO BIG ANNOUNCEMENTS. Now you can get the individual attention you need and find your ideal job much faster — for less than a few visits to Starbucks.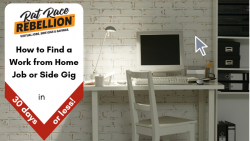 ANNOUNCEMENT #1: WE'VE SLASHED THE PRICE ON OUR BREAKTHROUGH JOB-FINDING COURSE — FROM $49 TO JUST $9.95!
That's right! You can now get unlimited access to our popular online course — How to Find a Work from Home Job or Gig in 30 Days or Less — for just $9.95! That's a savings of almost 80%.

You'll also have a full month free in our new, mentored Rat Race Rebellion Elite private Facebook group — with Chris, Mike and their hand-picked Mentors. If you decide to stay in the Elite group (and we think you will — it's pretty exceptional!), there's a small monthly fee of just $4.95 to help with expenses. And if you want to opt out, you can cancel anytime — no questions asked. The course is yours regardless!

Click here for the full course description, and to enroll today!
For more on the Elite Group, just see below!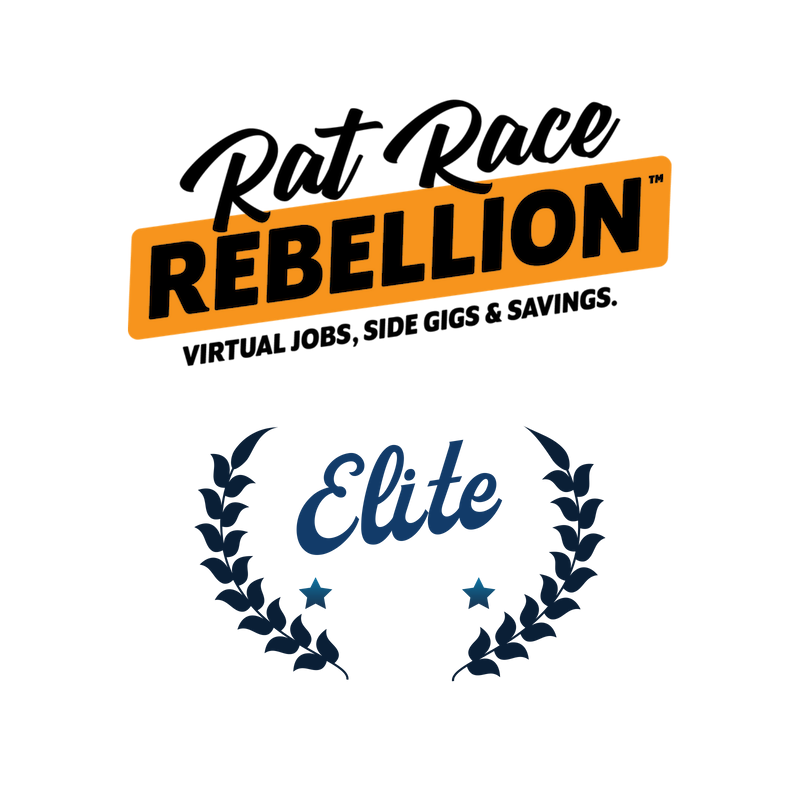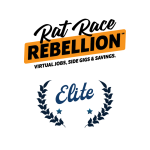 ANNOUNCEMENT #2: WE'VE LAUNCHED RRR ELITE – OUR NEW PRIVATE FACEBOOK GROUP FOR PEOPLE WHO ARE SERIOUS ABOUT FINDING REAL WAYS TO MAKE MONEY FROM HOME.
While our public Facebook page — open to everyone — is a good place for us to post site updates, it's a free resource that supports a free site. So unfortunately, we can't offer the one-on-one responses that so many people need.
That's why we created RRR Elite. It's a mentored private group that charges a small monthly fee of just $4.95. This lets us provide the kind of support, resources and community that so many RRRebels have told us they really want.
RRR Elite – You'll come for the jobs, you'll stay for the people!
Not sure if it's for you? We're offering the FIRST MONTH FREE. You can cancel at any time (including before you're billed for the second month), no questions asked. In fact, you don't need to contact us to cancel – you can do it directly through your PayPal account.
Elite is more than a page — it's a warm, supportive, resource-rich online community!
It's a place for people who want to find a work from home job or gig(s), save money, improve their resume, enhance their interviewing skills, expand their network, and become part of a real online community of like-minded people.
Elite includes much more than our public Facebook page. With your Elite subscription, you'll get:
Answers, encouragement, and resources from Chris and Mike and our hand-picked Mentors (they're the best!), as well as from other Elite members;
Weekly cash rewards for the Group's Top Contributors and regular cash rewards for outstanding members;
Live Facebook events featuring interviews and presentations with Hiring Managers from major companies, members who have insights into specific companies and industries, subject matter experts, and others;
Hot jobs that are not posted to the Rat Race Rebellion site or main Facebook page;
Early-bird job alerts before the jobs are posted to the RRR site (giving you a leg up, but especially on those jobs that fill quickly;
"Behind the scenes" Facebook Live events with Chris and Mike;
Shameless Self-Promotion Fridays – Once a week, members are invited to promote their own business, affiliate program, blog, gig, etc. to the Group (monitored for legitimacy);
Regular polls that will invite YOU to TELL US what you most want from us in terms of resources, events, etc.;
Hot gigs that can REALLY help you earn extra income;
More diverse content to help you de-rat race your life, including how to earn extra cash, how to maximize rebates and other savings options, and personal finance tips (for example, where to get paid to open a checking account, which credit cards are offering cash bonuses for new members, etc.);
A large and diverse community that will afford you more opportunities to network and benefit from experienced work-from-home veterans;