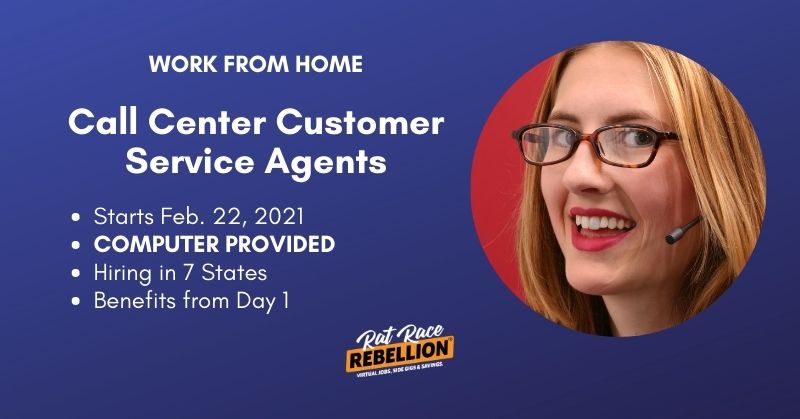 by Chris Durst         Dec. 29, 2020
Please Note — The last time we posted this job it filled quickly, so apply or share ASAP if interested.
Just yesterday, we let you know about the many work from home positions available at The Hartford. Moments after our post, they added a NEW Remote Call Center Customer Services listing.
These openings are available to people living in the following following seven states – CT, PA, GA, FL, MD, NC & SC. (If you don't live in one of these states, please share this post with friends and family who may be interested.)
Start Date: February 22, 2021
No college required.
EQUIPMENT PROVIDED.
Pay $16/hr.-$18/hr. per online reviews (not official).
As with many insurance companies, The Hartford also offers comprehensive benefits.
Here's what the company has posted about this opportunity:
"You are a driven and motivated problem solver ready to pursue meaningful work. You strive to make an impact every day & not only at work, but in your personal life and community too. If that sounds like you, then you've landed in the right place.
You are a driven and motivated problem solver ready to pursue meaningful work. You strive to make an impact every day & not only at work, but in your personal life and community too. If that sounds like you, then you've landed in the right place.
This position is 100% remote from home.
This work from home customer service position provides support by taking inbound calls from existing customers. At this time, we are only accepting applications from those who reside in the state of CT, PA, GA, FL, MD, NC & SC.
Are you looking for a career where you can apply your experience to meaningful work? Do you like being surrounded and supported by people with a passion like yours? Would you like to work for a company whose core mission is to help individuals and businesses succeed? Well, then you've found the right fit. The Hartford is truly a place where your passions have purpose.
With a detailed roadmap for learning opportunities and managers who are trained to coach, you're equipped with the right tools to build a fulfilling career at The Hartford. And through a dynamic work environment that encourages collaboration and creative thinking, you'll find plenty of unique opportunities for personal achievement.
Our Customer Service Representatives focus on building rapport and maintaining positive relationships with existing customers to understand their individual needs, personalize a solution of value, and ensure a memorable customer experience. There is no cold calling required. The Hartford provides 10 weeks of paid training, as well as ongoing coaching and development to ensure success.
Start Date: February 22, 2021
Training Hours: 9:30-6:00pm EST
Post Training Hours: Monday – Friday 9:30-6:00pm EST and Every Other Saturday 9:30am – 6:00pm EST
After training, when working every other Saturday, employees will receive Wednesday off during those weeks.
After training option: Monday 10:30 am – 9:00 pm EST and reduce Wednesday shift by 2 hours.
A Customer Service Representative responsibilities include:
Managing an average of 60 to 80 calls per day with a high degree of professionalism and the desire to succeed
Utilizing active listening and critical thinking skills to quickly analyze and clearly understand a specific request or customer need and then leverage knowledge and resources to provide the appropriate solutions
Taking ownership to ensure that we go above and beyond to service each caller's needs, utilizing every touch point as an opportunity to build value and The Hartford brand
Committing to learning and developing, including a better understanding of products and business lines of The Hartford
COMPENSATION
At The Hartford, our compensation philosophy is simple: we pay competitive base salaries and reward performance with quarterly incentives.
BENEFITS
These include:
Medical, Dental, Life and Disability Insurance – EFFECTIVE ON DAY ONE!
19 days paid time off in your first full year
Tuition reimbursement
Paid volunteer opportunities
Employee recognition
Wellness program
A 5% language adjustment is paid for Bilingual Spanish proficiency.
Qualifications:
Demonstrated background in customer service, insurance, retail, sales or a related field; at least 1 year experience required
Highly skilled at verbal, written and interpersonal communication; sound judgment and the ability to think within a structured and compliant work environment while focusing on the customer
Proven ability to work in a fast-paced environment, navigate multiple programs and effectively use on-line resources to complete customers' requests
Call Center experience is a plus
Prior remote work experience is a plus
You're a high achiever with the ability to self-manage and demonstrate personable accountability, as well as effective collaboration in a team environment
You have strong customer service skills with a focus on delivering high customer value
Prior remote work experience is a plus
Home Office Requirements:
Private, secure, distraction free workspace
Computer equipment will be provided by the company
Internet Connectivity Requirement/Remote Positions: For 100% remote positions, we require that:

(1) you have high speed broadband cable internet service with minimum upload/download speeds of 3Mbps/30Mbps and
(2) your Internet provider supplied device is to be hardwired to the Hartford issued router and/or computer. To confirm whether your Internet system has sufficient speeds, please visit http://www.speedtest.net from your personal computer."

CLICK HERE for full details and to apply. For more jobs like these, check our Newest Jobs & Gigs page. To be the first to hear about jobs like these, like our Facebook page and check your feed for our posts. May you be working from home soon!
PLEASE SHARE this post – turn your friends into Rat Race Rebels!