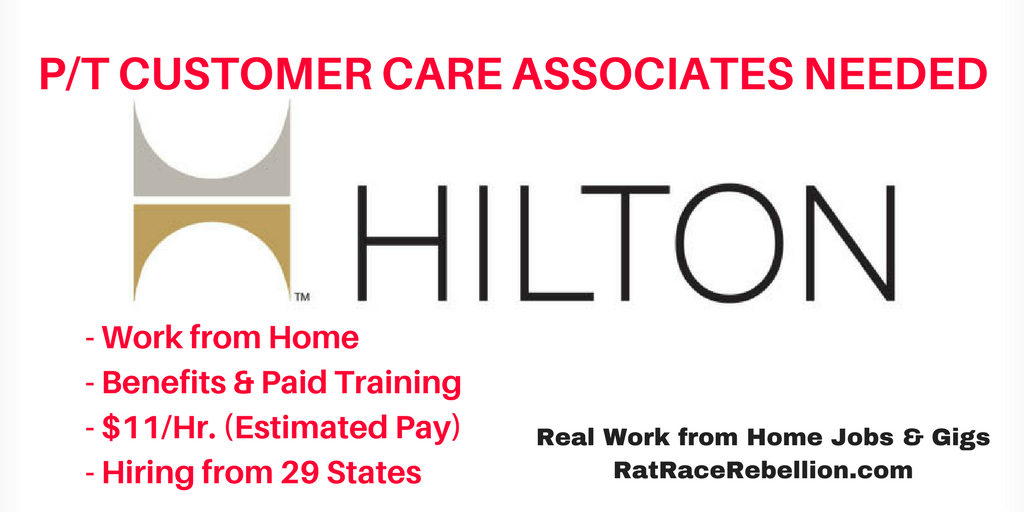 By Mike Haaren – Co-Founder – March 22, 2017
[Update 3/28/17 – Looks like Hilton has received enough applications and has removed the job listing. For more work from home jobs like Hilton's, check our Newest Jobs & Gigs page. We post new leads every AM except Sunday. We'll post again, too, when Hilton reopens hiring, so stay tuned!] 
[UPDATE 3/23/17 – Hilton has changed their job listing from part-time to full-time. The job description looks virtually identical to our summary below. But scheduling details have changed to reflect the F/T commitment:
"Availability for a full-time, 40-hour work schedule, including weekends and holidays. Willing to work a flexible schedule with hours ranging from 8AM – Midnight Central Time."]
Work from Home Jobs – Hilton Seeks P/T Customer Care Associates – Benefits – Paid Virtual Training – Hiring from 29 States – These jobs usually fill fast, so apply quickly if interested!
Hilton just posted that it's hiring part-time Customer Care Associates. Benefits and paid virtual training are included. Starting pay isn't given, but $11/hr. is the rate for Hilton's Customer Care Coordinators. (Almost identical job description, different title.)
Hilton provides a desktop terminal/hard drive, keyboard and mouse, headset compatible with hard drive, flash drive, and Ethernet cable.
Requirements & What You'll Be Doing
You'll need a HS diploma or equivalent, and at least one year's experience in a customer-oriented role. If you've worked in an inbound call center, that fits, too. You'll also need to be computer-proficient and able to multitask well.
Extra points for any of the following:
— You've worked from home before
— You have a working knowledge of Windows and MS Office
— You've taken virtual training before
— You've worked in a call center in travel or hospitality
You'll be taking care of Hilton's Honors members. So you'll be doing things like answering the phone, helping with accounts and reservations, and handling some data entry.
You'll need to be available 20-29 hours per week, including some weekends and holidays.
Benefits
Employees give high marks to Hilton's benefits, including the deep discounts at Hilton resorts and hotels worldwide. Quoting from Hilton's site, benefits include —
— Base Salary + iEarn incentive Program
— Medical, Dental, and Vision Insurance
— Hilton 401 (k) Retirement Plan with Company Match
— Exclusive Team Member Travel Discount Program
— Paid Time Off
— Recognition & Development Programs
— Leadership Opportunities
However, it isn't clear whether part-time employees receive the same benefit package as full-timers. The current job description simply notes that the position comes with a benefit package, which includes Hilton travel benefits.
Hiring States
For this job, Hilton is hiring from 29 states: Alabama, Arkansas, Delaware, Florida, Georgia, Idaho, Illinois, Indiana, Iowa, Kansas, Kentucky, Louisiana, Michigan, Mississippi, Missouri, Nebraska, New Hampshire, New Mexico, North Carolina, Ohio, Oklahoma, Pennsylvania, South Carolina, Tennessee, Texas, Utah, Virginia, Wisconsin and Wyoming. If you live in a different state, see our Customer Service Jobs page for more employers.
Employee reviews on Glassdoor give the company 4 stars out of 5. Reviews on Indeed give the same rating. To go to the job listing, click here. For details on Hilton, its benefits, pay, etc., from employee reviews, click here. For more on Hilton's work from home careers, click here. Good luck!
PLEASE SHARE this post – turn your friends into Rat Race Rebels!