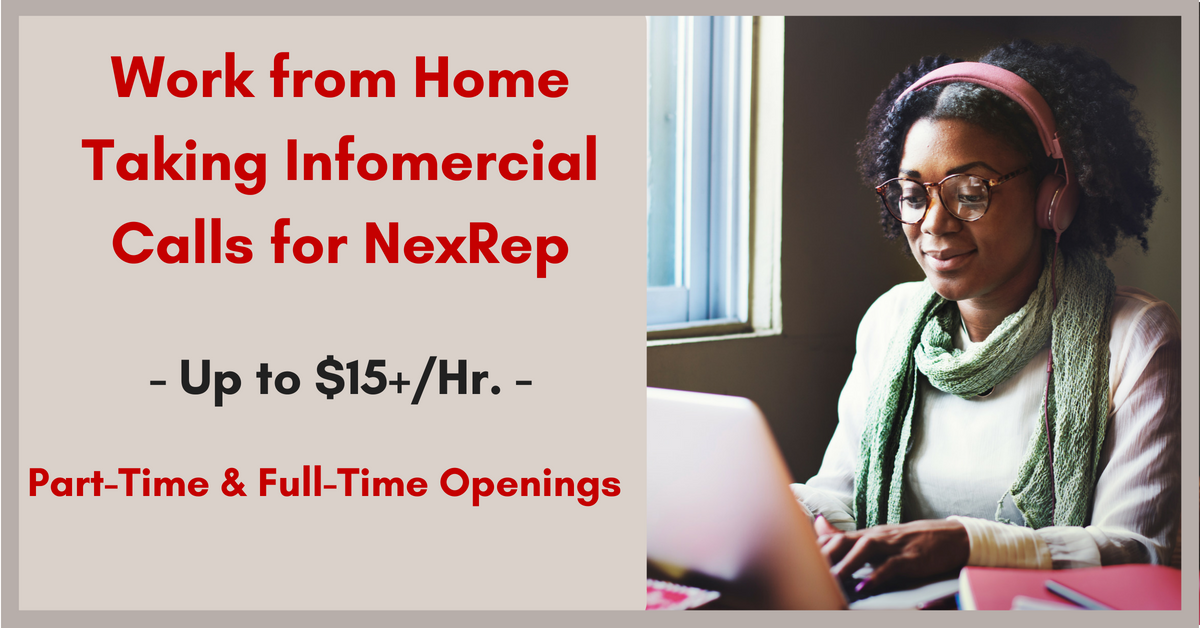 By Mike Haaren – Rat Race Rebellion Co-Founder – June 5, 2018
Work from Home Taking Calls from Infomercial Customers — P/T & F/T
Chances are you've seen an infomercial sometime recently. The calls that people make to buy the products are often routed to work from home Agents. NexRep is hiring for this role.
"Our top people earn $15+/hr.," the company says. The range of pay isn't given, but if you like helping people and have a feel for sales, you may do well in this position. If you're looking for something that doesn't involve sales, you may want to check the chat jobs open at KellyConnect, or see our Daily Jobs & Side Gigs page for more options.
The position in their words —
We are unable to accept agents from NY, CA, RI, WA, AR, OR, IN and IL. [If your state is listed, see our Daily Jobs & Side Gigs page for more leads.]
Need some extra cash? Earn up to $15/hour or even more answering inbound calls for a variety of informercial products you are most likely already familiar with, such as Power Airfryer Oven!
Our top people earn $15+/hour selling this and other popular products!
If you enjoy talking to people and like to sell, this could be the perfect fit for you!
In addition to the great earning potential, you can make your own schedule and work around your kids, another job or other activities.
While the call volume is highest on the weekends, these calls come in 24/7, so you aren't limited to just weekends.
We have agents who take calls part time and fulltime!




DUTIES
— Influence customers to buy a product or service by taking incoming calls from interested buyers and following a prepared script to give product information and special promotions available.
— Maximize each sale by offering upsells and complementary cross sell products.
— Maintains quality service by following NexRep service levels.
SKILLS/QUALIFICATIONS
Persuasion
Persistence
Closing Skills
Ability to sell Upsells, Cross sells, and Third Party Offers
Desire to make High Commissions
Product Knowledge
Telephone Skills
High Energy Level
ADDITIONAL INFORMATION
NexRep requests 10-hour minimum for weekly services. Those hours need to be between 7am EST on Saturdays and 11pm EST on Sundays. Our busiest times are 9am-3pm EST on Saturday and Sunday mornings.
Pay is commission based on product revenue sold. There is additional commission for third party offers.




For more detail and to apply, click here. For more jobs like these, be sure to check our Newest Jobs & Gigs page. To get our job postings ASAP, like our Facebook page and check your feed for our posts. May you be working from home soon!
PLEASE SHARE this post – turn your friends into Rat Race Rebels!