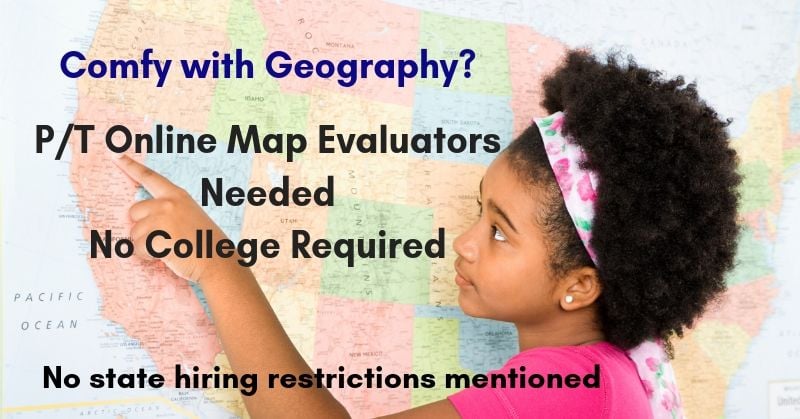 by Chris Durst      Updated July 15, 2019
If you're looking for something part-time, and you have a working knowledge of local and national geography, Lionbridge continues to recruit Online Map Quality Analysts. "The tasks will involve determining the relevance and accuracy of information by performing online research and referring to guidelines provided to you."
Pay
Pay can reportedly range from $10 to $50+/hr., depending on tasks. For example, a Reddit member posted, "I can average $10-20 an hour depending on the tasks I get. If I get a lot of address results where I have to verify if an address exists, those take a lot more time to research, which brings me closer to $10. If not, I hover between $15-20. If I'm getting pedestrian and routing tasks, I've got those tasks down to a science. I can break $50 an hour doing those, more if I get a lot of tasks that are short routes…" Your mileage may vary, of course.
Here's what Lionbridge has to say about the role:
The position will allow you to work from home on a flexible schedule of up to 20 hours per week completing tasks in a web-based evaluation tool. The tasks will involve determining the relevance and accuracy of information by performing online research and referring to guidelines provided to you. The tasks will mainly be map related but it is possible there will be non-map related tasks you are required to work on from time to time. Candidates for this position will need to have good research skills and a strong understanding of local and national information. Cultural, geographical, social media and current affairs knowledge are important in this role.
The Requirements
— Fluency in English is essential
— You must be living in the United States for the last 3 consecutive years
— Working knowledge of local and national geographical areas
— Passing an online evaluation to demonstrate capability of reading and applying the guidelines
— Experience/know-how of using online maps, search engines and website research
— You must have familiarity with current and historical business, media, sport, news, social media and cultural affairs in the United States
— Access to and use of a broadband internet connection and associated computer and software to perform the work, all provided at your own expense
The Role Will Involve
— Reading and applying written guidelines on how to evaluate and rate the tasks
— Please note it is possible you will receive guidelines for multiple task types over the course of the program
— Research using online tools to determine the relevance and accuracy of the task information
— Applying local knowledge to evaluate relevance of the task information in your market
— Completing tasks in the web-based evaluation tool
Hours for this role are a minimum of 10 up to 20 hours per week depending on task availability
This is a freelance, independent contractor position.
Click here for full details and to apply.  (Their website may not be optimized for all devices and browsers. If the application link doesn't work, you'll probably have to "mix it up.") To see more jobs like these, check our Newest Jobs & Gigs page. To be the first to hear about jobs like these, like our Facebook page and check your feed for our posts. May you be working from home soon!
PLEASE SHARE this post – turn your friends into Rat Race Rebels!