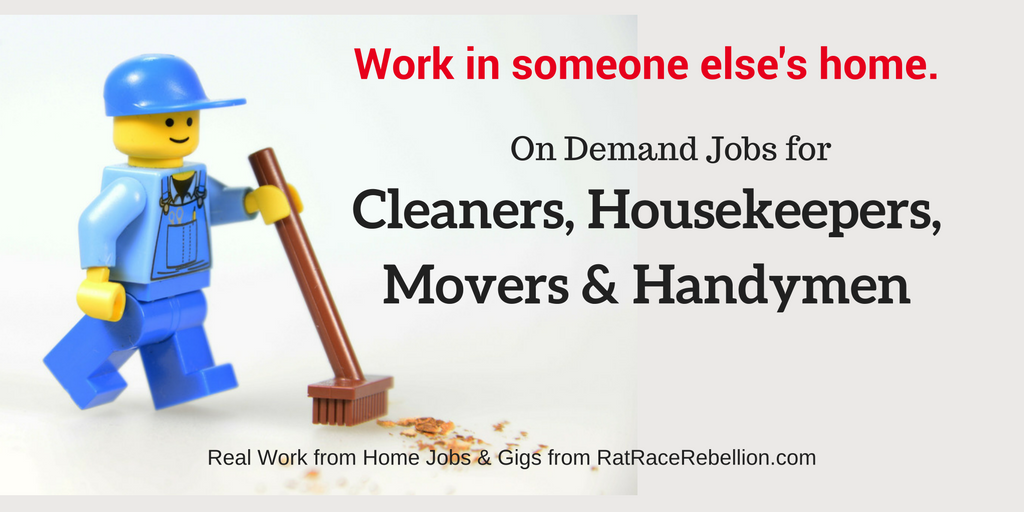 by Chris Durst Dec. 22, 2016
Okay, so, this one is a bit afield from our usual work from home jobs, but we've been getting a lot of queries from people who would like to know more about jobs for handymen, housekeepers and others who are skilled in helping keep things together for others.
With those folks in mind, this post shares some of the increasing number of on demand sites and apps that are catering to consumers who want to outsource tasks that keep their homes clean, organized and "in one piece!"
If you have a talent for making homes livable, this category is for you!
---
Amazon Services
"Sell your services on Amazon."
The Gig: Use your professional skills
Where: Across the US
More:
Reach Customers in Your Neighborhood and Grow Your Business
Selling Services on Amazon allows top pros like you to offer your services on Amazon Home Services.
Millions of people shop on Amazon and many of them are right in your neighborhood. With Selling Services on Amazon, we provide actual orders and easy-to-use tools, so you can focus on what you do best—delighting customers.
There's no charge to sign up and no charge to list your services. And, best of all, you'll only pay us when you get paid.
Don't waste time chasing leads. When you sell your services on Amazon, you'll get requests directly from customers.
Our program is invite-only, so you'll only compete with top-rated pros instead of every other service professional in town.
---
Handy
"Gain access to hundreds of jobs in your city and build your own schedule."
The Gig: Cleaners and Handymen
Where: "Most major cities in the US, Canada and the UK"
More:
Make up to $22/hour as a cleaner or $45/hour as a handyman. Our top professionals make more than $1,000 a week.
You choose when you want to work and how much. Build a full schedule or simply claim a few jobs on the side.
No more tracking down customers for payments. Handy will direct deposit your earnings into your bank account as soon as the job is complete.
Must have paid experience in cleaning or handyman services
Must be authorized to work in the country you are applying in
Must pass criminal background check
Must have excellent customer service skills
---
Honor
"The Care Pro app by Honor matches you with clients. You're in control of you own hours, and who you decide to work with. It also helps you keep track of tasks, and shows you what your customer needs."
The Gig: In home care professionals, housekeepers, companions
More:
Start at a minimum of $17/hour.
Be your own boss and determine your own hours and schedule.
Be connected to clients through the Honor network.
Our apps help you get clients and improve your ability to deliver superior service.
Get recognized as one of our nation's best in-home care professionals.
Have opportunities to increase your pay and responsibilities.
---
TaskRabbit
"TaskRabbit connects you to opportunities to make a living."
The Gig: Movers, Cleaners, Handymen
Where: Atlanta, Austin, Boston, Chicago, Dallas, Denver, Houston, Los Angeles & Orange County, London, Miami, New York City, Philadelphia, Phoenix, Portland, San Antonio, San Diego, Seattle, SF Bay
More:
We present you new job opportunities as they arise.
Your money is quickly deposited directly into your bank account after each task.
Our team is here if anything comes up, and every task is insured up to $1,000,000.
---
Thumbtack
The Gig: Cleaners, Handymen, Home improvement, Lawn care and landscaping
Where: Across the US
More:
Thumbtack sends pros like you requests from customers. You decide whom to respond to and send a quote.
"3.2 million requests last year"
"$1.8 billion worth of business"
---
MOVERS
Got muscle? Got time? Get moving (someone else)!
Bellhops
"Bellhops is the new option between begging friends for help and booking a 'moving company.' Through our apps and online platform, we connect athletic students with people and businesses needing moving help and lifting labor."
The Gig: Movers
More:
Be sure to choose a professional photo of you alone. If accepted, this picture will be sent to your customers, so make sure it's a good one!
---
Dolly
"Load, haul and deliver with your pickup truck, box truck or cargo van"
The Gig: Movers and helpers
Where: Chicago, Seattle, Salt Lake City, Denver, San Diego
More:
Make up to $30/hr and work when you want!
Helpers must pickup truck, box truck or cargo van and can lift over 75 lbs
Hands don't have a truck, but can lift over 75 lbs and want to assist Helpers
---
GoShare
"Earn money driving your pickup truck, van or SUV. Be your own boss, work when you want, weekly pay."
The Gig: Drivers with trucks, vans, SUVs
Where: San Diego, CA; Chula Vista, CA; Ocean City, CA; Jersey City, NY; Central NJ; South NJ
More:
All drivers must have a valid driver's license, valid auto insurance, and valid registration
All vehicles must pass an inspection before you can drive for GoShare
All drivers must pass a background and driving history check. No felonies or DUIs in the last 7 years
Customers should not ride in the vehicle with the driver
Any tolls or dumping fees paid by the driver to complete the job will be added to the customers bill.
Driver's must have a working iPhone or Android phone
---
Lugg
"Lugg instantly connects you to a truck and two movers. Request a Lugg and get anything moved for you with a push of a button."
The Gig: Movers with a vehicle and helpers (helpers don't need a moving vehicle)
Where: San Francisco Bay Area
More:
Make up to $35/hr with your truck or cargo van. Be active, meet new people, and help others!
Drivers must own their own truck or cargo van. If you do not own a truck or cargo van or do not plan to use it with Lugg please apply as a helper.
Our drivers and helpers make more money in tips then any other on-demand service. You keep 100% of the tips you make.
Work on the weekends or every day of the week. Set your own schedule and work when you want.
Get paid at the end of each day via a direct deposit to your bank account.
There you have it! Go forth and prosper!! 😉