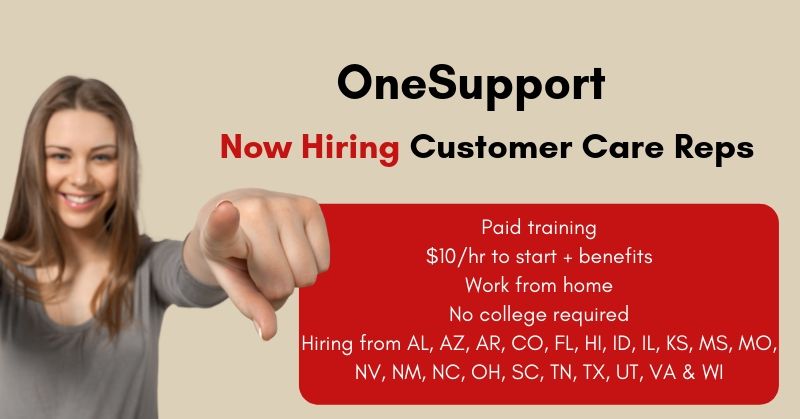 By Michael Haaren, Co-Founder, Rat Race Rebellion – Updated Oct. 18, 2019
OneSupport (formerly teleNetwork) has been hiring home-based workers for years.
Currently, the company is hiring Work-At-Home Customer Care Reps in 21 states, including: AL, AZ, AR, CO, FL, HI, ID, IL, KS, MS, MO, NV, NM, NC, OH, SC, TN, TX, UT, VA and WI.
No college required. Pays starts at $10/hr. Benefits include health, dental, vision, life, 401k, paid time off. Paid training. teleNetwork reviews on Indeed average 3.4 out of 5, and 2.5 on Glassdoor.
There appear to be full-time and part-time openings, but that's not official.
Here's what the company has to say about these roles:
Are you looking for dependable employment and a stable income? How about growth opportunities within an established company that promotes exclusively from within?
OneSupport offers the ability to Work from Home for qualified applicants in your state that are eager to offer exceptional support to customers. Consistent scheduling (full time and part time available) and a great online work environment are only the beginning to the many wonderful things about working for a company who has spent years perfecting the Work at Home experience. Come and see for yourself!




Our agents start at $10/hour base pay and have the opportunity to select a competitive benefits package (health, dental, vision, life, 401k, paid time off). If you lack previous support experience, we offer on-the-job, multi-week, paid training and continuing education to advance your skills. No certifications or degrees are required! Applicants should have excellent reading, written and verbal communication skills.The position requires regular attendance and punctuality.
Duties include:
— Provide general support and light troubleshooting for clients and their phone services
— Represent our clients in a positive, professional, and ethical manner while working to exceed customer and company expectations
— Interact with customers to provide, process, and prioritize information in response to inquiries, concerns, and requests about products and services primarily via inbound calls
— Research required information using available resources
— Follow provided processes and procedures
— Identify and escalate priority issues per client specifications
— Accurately process and record call transactions using the designated tracking software
— Stay current with system information, changes and updates
— Manage time effectively in order to obtain performance criteria objectives
Qualifications:
— Proper phone, chat, and email etiquette with the ability to speak and write clearly and accurately with proper grammar
— Interest in or experience with light or soft sales preferred
— Knowledge of relevant software, computer applications, and related equipment or the ability to learn
— Multitasking capabilities with ability to react quickly in a fast-paced environment




Requirements:
— Up-to-date and completed resume
— Typing test showing over 40 WPM and at least 80% accuracy
— Internet speed-test showing over 2 Mbps download speed and 1 Mbps upload speed
–If selected for a phone call, you'll also have to undergo a review of your computer's technical specifications to verify that they meet or exceed the technical requirements for the position:
— Either a desktop or a laptop running an authentic/validated/native copy of Windows 7, Windows 8.1, or Windows 10
— Minimum of a 2.0 GHz dual core processor and 3 gigabytes of RAM installed memory
— Direct/wired internet connection (Cable, DSL, or Fiber), we do not allow wireless connections for work due to potential inconsistency in connection strength
— A Skype-compatible (hard-wired, not wireless) USB headset
— At least one 15″ or larger monitor (more than one will make things easier)
— Skype-compatible webcam




Click here for more detail and to apply. To see more jobs like these, check our Newest Jobs & Gigs page. To be the first to hear about jobs like these, like our Facebook page and check your feed for our posts. May you be working from home soon!
PLEASE SHARE this post – turn your friends into Rat Race Rebels!