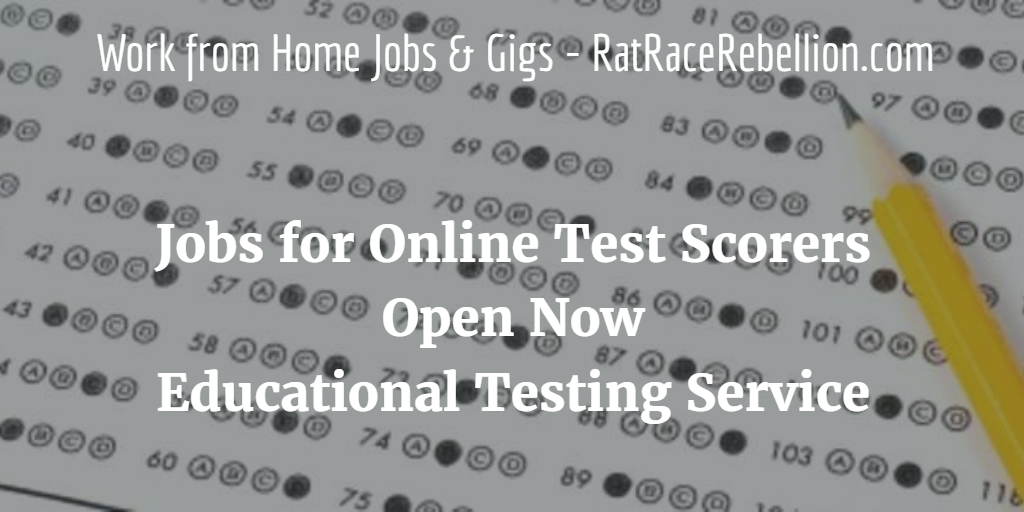 By Mike Haaren – June 30, 2016
For a number of years now, ETS — the folks who bring us the SAT and many other college and professional tests — have been hiring work from home scorers. The company doesn't list pay rates for all jobs, but online feedback reports hourly rates of $10 to $20 and sometimes more.
Here's a sampling of the jobs ETS is advertising now.
SAT ("$15 / Hour") – "The position of Rater for the Redesigned SAT Essay will score student essays by using a rubric to apply scores consistently across multiple prompts. Raters will read and score student essays, maintaining accurate and consistent calibration. Raters will receive extensive training; those who successfully pass the mandated ETS certification exam will have the opportunity to score."
Requirements include a Bachelor's in any field, humanities preferred.
Missouri Performance Assessments – These include the Missouri Pre-Service Teacher Assessment, The Missouri School Leader Performance Assessment, and the Missouri School Counselor Performance Assessment. Applications are being accepted now for October assignments.
Languages Other Than English (Spanish) – Scorers are recruited from Texas teachers. Applications are being accepted now for Winter 2016.
For more, click here.
BE SURE TO CHECK OUT OUR OTHER RECENT POSTS FOR MORE JOBS