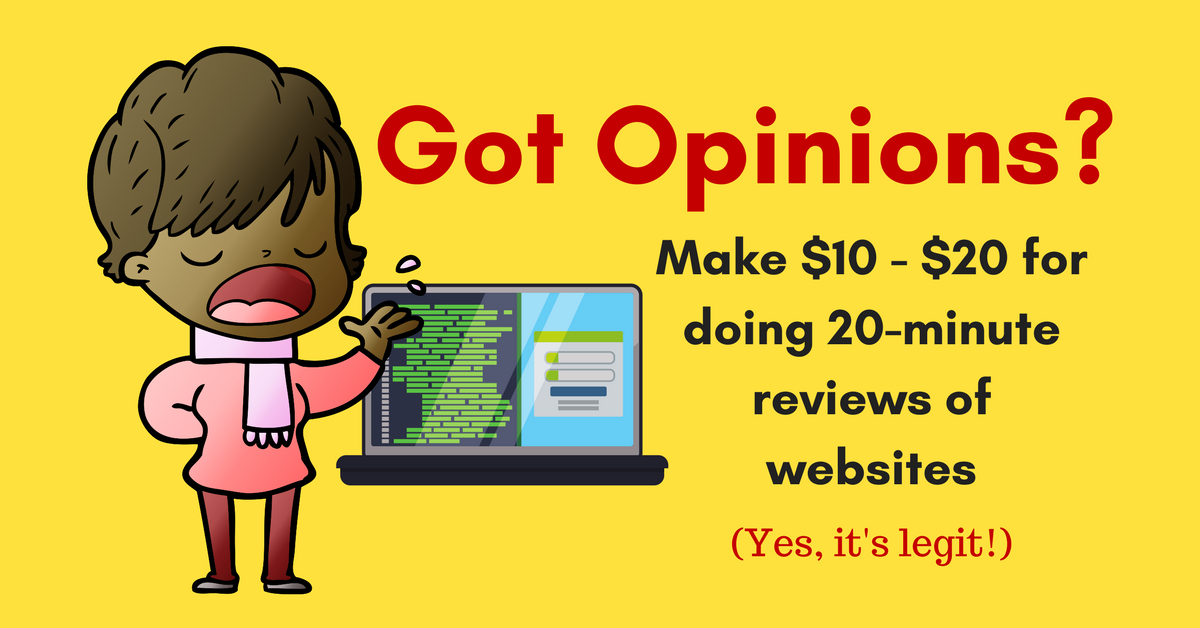 by Chris Durst       Feb. 19, 2018
How many times do you catch yourself "talking back" to websites? I mean, that's normal, right? It must be – I do it all the time…
"Where the heck are they hiding the link?"
"Who's the dork who picked the music that auto-plays on this home page and how do I turn this OFF?"
"Oh, well, isn't that freakin' special! I finally found the FAQ link and it leads to a 404 page! Grrrrr!"
Well, now you can get paid to tell companies what you like and dislike about their sites!
Smart companies know that if you're building a site for "outsiders" (customers, prospective customers, job seekers, etc.), then you really need an outside opinion of what makes a great site.
To that end, there are many companies that will pay YOU to review their websites and give your candid opinion of what you like and what you don't.
The Gig
Essentially, you'll need to download an application that will record what you are looking at on your computer screen (their site), and your voice as you navigate their site and voice your opinion of what you see. Some will also capture your image so they can see your reactions to their site in addition to hearing them.
You'll Need
A computer with a microphone, high-speed internet connection, up-to-date version of your browser (Chrome, Safari, Firefox, etc.), and a clear speaking voice.
The Pay
Pay varies from site to site, with some offering "quick test" options that pay a little less, and others with deeper feedback options that pay more. Generally speaking, they pay between $10 – $15 for about 20 minutes of your time. Read through each site carefully to find the ones you feel are the best fit for you.
---
"Enroll lets you take quick tests to help make the web a better place for everyone. Help companies decide which logo is better, clarify content or simply complete tasks on a web site or app to ensure the interaction makes sense. Anyone can do it!"
---
TryMyUI (CLICK HERE FOR MORE!)
"All you have to do as a tester is to be yourself — use the test website exactly as you would in a real-life situation, and voice your thoughts and frustrations out loud so the site developers can understand your experience and others' like you.
"You will be paid $10 for each test you take; a typical test lasts approximately 20 minutes."
---
UserFeel (CLICK HERE FOR MORE!)
"What does a Usability tester do? He or she conducts usability tests on websites. His job is to follow a given scenario and perform certain tasks, like find a product on an online store and get through the checkout process. This helps site owners see problems that they hadn't seen and fix them.
"For each test you conduct after the initial qualification test, you get paid $10 in case of desktop tests, $15 in case of mobile/tablet tests."
---
Userlytics (CLICK HERE FOR MORE!)
"You'll be user testing websites, prototypes, advertisements, videos and other types of material from small start-up companies to those of large well-known corporations. You will NOT be asked to view sites that do not meet our Terms of Use guidelines. You can contact us before beginning a user experience test if you have doubts about its content.
"User testers earn between $5 and $50 per usability test, or even more, depending on the nature and length of the user experience test."
---
UserTesting (CLICK HERE FOR MORE!)
"Get $10 via PayPal for every 20-minute video you complete. UserTesting pays you to visit websites or apps, complete a set of tasks, and speak your thoughts aloud."
---
What Users Do (CLICK HERE FOR MORE!)
The company is UK-based, but works with testers from around the world.
"Start helping companies to improve their websites on desktop, tablet and mobile devices. Receive an invitation via email whenever a test is available. Get paid via PayPal on the 25th of each month. Take between 3-5 tests per month, earning £/$/€ 5 per test. The better that you complete the tasks requested, the more tests that you will be offered…"
---
Validately (CLICK HERE FOR MORE!)
"The researchers want to hear your voice and know what you are thinking and doing. So speak out loud as you complete the test. And don't forget to answer any survey questions at the end to receive credit.
"Test payments vary. Our 5-minute talk aloud tests pay $5.00.
"We also do moderated live test during which you speak via the microphone on your computer and screen share with a moderator. Those pay a minimum of $25 for 30 minutes."
---
TestingTime (CLICK HERE FOR MORE!)
For more job options, see our Daily Jobs & Gigs page. To be the first to hear about jobs like these, like our Facebook page. Good luck in your work from home goals!
PLEASE SHARE this post – turn your friends into Rat Race Rebels!
[social_warfare]