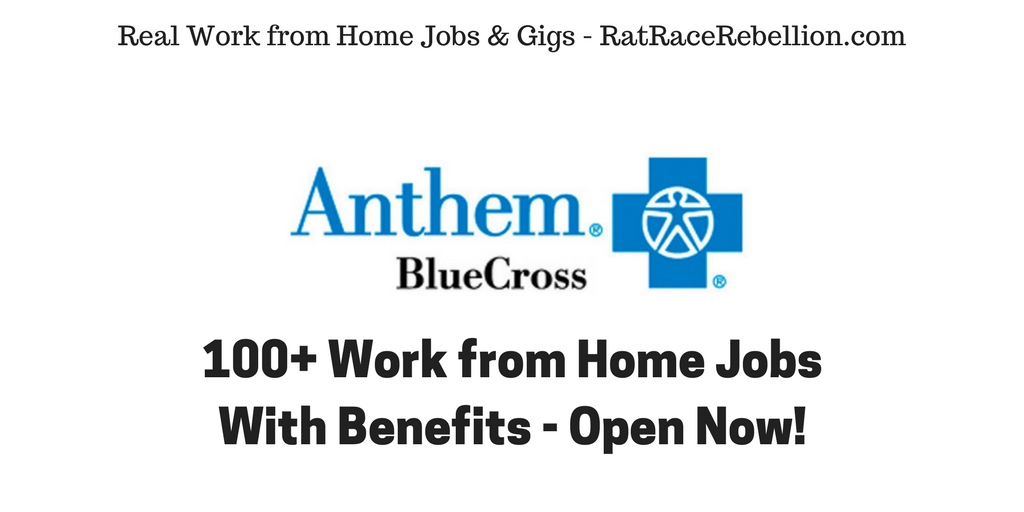 By Mike Haaren – Jan. 19, 2017
Work from Home Jobs – 100+ Open at Anthem, with Benefits
Anthem is one of the largest health benefit companies in the US. It has 37,000+ employees and assets of $59B. The company frequently hires work from home employees and is regularly listed as a top employer for telecommuting.
A current search for work from home positions yields over 100 jobs, with benefits.
Benefits
Benefits at Anthem include (quoting):
— Medical Coverage – A Health Reimbursement Account, two Health Savings Account plans, and an HMO where available.
— Dental Coverage – Two dental plans and a Dental HMO, where available, that offer preventive and basic services. The Enhanced Plan offers major dental procedures and orthodontia services.
— Vision Coverage
— Disability Benefits – Short-term disability at no cost to you if you are unable to work as a result of a covered illness or injury.
— Employee Assistance and Work/Life Program – Professional assistance with personal problems, as well as child care/elder care referral services.
— Programs to Improve Your Health – Onsite health services and screenings; tobacco cessation support; weight management programs; newsletters; tools; databases; health and fitness centers at many locations; and quarterly fitness club reimbursement for associates without access to an onsite fitness facility.
— Flexible Spending Accounts – Health Care and Dependent Care with a 10% company match on your contribution to the dependent care FSA.
— 401(k) Retirement Savings Plan – Associates may participate upon hire and are eligible for matching company contributions after one year of service.
— Employee Stock Purchase Plan (ESPP) – As a public company, we have the opportunity to share our success through stock ownership. The ESPP gives you the opportunity to purchase Anthem, Inc. stock at a small discount, through convenient payroll deductions.
— Life Insurance – Associate, spouse/domestic partner, and/or child(ren) coverage
— Long – term Disability Plan
— Tuition Assistance – Anthem, Inc. can provide up to $5,000 in tax-free reimbursement each year to cover the cost of tuition, required fees, and textbooks at an accredited institution.
For more on company benefits, click here.
How to Find the Jobs
A search of current openings includes Clerk, Community Relations Medicaid Rep., Nurses, Consultants, Business Analysts and many more.
To access the jobs, click here. You can then look for "nationwide" jobs by selecting Nationwide under Location Type. You can find others by searching with keywords (without quotes) "work from home," "[email protected]" and "telecommute." It takes a little digging, but there are many to choose from. Good luck!
PLEASE SHARE this post – turn your friends into Rat Race Rebels!
[social_warfare]