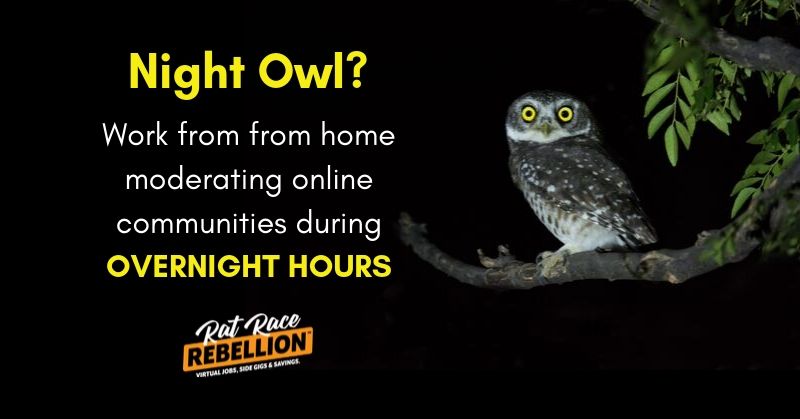 By Chris Durst – Updated Oct. 5, 2019
If you'd rather work the late shift, ICUC is looking for p/t people to moderate its clients' social media accounts. No college required, no state hiring restrictions mentioned.
Pay is $11-$13/hr. per Glassdoor reviews, but that's not official. The title of the role is Overnight Content Specialist.
The shifts are 12:00 am to 8:00 am CST.
Here's what the company says about the role:
Do you love social media & social networking? Are you Internet savvy? Would you like to help manage the online reputation for some of the world's largest brands? If so, ICUC Social is looking for a Content Specialist to work remotely. Applicants must be prepared for a fast-paced, self-motivated, entrepreneurial, lifestyle. You will be given the opportunity to work with a diverse group of people and a variety of clients in an ever-changing industry. We look for team players with strong social networks that are able to work independently and collectively in a unique virtual environment.
​​Responsibilities:
Enforce the online community's safety and usage policies across multiple content areas.
Monitor the activities & responses to posts on client's social media profiles to ensure that guidelines & rules are adhered to.
Develop & post interactive content that encourages participation & the development of member-generated content to ensure that the community is achieving its objectives.
Identify behavioural & technical issues, patterns, & trends in the community.
Proactively escalate issues, observations, opportunities, & insights through the relevant channels.
And other tasks that will come up in a young, fun, entrepreneurial company.




Qualifications:
Must have exceptional communication skills both verbal and written
Must have a general interest in the content being moderated.
Must have a Twitter and Facebook account and be a regular user of these and other social media sites.
Must be able to demonstrate experience with social media tools & interact with online community tools such as forums, blogs, user-generated content, etc.
Must have substantial knowledge of the Internet including following current trends.
The successful candidate will be required to undergo a Criminal Record Check.
Excellent communication skills.
Above average skill in using today's social networking tools such as Twitter, Facebook & other social media sites.
Overwhelming passion for today's social networking & collaboration technologies.
Strong sense of account ownership & pride in work.
Strong time management skills with the ability to plan, prioritize, monitor, & respond to changes quickly.
Strong decision-making skills coupled with good judgment.
Ability to multitask in a fast-paced, entrepreneurial environment.
Good sense of decorum & brand appropriateness.
Friendly, diplomatic, & imperturbable self-starter with the willingness & desire to take initiative & get the job done.




Click here for full details and to apply. For more jobs like these, check our Newest Jobs & Gigs page. To be the first to hear about jobs like these, like our Facebook page and check your feed for our posts. Good luck in your work from home plans!
PLEASE SHARE this post – Turn your friends into Rat Race Rebels!