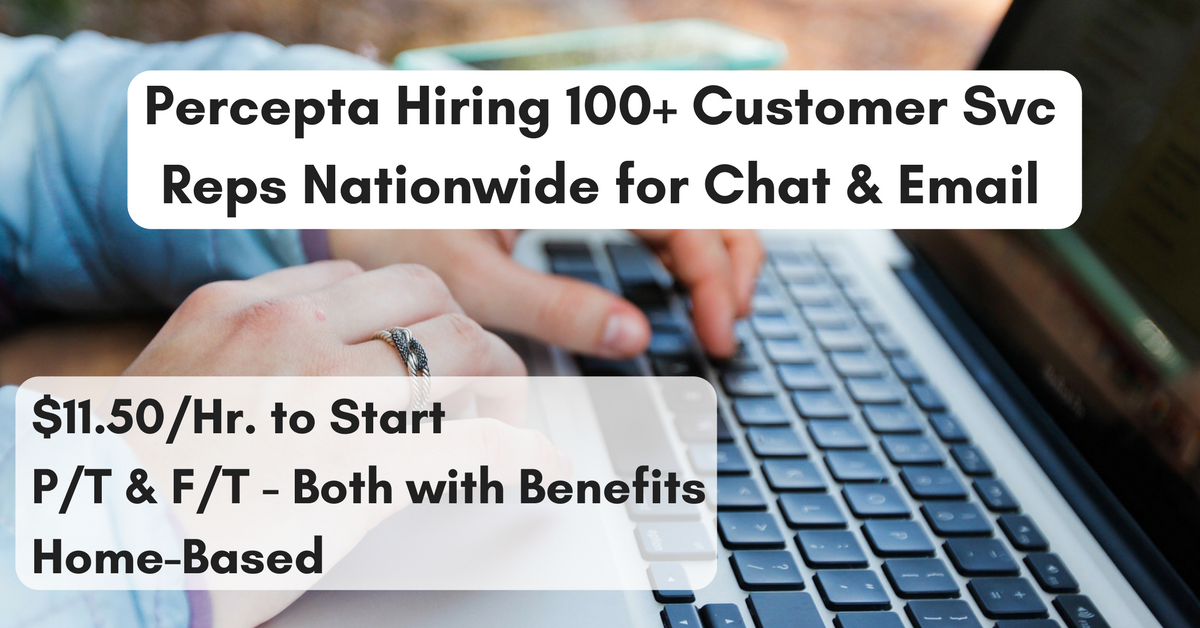 By Mike Haaren – Rat Race Rebellion Co-Founder – Feb. 1, 2018
Work from Home Jobs – Percepta Hiring 100+ Agents Nationwide – Provide Chat & Email Support – P/T & F/T (Benefits for Both) – Starts at $11.50/Hr. 
Update — Feb. 3 — Looks like the company received all the applications it needed and has taken down the listings. Good luck to everyone who applied! If you missed them, be sure to like our Facebook page and check your feed for our posts. We post to Facebook immediately when new jobs go up here. For more jobs & gigs, see our Daily Jobs & Gigs page. May you be working from home soon!
***
Percepta, which provides customer relationship management services to the automotive industry, is looking for 100+ part-time and full-time Customer Service Agents nationwide. Agents will primarily provide email and chat support. Starting pay is $11.50/hr. Both p/t and f/t jobs include benefits.
Requirements include a HS diploma and at least one year's experience assisting customers in a service industry.
The official title of the job is Digital Communication Specialist.
Percepta is a subsidiary of TeleTech (TTEC). We often post TTEC's work from home jobs. Both are legitimate companies.
In Percepta's words:
Part-time Digital Communication Specialists start out at $11.50/hr. Additionally, part-time digital communication specialists are eligible for a benefits package which includes dental, vision, 401K (including up to a 3% match!), paid vacation/sick/holiday pay, as well as a fun and engaging culture!
*Please be mindful that these are part-time opportunities (i.e., 25 hours per week). We will be offering two shifts (i.e., day shift and afternoon shift). Please note that these shifts will be calculated in Eastern Standard Time.
• MUST HAVE THE ABILITY TO WORK IN AN @HOME ENVIRONMENT:
o Use of own personal computer equipment and reliable internet connection (comprehensive @home technology assessments must be passed as a condition of employment).
o Have a designated space to handle work responsibilities without any outside interference or distraction




Digital Communication Specialist Overview:
The Digital Communication Specialist has the skills to assist customers by answering inbound chats, emails, and/or correspondence to properly address inquiries.
The Digital Communication Specialist will deliver and foster a premier level of service for customers based on trust and respect. The Digital Communication Specialist must have a genuine passion for assisting customers and handling their concerns/inquiries with a high degree of care and competence. The Digital Communication Specialists strive to create loyal brand advocates by creating an exceptional experience for customers.
The Digital Communication Specialist is an innovative initial contact point for customers. The Digital Communication Specialist provides an accurate and timely response to customer inquiries using the flow of an instant message conversation in real-time. The Digital Communication Specialist will help identify process improvement recommendations that drive customer satisfaction and advocacy.
Digital Communication Specialist Responsibilities:
• Maneuver effortlessly through various digital communication channels (chat, email, and correspondence) to provide the customer with prompt, courteous and accurate information including:
o Accurately respond to customer inquiries through digital channels
o Utilize available resources to respond to customer inquiries
o Correspond with customers via mail channel as appropriate
• Peruse internet forums for discussions on relevant topics and tactfully respond to the public
• Outbound phone calls to customers and dealerships on occasion
• Research and determine appropriate actions based on policies, procedures, dealer/region feedback and job aids
• Develop and suggest "out of the box" department recommendations to continuously improve team efficiency and the customer experience
• Develop and suggest "out of the box" department recommendations to continuously improve team efficiency and the customer experience
• Responsible for meeting all personal performance objectives including customer satisfaction, efficiency, quality, attendance and punctuality, and take individual accountability for meeting these objectives
• Take personal ownership and accountability for meeting customer needs, demonstrating appropriate levels of empathy, enthusiasm, skill and expertise – consistently courteous with all customers and keep all commitments
• Remain knowledgeable and current with all policies, procedures, processes, and changes
• Continuously improve customer handling skills, process knowledge, and company and product information
• Actively participate in team meetings, share knowledge and recommendations with supervisor and team members.
• Participate in coaching and training opportunities, retaining and applying learning
• Maintain professional working relationships
• Complete additional tasks / projects as needed




Digital Communication Specialist Education:
• High School Diploma required, Associates degree or 2 + years college coursework completed preferred
• Academic background in Communications, Public Relations, English, Marketing, Journalism or similar field is preferred
Digital Communication Specialist Responsibilities Experience:
• 1-2 years' proven experience assisting customers in a service industry
• At least 1 year of digital communication experience providing customer support in both chat and email channels
• Experience using CRM software is preferred
Digital Communication Specialist Competencies:
• Comfortable and confident with a passion for delivering customer solutions through digital platforms
• Passionate about digital channels and their capabilities within a business context
• Showcases the program's values when supporting consumers and internal colleagues
• Ability to communicate clearly and correctly, both in writing and speaking, and respond effectively to follow-up questions
• Excellent interpersonal and business communications – verbal and written
• Excellent customer service ability; use questioning skills to easily explore customer needs and concerns
• Ability to answer and complete multiple chats in a timely manner
• Ability to effectively navigate a desktop computer and utilize many software platforms at one time
• Demonstrated ability to achieve telebusiness goals
Digital Communication Specialist Skills:
• Ability to maneuver through various systems to provide the customer accurate information
• Excellent decision making, trouble-shooting, and problem solving skills
• Excellent written communication skills, with dynamic and engaging written communication style
• Must be able to efficiently multi-task with effective time management and organizational skills
• Ability to analyse, interpret and relay complex (often technical information) via digital channels in a customer friendly manner
• Displays professionalism and positive attitude to develop and nurture prospect relationships
• Ability to effectively communicate with customers, managers and co-workers, and follow a logical, analytical approach to business conversations and chat dialogue
• Demonstrate self-motivation and results-orientation
• Willingness to take on new assignments
• High level of trust and integrity, and exercise sound judgment
• Ability to identify the most suitable communication channel with the customer and then guide the customer towards the most effective channel (e.g from chat to voice)
• Ability to work well within a team environment, self-sufficient, resourceful, and works well with minimal supervision




For more detail on the part-time jobs and to apply, click here. For details on the full-time jobs and to apply, click here. For more jobs like these, check our Newest Jobs & Gigs page. To be the first to hear about WFH jobs like these, like our Facebook page. Good luck in your next steps toward working from home!
PLEASE SHARE this post – turn your friends into Rat Race Rebels!
[social_warfare]