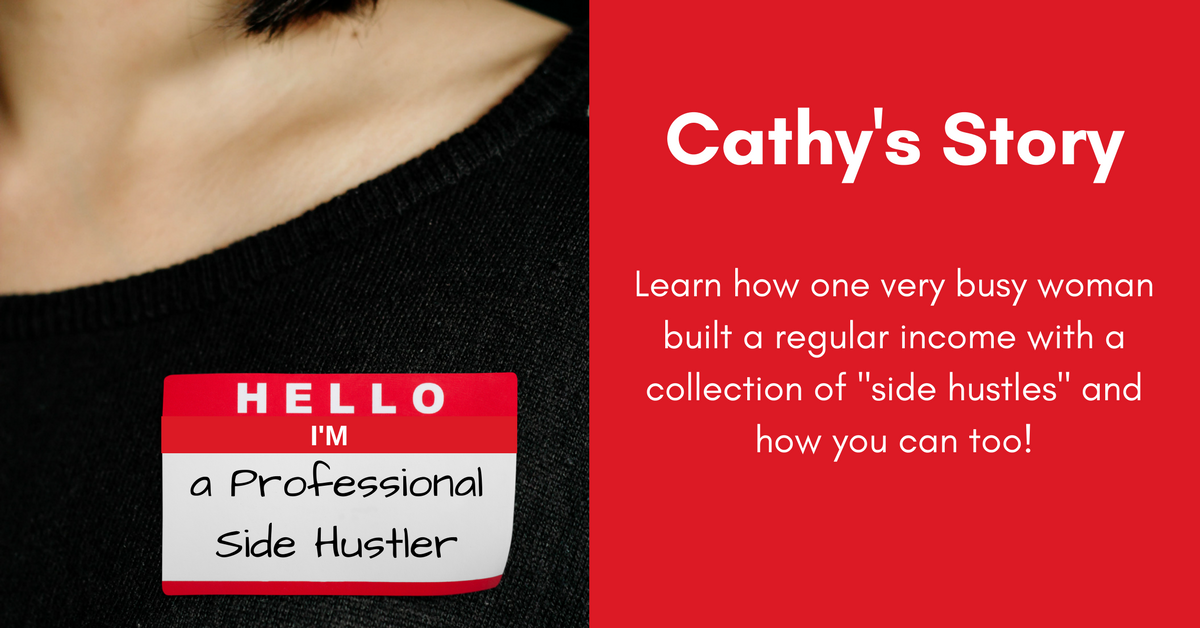 by Chris Durst Feb. 22, 2018
I recently had the pleasure of meeting (virtually) Cathy – a "mom to three school-aged children, wife to an often-absent Airman [US Air Force], and manager of my own depression."
In short, Cathy has a full plate.
She came to the Rat Race Rebellion site several years ago looking for a "really flexible" job that would work with her children's schedules, her husband's deployments and training exercises, and her own occasional "bad days."
As she reviewed the jobs that were listed on the RRR site, she found some that she was a good fit for, but that were not a good fit for her. "I had the skills for some really interesting jobs. But at the end of the day, I knew that I might not be able to fit them into an already demanding life," she told me.
So, Cathy did what an increasing number of people are doing – she became a "Professional Side Hustler!"
"When I saw all of the ways to make extra money on your site, I decided that rather than take a job that has regular hours, maybe I could do several of those so I could have some income without being locked in to a regular schedule," Cathy says. "Before I knew it, I was a Professional Side Hustler – making good money, enjoying the work I do, and loving the flexibility I had created for myself!"
I asked Cathy if she'd be willing to share with her fellow Rat Race Rebels.
Here's what Cathy had to say:
User Testing – Website Testing
"The first side hustles I signed up for were Userlytics and UserFeel. These are Website Tester or, more accurately, Usability Tester gigs. I LOVE LOVE LOVE doing this.
So, basically, as a User Tester, these companies ask me to visit specific sites and perform specific tasks while I am there. For example, I may be asked to locate a specific item on the site and then go through the process of 'buying' it. I DON'T HAVE TO ACTUALLY BUY IT, the company just wants to see how easily consumers can find and purchase items from their site. While I am doing the task, there is an application that is recording everything I do on my computer screen so the company can see if I get totally lost, or have to try multiple times, or if I go straight to the item. As I perform the task, I am also "narrating" my experience – speaking aloud about my thought process, reactions, frustrations, and opinions as I move through the task.
The companies use my feedback to help them create a better user experience.
I make at least $10 per test and most tests only take about 20 minutes.
My tips to anyone who wants to do this kind of work would be to be really candid in your reviews. Don't forget to talk as you navigate through the site – companies need to know exactly what you are thinking as you move around their sites.
Your reviews will be rated and better ratings means more jobs. And more jobs means more money!
Money for Doing What I Do Anyway
It was a real eye-opener for me when I realized I can make money just by tweaking the way I do things I'm doing anyway. Let me give you some examples:
I installed the Ibotta app on my cell phone, and whenever I am shopping I always keep my phone in hand so I can make some money with it.
Using Ibotta, I earn cash back on certain items I purchase, but I also make money for participating in quick polls, reading short facts about products, watching short videos, commenting on products, posting on Facebook and other small tasks.
I also earn money $5 for every friend I refer. I am NOT big on referring people to anything, but I love this app and it's free, so I'm comfortable doing it.
I've been using Ibotta for just over a year and I have cashed out over $1,600 already. For just shopping. Seriously.
Ebates is another great tool for earning cash back on purchases I need to make anyway.
With three boys, I find it much easier to do most of my clothes and household items shopping online. It's just easier than chasing after them in a store. With Ebates, I can shop at all of the stores I already shop online – Walmart, Kohl's, Belk, Macy's, Amazon. They have over 2,000 stores in their network.
Basically, you sign up with Ebates, go to their site and choose the stores you want to shop, click "shop now," and shop as usual. Your account is automatically credited with your cash back and trust me, you'll be surprised at how the balance adds up.
I cashed out just over $1,000 in 2017 and I should do even better in 2018, as I am committing to doing 100% of my kid's back-to-school shopping through Ebates! Also, when I need clothes and I'm not sure how a style will look or fit, I go to the store to try items on, make notes, then go home and purchase exactly what I want via Ebates.
Teaching English to Chinese Children
I signed on with VIPKID about half way through 2017 and I am making at least $2,000 a month helping Chinese children to learn English. This job has expanded my mind, my heart and my wallet!
Early in the morning and late at night, I put on my headset, start up my webcam and meet with my students online. I can't believe how much I have bonded with these wonderful little people.
I enter the time I am available about a month in advance and each Saturday I receive my schedule for the week. I've found that the most-requested times are weekdays from 6PM to 10PM and weekends between 9AM and 10PM.
It took about four weeks to really build up a steady flow of students and teaching hours, but it's pretty consistent now and it's my single largest income source at the moment.
Reading Books and Writing Reviews
Mike wrote a post on the Rat Race Rebellion site and he talked about his experience reviewing books for Kirkus. I love to read and the prospect of reading the works of new writers really excited me so I signed up. I have read and reviewed three books so far and I love it. I highly recommend it to all book lovers with opinions!
Bits & Pieces
In addition to the things I have already mentioned, I pick up extra money in my downtime with a variety of survey sites. I regularly use InBoxDollars, Swagbucks and Poll Takers. Between these three, I get a nice variety of surveys and short tasks to keep my mind busy when I need a distraction.
I won't lie and say I make big money with these, but I do make enough to make it worth my while and it's super simple.
Now, when people ask what I "do for a living" I tell them I am a "Professional Side Hustler." It's a great conversation starter!
PLEASE SHARE this post – turn your friends into Rat Race Rebels!