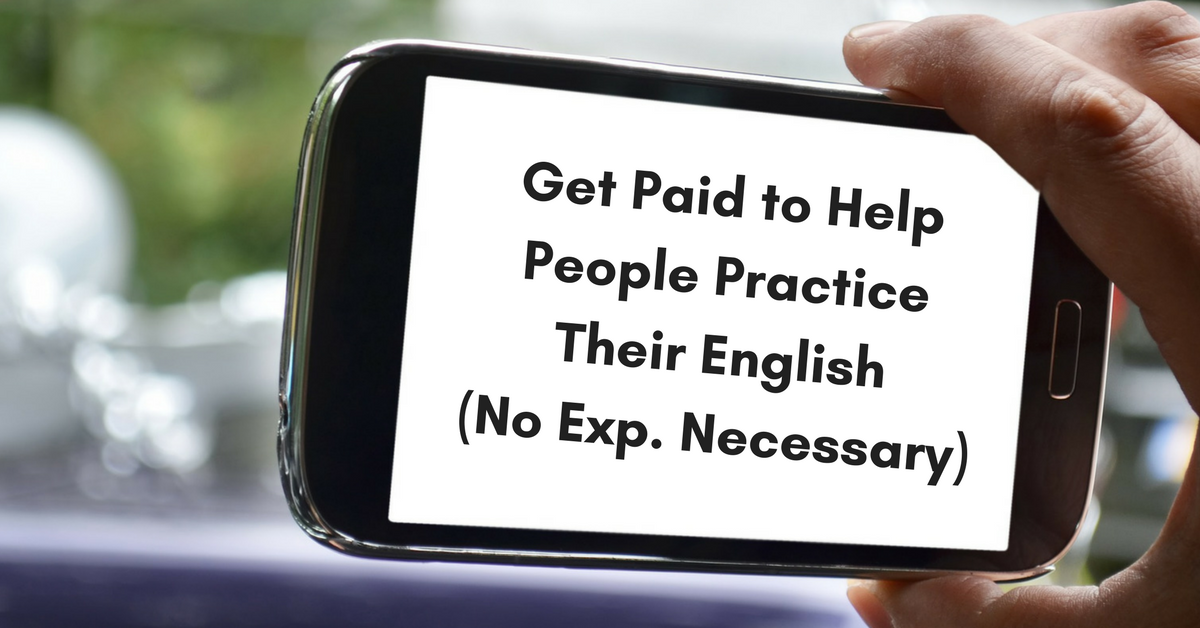 By Mike Haaren – Rat Race Rebellion Co-Founder – Updated April 4, 2019
Work from Home Jobs – No Experience or College Required – Get Paid to Chat with English Learners – Set Your Own Hours – Nationwide
If you speak fluent English and are looking for a side gig you can do online, Cambly continues to recruit people nationwide to chat with English learners. Correction to earlier post — We thought mobile devices were OK, but apparently not, only laptops or desktops, high-speed internet. (With thanks to reader Barry K.!)
"Travel" the World from Home
While the "get paid to chat" jobs often serve students from Asia, Cambly seems to draw from a wider base. In addition to Asia, it has students from South America, Saudi Arabia, India, Turkey, South Korea and others. If you're like me and enjoy experiencing other cultures, it could be a good way to get paid to share your language and culture while learning a lot about others, too.
"Anytime, Anywhere Money"
You can log in when you have some free time and start taking calls within minutes, the company says. Or you can schedule blocks of time when you want to be available online. (This seems to produce more calls from students, Tutors say.) When you schedule your time, you also reportedly become eligible for "Priority Hours"…
Priority Hours
This option gives you "priority access" to new students. In Cambly's words,
"Priority Hours are 1-hr time slots when you will receive priority access to new students. During your Priority Hour, we will actively feature your tutor profile and send you calls from new students. Additionally, you'll be guaranteed to be paid for a minimum of 15 minutes of chat time per hour regardless if students call. During a Priority Hour, you are required to be online and answer all calls that come your way during that Hour."
However, it's not clear whether "priority hours" are still available or how often they're allocated. Since workflow at Cambly seems to be iffy, you may want to treat this as an extra-cash option that can provide work-from-home and tutoring experience, rather than core income.




Get Paid Weekly Via PayPal
While you chat with students, Cambly automatically tracks your time. You'll earn $0.17 USD per minute of tutoring (an hourly rate of $10.20). Pay is sent every Monday via Paypal.
Pay Note:
Since you're paid per talk minute, it's unlikely you'll be chatting for a solid hour and net $10.20. At least not regularly. Best to have another gig on hand for downtime. Palfish is another company that pays for Tutors, no experience required. For more on them, click here.
The Signup Process
The signup was pretty simple the last time we checked. Fill in the blank forms, do a quick video for Cambly's internal use, and verify your email address. There will be some questions about any certifications or teaching experience you might have, but it's just fact-gathering – neither one is required. Then they'll review your application and get back to you with a yes or no.




Reviews on Glassdoor average a little over 4 stars, which is higher than most jobs & gigs we see. A lot of people would like to get more chat time. And you may get a rude or dipstick student occasionally, though apparently you can ban them. That's a plus not available to on-site teachers. lol CLICK HERE to apply. For reviews on Glassdoor, click here.
PLEASE SHARE this post – turn your friends into Rat Race Rebels!