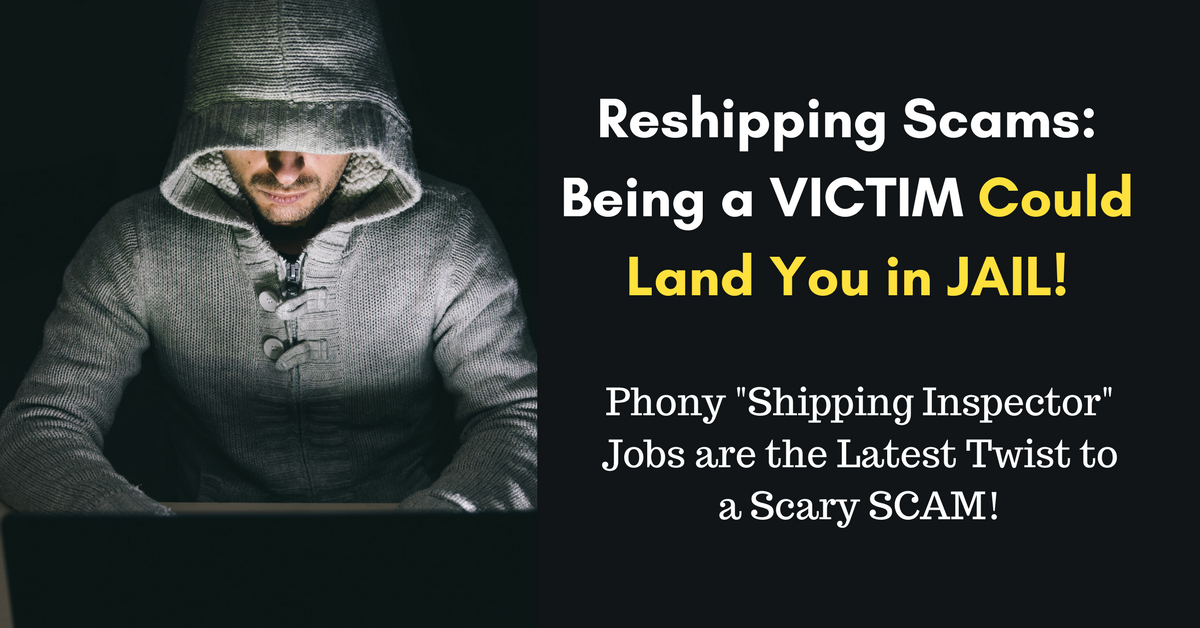 by Chris Durst     Jan. 2, 2018
I've warned you about "Gift Wrapping" scams in the past – well, this year, the scammers are taking the scam beyond the holiday season by giving the bogus job a new name – "Shipping Inspectors". You can see one such scam here at JetPost – http://us.jetpostint.com/career.html (THIS IS A SCAM – DO NOT APPLY!!)
A REPACKAGING/RESHIPPING SCAM BY ANY OTHER NAME, IS STILL A SCAM!!
Screened Ad: Get Paid to Answer Simple Questions – Ipsos i-Say: Answer simple opinion questions for points redeemable for rewards like PayPal cash or a wide variety of gift cards. Another legitimate extra-income option.
Right off the top, it's important that you know that "jobs" where the company proposes to send items to your home and have you wrap, inspect, or repackage the items are SCAMS!
They will lie and tell you that they need you to do this because "some companies don't ship overseas directly" or that "packages from merchants often have a hard time getting through customs in corrupt countries," or any number of other lies.
Yes, even if you get an email saying they found your resume on a job board (Monster, Indeed, CareerBuilder, etc.) – it's a SCAM.
Yes, even if they have a GREAT WEBSITE – it's a SCAM.
Yes, even if they speak with you on the PHONE – it's a SCAM.
Yes, even if they have you sign a CONTRACT – it's a SCAM.
Yes, even if they ask you to provide a picture of your DRIVER'S LICENSE – it's a SCAM.
Yes, even if they set you up with a password to access a SHIPPING PANEL – it's a scam.
NO MATTER how real and legit they seem – it's a scam and not only will you not get paid, you will also put yourself at risk of a RUN-IN WITH LAW ENFORCEMENT!
Screened Ad: Video Watchers — $5 Signup Bonus – Swagbucks: Get cash for watching vids, or using Swagbucks' search engine (powered by Yahoo) for your searches, or taking surveys. One more legitimate extra-cash option.
WHAT'S THE SCAM?
The items you're receiving have been bought with stolen credit cards and hacked accounts. And you, if you reship them, have just become involved in the receipt and distribution of stolen goods.
But that's not all – it's the scam that keeps on giving!
If you are shipping overseas and you've removed the paperwork and repackaged for shipping, you are also defrauding Customs. How? The items are being sent as "gifts" instead of purchased merchandise.
Oh, and if they have you using the US Postal Service to ship the items, you are also committing mail fraud – a federal offense.
In a nutshell, your "job" is to commit several crimes, and to help the con men get away with theirs. Oh, and did I mention, you won't really get paid, either?
So there you have it, dear Rebels. Steer clear of this scam and any others that carry the same or similar earmarks, and stay safe! For some legitimate work from home jobs, see our Newest Jobs & Gigs page. May you be working from home soon!
Screened Ad: Get Paid Up to $50 to Download Nielsen's App – Nielsen (The TV/Radio ratings company) – "For each mobile device you register you will receive up to $50 a year," the company says. For consumer trend data, Nielsen will pay you to install an undetectable app on your smartphone, computer or tablet. The app follows your web use. Your name is separated from the data, and devices run as usual. User IDs and passwords are not collected, the company adds.
PLEASE SHARE this post – turn your friends into Rat Race Rebels!