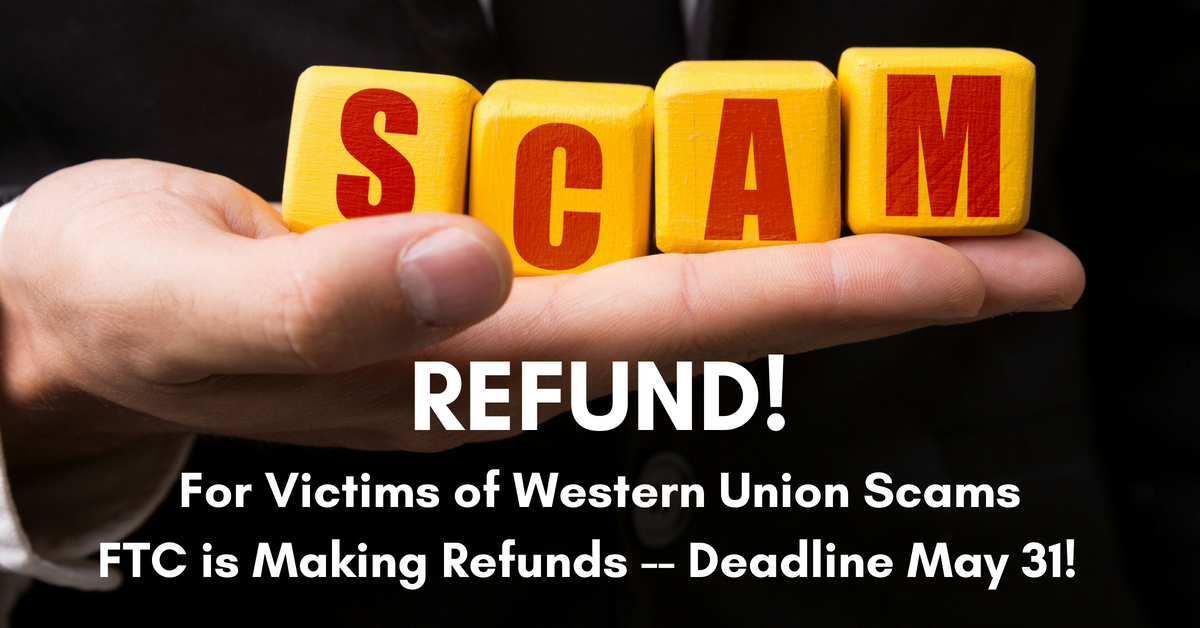 By Mike Haaren – Co-Founder Rat Race Rebellion – May 24, 2018
If you or someone you know was scammed in a Western Union wire transfer, the FTC and Dept. of Justice are making refunds from a $586 million fund — but act or share quickly, the deadline for filing a claim is May 31.
Background: Many people have been victimized in scams that trick them into wiring funds through Western Union. Western Union admitted to aiding and abetting the scammers and paid a penalty of $586 million, after investigations by the FTC, the Department of Justice (DOJ), and the US Postal Inspection Service. DOJ is now using that money for refunds to victims.
♦Ad: Get Paid to Watch Videos – MyPoints: Work from anywhere. Scroll down at site for details.♦
Here's what the FTC says about it:
What is this case about?
For years, many people who lost money to scams sent their payment through a Western Union wire transfer. Scammers contacted people and promised prizes, loans, jobs, discounted products or other financial rewards in exchange for money upfront. They also pretended to be family members in need of cash or law enforcement officers demanding payment. The scammers told people to send money through Western Union. No one received the cash, prizes or services they were promised….
What is the deadline to submit a claim?
The deadline to file a claim has been extended to May 31, 2018.
Who is eligible to submit a claim?
If you sent money to a scammer through Western Union between January 1, 2004 and January 19, 2017, you can submit a claim.
♦Ad: Drivers Needed, Almost Any Car OK – UberEats: If you've got a car and are looking for a side gig, UberEats pays people to deliver restaurant orders. Set your own hours. Hiring across the US…♦
Do I need an attorney to file a claim?
No, you do not need an attorney to file a claim.
Will I definitely get my money back?
Each person's claim must be verified by DOJ. If your claim is verified, the amount you get will depend on how much you lost and the number of people who submit valid claims.
For details, click here. For legitimate work from home jobs and side gigs, see our Newest Jobs & Gigs page. To be the first to hear about scams and legitimate leads too, like our Facebook page. Good luck in your work from home plans!
PLEASE SHARE this post – turn your friends into Rat Race Rebels!