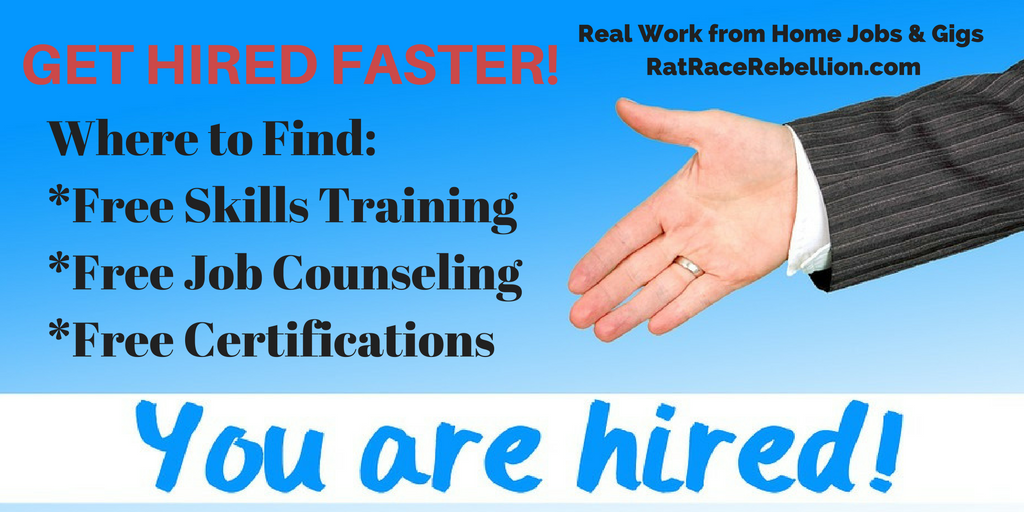 By Mike Haaren – Rat Race Rebellion Co-Founder – Updated Dec. 12, 2018
Work from Home Jobs – Get Hired Faster with Free Training, Certifications & Job Counseling
Job hunts almost always take longer than we expected. Skills get outdated fast, experience grows stale, or we're just not searching effectively. Free training, certifications and job counseling can help immensely. Here are some legitimate sources!
— Check your local American Job Center for free training and job counseling. AJCs are free resources for job seekers, maintained by the US Labor Dept. and state or local agencies. There are more than 2,500 nationwide.
AJCs can be very helpful, identifying federal or state programs you may qualify for, for free skills training or other benefits. You can often get free job placement assistance, too. (I landed one of my first jobs after college with the help of an AJC counselor. I graduated during a bad recession, and the job market was terrible. The counselor told me about a federally-funded job program that I qualified for. I had no idea it was available, and it made "all the difference.")
Free career assessments at AJCs can also help you make sure you're on the right career path. If you're a vet, veterans representatives may also be available to counsel you on benefits. For more, click here. To find the nearest American Job Center, click here.




— SNAP participants (Supplemental Nutrition Assistance Program) may get free job skills training. If you qualify for SNAP food benefits, you may also qualify for a SNAP E & T training program to help you gain career skills. Contact your SNAP office to find out more. You can locate them here.
— Get free skills certifications at Brainbench. Brainbench, founded in 1998, tests and certifies people for Office Skills, Essential Skills (English, Math, Spelling, etc.), IT, Health Care and other areas. It administers over 600 tests, some of which are free. (The rest are $49.95 each.) It has a free Personality Assessment, too. Registration is free.
For Brainbench's free Personality Assessment and a list of free tests, click here. For its home page, click here.




— Learn marketable skills for free in courses at top universities. Stanford, Duke, Johns Hopkins and many other universities offer online courses for free. But it's not just for "eggheads." You'll find job-world subjects like journalism, career development, software skills (Ruby, HTML, Python and more), project management and many others. For details at edX, founded by Harvard and MIT, click here. For Coursera, click here.
PLEASE SHARE this post – turn your friends into Rat Race Rebels!
[social_warfare]