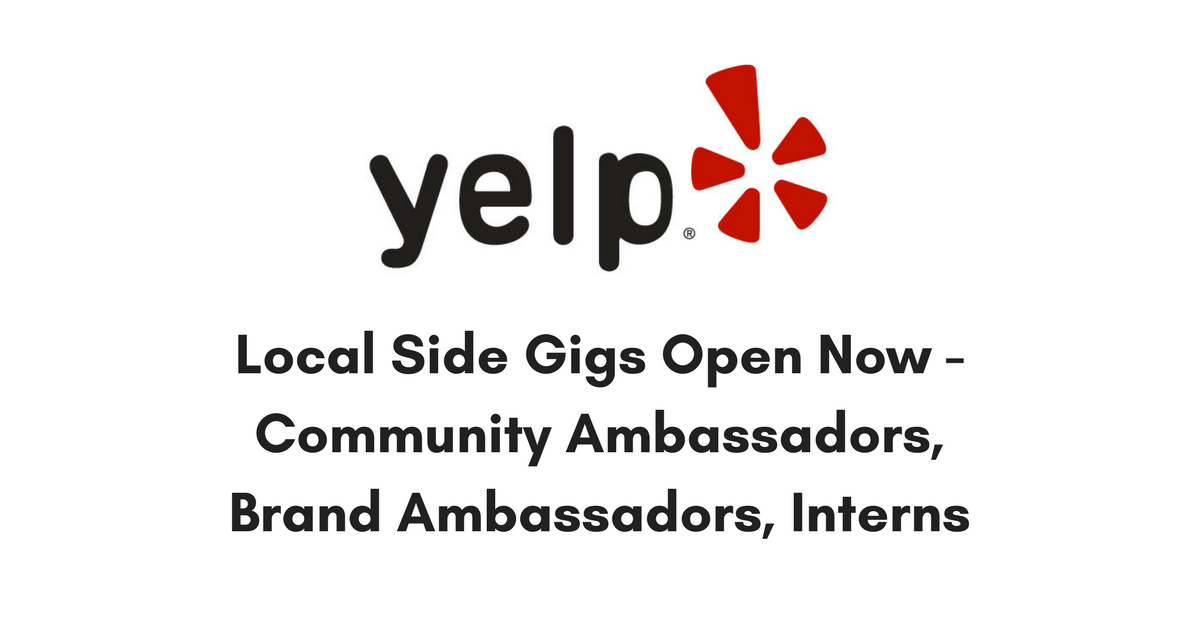 By Mike Haaren – Rat Race Rebellion Co-Founder – Oct. 13, 2017
Side Gigs with Yelp – Brand Ambassadors, Community Ambassadors, Marketing Assistants, Interns
Yelp, the well-known site for reviews and local activities, is hiring for a range of part-time, local, home-based or cafe WiFi-based jobs in select cities in the US. If you're outgoing, a good communicator, know your community well and love to make things happen, one of these could be a good fit.
Open positions include:
Brand Ambassadors – These jobs are open in Atlanta, GA; Nashville, TN; Boston, MA; Las Vegas, NV; and Richmond, VA. In this as-needed role you'll be getting the word out about Yelp in your local community. "Yelp is organizing a team of Brand Ambassadors to support our on-site promotions at local festivals, fairs and events. Brand Ambassadors will work specified Yelp events as needed on an independent contractor basis." Per Glassdoor reviews, the salary range is $21,000-$33,000, but other sources quote different figures, so "your mileage may vary."
Community Ambassadors – These jobs are open in Fayetteville/Bentonville, AR; Memphis TN; El Paso, TX; Poughkeepsie-Newburgh-Middletown, NY; Victoria, BC, Canada. In these part-time roles "you'll be a part-time, fixed-term Yelp employee (working out of your home or anywhere with WiFi) at the helm of a vibrant, buzzing community of locals who drink, shop and play their way through the city via peer recommendations on Yelp…. You'll host events, partner with exciting local events and organizations, act as the online moderator and voice of Yelp in your community….."




Reliable pay data is hard to come by. A recent Community Ambassador listing for Wichita had an estimated salary of $46,000 for full-time (not part-time like these), but at best that's just a rough idea. When we have more detail we'll update here.
Marketing Assistants and Interns (Paid) – Hiring in Los Angeles, CA; Long Island, NY; Pittsburgh, PA; Raleigh-Durham-Chapel Hill, NC; Portland, OR. In Yelp's words, for the Marketing Assistant role, "Community Managers in over 100 Yelp communities are responsible for marketing, PR, other social media outlets, event planning, e-newsletter campaigns, and various odds and ends on the local level — but they can't do it alone! CM Marketing Assistants play an integral part in supporting activities designed to rally the Yelp community both online and off."
The average pay for Marketing Assistants is $16/hr. and the range is $15-$17, say Glassdoor reviews, though Yelp hasn't confirmed this.
Marketing Interns are needed in Pittsburgh, and Social Media Interns are needed in Raleigh-Durham-Chapel Hill (the NC Triangle or Research Triangle) and Portland, OR. The salary range for Marketing Interns is $7 to $11, with an average of $8.81, say many Glassdoor reviews (others report a higher average), though Yelp hasn't confirmed this. Pay data for Social Media Interns is hard to find, though the range may be comparable. Note that these internships can be "renewed with approval," so if you ace the gig you can extend it.




Employee reviews of Yelp overall on Glassdoor give it 3.2 stars out of 5. On Indeed it gets 3.7. To go straight to the jobs, click here and scroll down. For more jobs like these, see our Newest Jobs & Gigs page. To be the first to hear about jobs like these, like our Facebook page and check your feed for our posts. Good luck in your side-gig plans!
PLEASE SHARE this post – turn your friends into Rat Race Rebels!