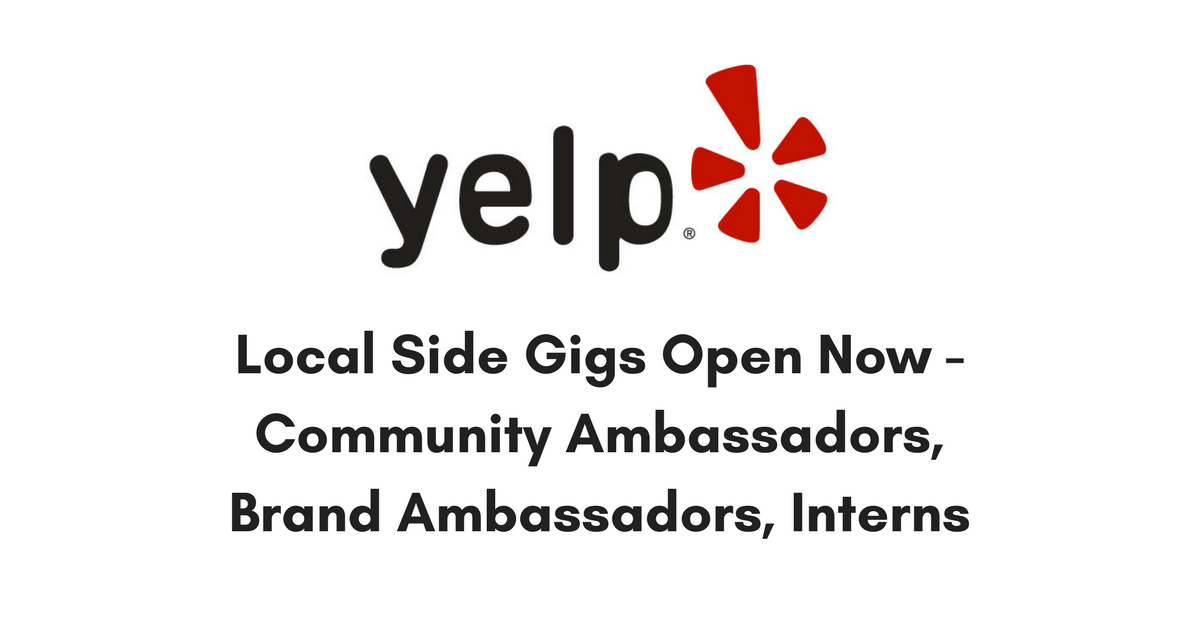 By Mike Haaren – Co-Founder – July 6, 2017
Side Gigs with Yelp – Brand Ambassadors, Community Ambassadors, Interns
Yelp, the well-known site for reviews and local activities, is hiring for a range of part-time, local, home-based or cafe WiFi-based jobs in select cities in the US. If you're outgoing, a good communicator, know your community well and love to make things happen, one of these could be a good fit.
Open positions include:
Brand Ambassadors – These jobs are open in Atlanta, GA; Boston, MA; Las Vegas, NV; and Richmond, VA. In this as-needed role you'll be getting the word out about Yelp in your local community. "Yelp is organizing a team of Brand Ambassadors to support our on-site promotions at local festivals, fairs and events. Brand Ambassadors will work specified Yelp events as needed on an independent contractor basis." Per Glassdoor reviews, the average pay is $12/hr.
Community Ambassadors and Expansion Ambassadors – These jobs are open in Boulder, CO; Bellevue, WA; and Worcester (Metrowest Boston), MA. In these part-time roles "you'll be a part-time, fixed-term Yelp employee (working out of your home or anywhere with WiFi) at the helm of a vibrant, buzzing community of locals who drink, shop and play their way through the city via peer recommendations on Yelp…. You'll host events, partner with exciting local events and organizations, act as the online moderator and voice of Yelp in your community….."




Pay data is hard to come by, but when we have more detail we'll update here. Best guess is the rate would be comparable to that of Brand Ambassadors, but this is unconfirmed.
Marketing and Social Media Interns (Paid) – Hiring in Boston, MA; Columbus, OH; and St. Louis, MO. In Yelp's words, "Cast your textbooks aside, Yelp is seeking interns to work side-by-side with our passionate, hard-working Community Manager…. Marketing Interns help develop, organize and execute marketing events (parties, happy hours) and guerilla marketing programs (festivals, street ambushes, etc), co-manage the Twitter handle and Facebook page," do writing and research projects, etc. Social Media Interns fill a similar role but with more social media work.
Pay isn't given, but Glassdoor reviews indicate a range of $8-$11/hr. We'll update here when we get more detail. Note that these internships can be "renewed with approval," so if you ace the gig you can extend it.




Employee reviews of Yelp on Glassdoor give it 3.3 stars out of 5. On Indeed it gets 3.8. To go straight to the jobs, click here. For more jobs like these, see our Newest Jobs & Gigs page. To be the first to hear about jobs like these, like our Facebook page and check your feed for our posts. Good luck in your side-gig plans!
PLEASE SHARE this post – turn your friends into Rat Race Rebels!