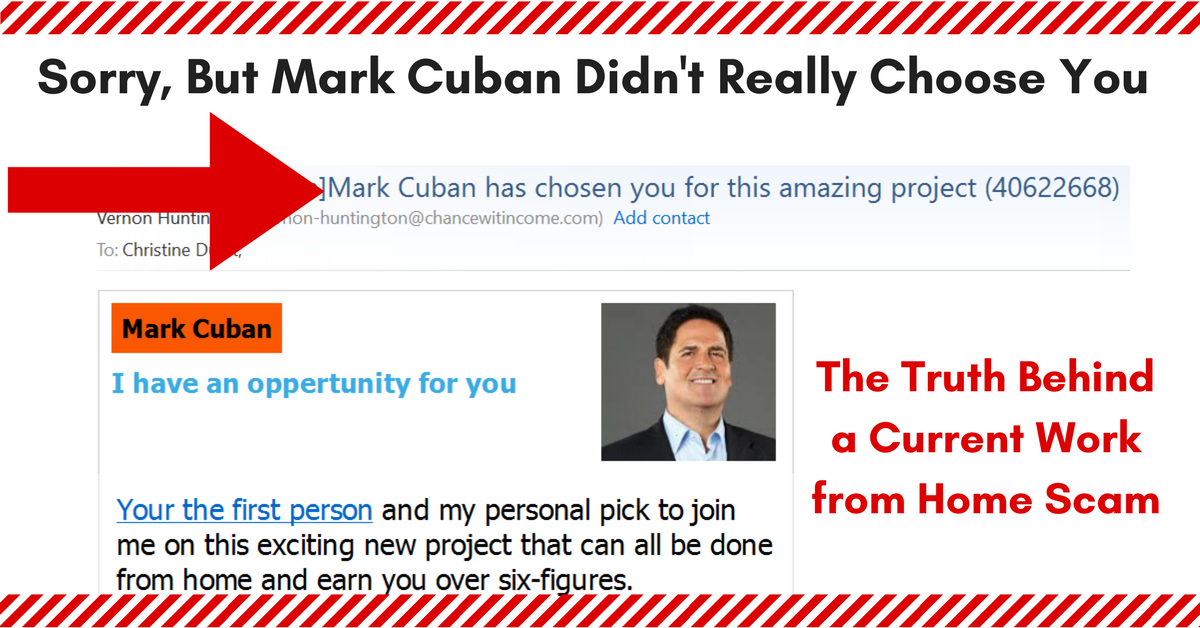 Screened Ad: Get Paid to Watch Movie Previews – InboxDollars: Work from anywhere.
by Chris Durst      July 25, 2017
So, in my inbox this morning was a delightful array of spam, including these subject lines:
"6-pack abs by drinking Apple Cider Vinnegar" (Their spelling, not mine)
"Lose 17 this week with this easy trick" (17 what?! Dollars, friends, years off your life… should I be scared?!)
"Hack Your Brain!  "Genius Pill" BANNED" (Contraband? Not me. No thanks!)
And my personal favorites… "Mark Cuban has chosen you for this amazing project,"  and "Mark Cuban selected you – Congrats" as well as other variations of the same message. Typically, the spam email comes along with an image like this:
The link in the email leads to a site that looks like the Fox News website and features pictures of President Trump and Tesla founder, Elon Musk. Interestingly, however, Mark Cuban's name appears nowhere in the text. Weird, since he personally chose me! 🙁
There's made-up quotes from both Trump and Musk, and a "borrowed" video clip of Tanya Rivero, an ABC News anchor, talking about working from home. Um… RED FLAG – since when would Fox News post a clip from ABC News on their site? (Answer: Since never.)
Screened Ad: Survey Takers – PineCone Research: Earn $3 per survey (15-20 mins., typically). This is one of our top survey site picks. They may also send you free products to test.
The scammers who put this page together have gone to great lengths to lure income-seekers into their trap.
In this case, "the trap" is Complete Income Reset, and the links on the page will take you first to a form where the scammer asks for your name and email address. From there, you'll land on yet another page where they've included a personal note from "Karen Evans" a make-believe person, with a make-believe story about her make-believe sad life story, and her make-believe success with Complete Income Reset.
They also include make-believe testimonials from make-believe people who have also had tons of make-believe success! Like this one from "Wesley R.":
At this point you shouldn't be surprised to learn that the photo of "Wesley R." is a stock art image that was either purchased (ha ha ha) or stolen from a site like Shutterstock.com.
The scam costs $97 – oops! I mean "Only $97" as they put it. To try to push you over the edge to make the purchase, they state, "And you can have your investment back in just One Day! By posting 15 links in 60 minutes you can make $225, so that means in your first 60 minutes you can make back your one-time investment of $97.00, and already be $28 ahead!"
If you remember nothing else, remember these two letters: BS
(For the record, the "Verification Seals" are also bogus.)
Here's the thing – once you pay the $97, you can expect a call from someone who wants to UPSELL you on "Coaching" or "Mentoring."
They'll talk a good line and tell you how they, "don't work with everyone – only special hand-picked" people like you.
Screened Ad: Poll Takers – MyPoints: Pays in PayPal cash or (if you prefer) gift cards. Work from anywhere. Doesn't offer a $5 bonus for signing up like these four sites do, but another way to grab some extra dollars when you have some downtime.
They'll ask you about your credit cards – not the numbers (yet), but they'll want to get an idea of how much they can milk you for (but they'll tell you it's because you'll be using "OPM" – Other People's Money – to make your investment in coaching. That is, you'll be charging it to y our credit card and you will, in essence, be using "OPM" … until the bill comes due!)
If you fall for the coaching pitch and pay them more money, they'll keep bleeding your wallet with other "investments in your success" – websites, setting up a business entity, and other stuff that will not make their system work.
SOMEONE'S MAKING MONEY, BUT IT'S NOT YOU!! Simply put, DO NOT invest in this or any program that uses the same tactics.
For REAL work from home jobs, check our Newest Jobs & Gigs page. To be the first to hear about jobs like these, like our Facebook page. And if you'd like to see more Customer Service Agent positions, check our Customer Service Jobs page. Good luck!
PLEASE SHARE this post – turn your friends into Rat Race Rebels!