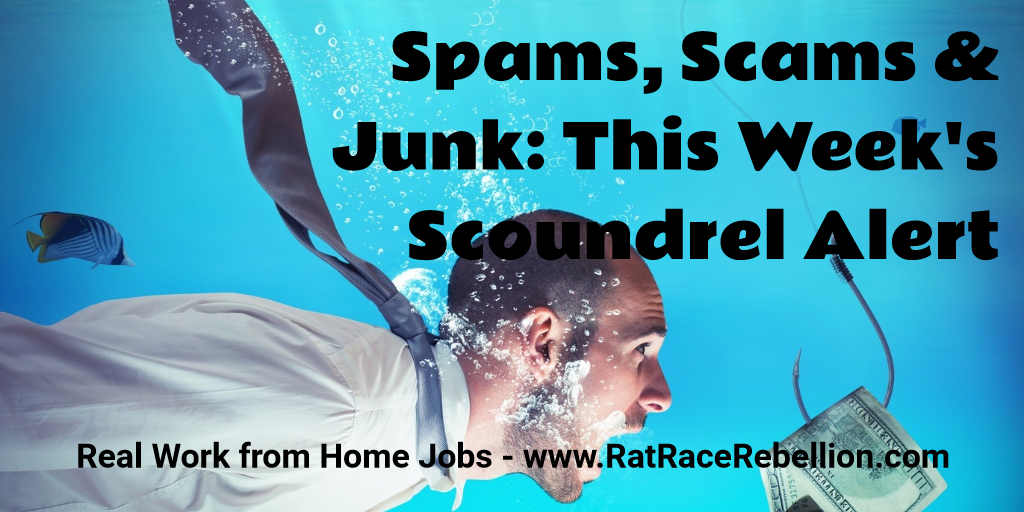 By Chris Durst
As part of the Rat Race Rebellion site overhaul, we'll be posting weekly notices about the SPAM and SCAM emails that land in our email inboxes each week. We'll try to keep subject matter to work from home related issues, but occasionally there are some off-topic emails that are just so "yucky" they deserve a mention.
Here are some of the little treasures to look out for in your email this week:
Subject: Flexibility and benefits of career in medical coding
There are a bunch of these medical coding emails making the rounds right now, using a variety of subject lines.
The Problem: "Click Bait" – There is no job, no training, no nothing. These emails are leading to a page of links which these scoundrels hope you'll click on because they are actually pay-pre-click ads that will pay them for each click generated.
Don't open, don't click on any links – your clicks = their pay! If they don't make any money, they'll go away. 🙂
---
Subject: Training nurses, programs open
The problem: Same as above, click bait
---
Subject: At-home placements w training
The problem: Same as above, click bait
---
And, the winner of the WORST OF THE WEEK AWARD GOES TO…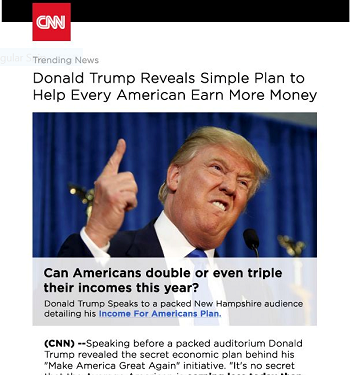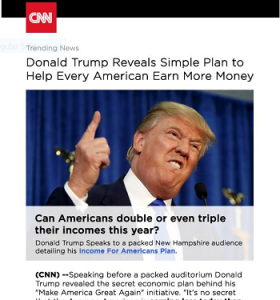 Subject: Access to top Work at home positions (also using "Immediate position placement" and others)
This email features a picture of Donald Trump and states, "Donald Trump reveals simple plan to help every American earn more money."
The Problem: The link in the email leads to a fake CNN site and that links to the "Ultimate Home Profits" – the latest in a long line of con games. Using the name "EMILY HUDSON" (a fabricated character), they will try to tell you that for "just $97" you can make up to $379/day.
The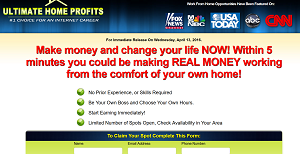 y will attempt to capture your email address on the entry screen (see image, right). Once they have that piece of information, you can expect your email address to be sold to other scammers.
RUN! These scams are designed to take your $97 and then follow up with sales calls from people who will try to sell you "coaching" for thousands of dollars. JUST SAY NO!
The Red Flags: Photo of Donald Trump, the name "Emily Hudson", pirated videos of real news footage talking about work from home, "as seen on" media logos, money required, pop-ups that will try to keep you on the site
---
Those are a few of the scams and come-ons you should beware of this week. Stay tuned – we'll be bringing you more Spams, Scams & Junk information every week!
In the meantime, safe searching!