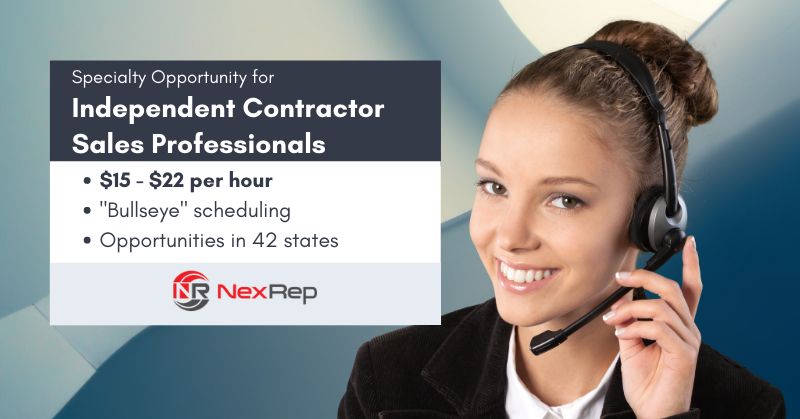 by Chris Durst     Jan. 23, 2020
If you've been following the Rat Race Rebellion site for a while, you know that we recommend NexRep on a regular basis.
RRRebels currently contracting with NexRep have told us the things they enjoy most about the relationship include:
welcoming environment
flexible schedule
excellent support
great certifications
outstanding income potential
Additionally, the company rates 4 out of 5 stars on Glassdoor where poster's feedback mirrors the comments shared with us directly.
NexRep has posted an opportunity in their Marketplace for Independent Contractor Sales Professionals!  The opportunities are available for agents in all states except NY, CA, RI, WA, AR, OR, IL, and NJ.

In preparation for this sponsored post, we spoke with NexRep's Sourcing Manager to gather details about these opportunities. Here are the (4) main highlights of what he shared that makes the opportunity so attractive:
1. Lucrative  –  Immediate earnings potential with talent yielding $15 to $22 per hour!
2. Selective  –  Field inbound calls from the established US brands advertised directly to consumers today! Front-end conversions are 70%+ Upselling paths are clean & clear for $optimization$
3. Convenient  –  Bullseye Scheduling available! Earn full-day money in just hours with Bullseye Scheduling exclusively offered in the NexRep Marketplace.
a. Create your targeted schedule to align to call bursts
b. Perform always from the convenience & comfort of your home office suite
4. Flexible  –  U-Choose Scheduling exclusively offered at the NexRep Marketplace. U-Pick when to service from a service schedule that includes clusters of time with of high-earning potential!
a. Grab a $100 before the family awakens on weekends: pour a cup of coffee, login into the marketplace platform and $earn$
b. Before you head out for an afternoon of fun: clusters of call bursts to maximize opportunity

PLEASE SHARE this post – turn your friends into Rat Race Rebels!
[social_warfare]