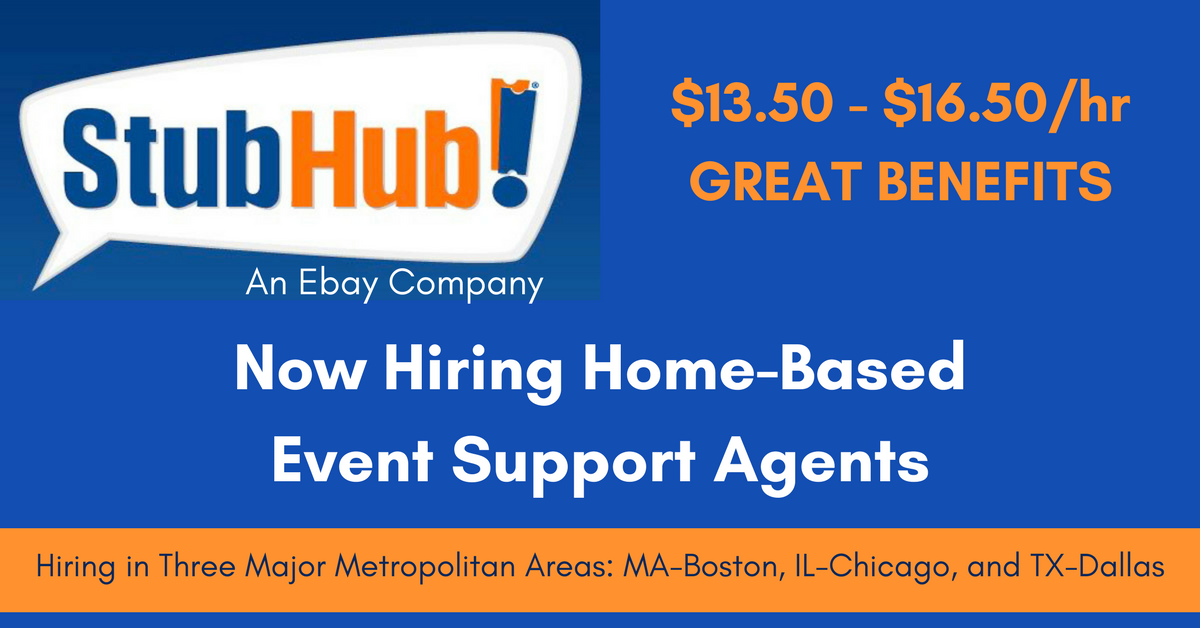 by Chris Durst Mar. 27, 2018
StubHub (owned by eBay) is now hiring for Agent/Live Event Support jobs within commuting distance of MA-Boston, IL-Chicago, and TX-Dallas. (If you don't live near one of these cities, please share with friends and family who might benefit from this post!)
Starting Pay : Dallas and Chicago – $13.50/hr. Boston – $16.50 and GREAT BENEFITS!
Here's what they have to say about these jobs:
Looking for a company that inspires passion, courage and imagination, where you can be part of the team shaping the future of global commerce? Want to shape how millions of people buy, sell, connect, and share around the world? If you're interested in joining a purpose driven community that is dedicated to creating an ambitious and inclusive workplace, join eBay – a company you can be proud to be a part of.
About the position
Are you ready to help us connect fans around the world to create memorable experiences? We are looking for individuals that are driven, courageous, inventive, diverse and live the StubHub brand! We are looking to expand our StubHub Work From Home Customer Experience family. What does this mean for you as an applicant? You'll have the flexibility and the convenience of working from home, supporting our fans by answering questions and resolving issues by phone/chat. Additionally, you will have the opportunity to support and interact directly with customers at live events
What you'll do
Provide top notch customer service in a fast paced environment including in bound phone calls and/or chat.
De-escalate calls while delivering difficult messages to customers in a way that creates a positive customer experience
Maintain high performance metrics including average handle time, after call work, quality, adherence, as well as customer satisfaction
Be able to make the right decision while keeping the customer and company in mind
Ability to work independently while doing what's best for our customers
Have engaging conversations with our customers about StubHub, purchases, listing tickets, questions about the site, account issues, and venue information.
What you'll need
Previous Work-From-Home Experience preferred
Must be self-motivated and have pride in the work that you do.
Must be reasonably tech-savvy to thrive in a home office environment
The ability to work in a fast-paced environment while being organized and using your time efficiently
Hustle and tireless work ethic
Must be flexible! You will have set work-from-home hours taking calls and/or chats 20 hours/ week (split shifts).
Will need the ability to flex up to 40 hours/week as needed and probably often (may be days, nights and/or weekends).
Must be within commuting distance to either [Boston / Chicago / Dallas]
Must be available and excited to work face to face with our customers in the field at live events (may be days, nights and/or weekends).
Working live events is a very fast paced environment that can be physically demanding at times. You may be required to stand on your feet for multiple hours which can be very tiring but extremely rewarding to be able to work face to face with our customers.
Must have conflict management skills and the ability to deliver a difficult message that creates the best fan experience possible!
Be innovative and think on the fly
Be empathetic to customer concerns and display sincere desire to find a resolution
Excellent verbal and written communication skills
Ability to meet strict attendance guidelines to include a minimum of 40 hours a week
1+ years of call center or customer service related experience
Know how to have fun and work hard too!
Be a community advocate for StubHub live our brand
Work-From-Home Requirements
Must have a secure workspace, preferably in a room with a door or divider that closes it off from the rest of the home.
Must have a wired Internet connection, capable of continuously supporting outstanding call quality and high-speed response rates (wireless, DSL and/or satellite Internet Service Providers are not compatible with our systems)
Must have business class Internet service with a consistent internet speed of 100 mbps download and 5 mbps upload
Workspace must be within commuting distance to either [Boston / Chicago / Dallas].
Will be provided with StubHub/eBay desktop, dual monitors, keyboard/mouse, Remote Access Point (RAP) and Avaya Desk phone with headset.

What you get Day 1
Starting Pay : Dallas and Chicago – $13.50/HR Boston – $16.50
Quarterly Performance Bonus
Yearly Performance Raises
$200 StubHub credit per year
Continued Career Development
Health, Vision and Dental Coverage
Flex Spending
Pet Insurance
Education Assistance
Paid Time Off
Adoption and Infertility Assistance
Paid maternity and paternity leave
Employee Stock Purchase Plans
401K's
Life Insurance
Disability Benefits
Paid Sabbatical
Employee Discounts
(End of quote from the job listing)
Click one of the following city-specific links for full details and to apply: Boston, Dallas, Chicago. (One of our readers applied for the Chicago position and was denied. She said the application noted that the job was at their corporate location, not work-at-home. So there may be some confusion at StubHub, since their job descriptions clearly say work-at-home. We'll reach out to the company and post here when we have more detail.) For more jobs and extra-cash options, check our Newest Jobs & Gigs page. May you be working from home soon!
PLEASE SHARE this post – turn your friends into Rat Race Rebels!