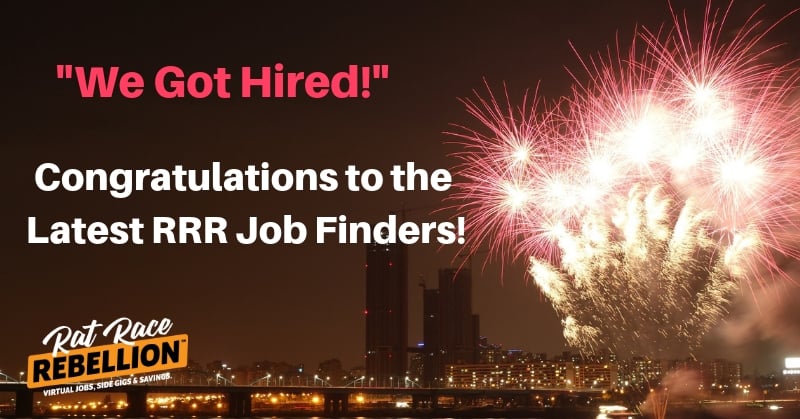 By Chris Durst & Mike Haaren – Founders, Rat Race Rebellion — May 6, 2019
"We Got Hired!" – Congratulations to the Latest RRR Job Finders!
Please join us in congratulating the latest group of RRR job finders! And thank you again for emailing us and posting your wonderful news on our Facebook page! Your messages totally make our day!!!! Thank you so much for the referrals, too — and the pats on the back! We've excerpted some of your messages below.
~*~*~*~*~*~
"I got a job with the Red Cross. Thank you." — Gerri M.
"Thanks soooo much for every thing. I have been offered a job with KellyConnect for Apple Technical Support, and also got offer for Amazon which I accepted and start on April 22nd!!! I don't even remember how I found your site, but oh so happy I did. And I've sent several others as well!! Thanks again!" — Candace J.
"Chris and Mike from RRR – this private thank-you msg is a long time coming! From a mom who stopped working full time already from home (that sucked the life out of me!) I knew that I needed to stop after the birth of our second child. I said when I worked again, it would be for a company that was worth it! So you passed along Wellthy – this company changed my life! Thank you for what you do. Life and my now best career is because of you!" — "Cali Girl"
"I started with KellyConnect on Monday as a contractor for Apple. Also, I am with Arise Virtual Solutions. This is my second year with Arise. I have serviced for Intuit-TurboTax and now I am servicing for Cross Country Home Services. There are a lot of work at home jobs available. I was offered a position with NexRep but I had already accepted the position with KellyConnect. Thank you Rat Race Rebellion!" — Kim Quarterman
"Thank you Rat Race for another SUCCESSFUL job opportunity! I responded to one of the daily emails, clicked the link, applied and am now HIRED [at U-Haul]! So excited to start a new journey working from home!" — Audra Sheehan
"Add me to the list of people who have been recently hired by a position posted on Rat Race Rebellion. I am currently working for U-Haul online. I had seen the link on your page, and my friend who actually works there ALSO sent me your link! Isn't that something. This is at least the second job I have secured from your wonderful website. Thank you for being such a great resource for the unemployed." — Debra O.
"I start working April 8, 2019 at Amazon work from home, thanks to your site! Thank you Rat Race Rebellion." — LaDwanna J.
"Just got hired at Lionbridge! Thank you for the great info and job postings!!" — Carrie Anton
"Just got hired with NexRep." — Charles Lokas
"I just wanted to say thank you for everything, with your updates I found out Amazon was hiring and I Got the Job!!!" — Holly P.
"I just got hired at Babbletype as a proofreader! Thanks so much!" — Jo Lee
"I got hired with Hilton as a [email protected] reservations specialist. You guys posted to apply immediately and I did! Got hired yesterday! Thank you for posting these resources." — Keynikka
"I GOT HIRED!!!! Thank you RRR I got hired with Unum and actually enjoy a job for the first time in a long time." — Trina B.
"Just wanted to say thank you! I was hired by Working Solutions." — Ashley C.
"I got hired with Aspira!! I couldn't have done it without you guys!! Thank you<3. I start orientation on May 6th!" — Jasmine Harvey
"About a month ago you had mentioned that Concentrix was hiring. I took a chance and went and applied for one job and by applying it asked if you would like to receive emails in regards to other positions. In which I said yes. About a week later I got an email in regards to another at home position. I applied for that position and was hired and started training today… Thanks for doing what you do!!!" — Tina S.
"Just wanted to drop you all a note and say thanks for running a great website. I just recently snagged editing gigs at both Cactus Communications and over at WordVice. They're currently bringing in exactly the extra income I was looking for. Keep up the good work here!" — John R.
"Thank you for the posting about ACD Direct. The training is well worth the time spent. I'm now working with them." — Marc B.
"A few months ago, I submitted my application to Pleio only to be told they were no longer hiring. Last week, they emailed me to see if I qualified for a phone interview. I did, they did, and now I'm being onboarded! VERY happy to get this one and thankful to you all for your posting about it!" — Brenda D.
"I got hired! Pleio and Cambly!! Note for fellow RRR subscribers, I applied and got put into a pool for several months until they had openings, so if you are not in a hurry and either one of these companies appeals to you as a side gig, GO FOR IT!" — Dianna
"Hi guys!!! Just wanted to let y'all know that I recently was hired on at Lionbridge! I am really enjoying it! Thank you all so much for the lead! I have recommended y'all to a lot of my friends!!" — Heather M.
"Thank you so very much. I was recently hired by Concentrix work @ home. RAT RACE REBELLION ROCKS!!!!!!!" — Sue L.
"Thank you, Rat Race Rebellion! I got hired as a freelancer about a month ago and am about to go on the company payroll. Thank you so much for being a legit company to get a legit side hustle. It helps with the bills! I appreciate all you do and all the hard work you put in to provide opportunities for us everyday people. Thank you again." — Cynthia K.
"I've been working at Cambly now for about six weeks and just love it. Thanks for spreading the word about it at RRR!" — Linda
"I GOT HIRED!! I applied for the position with Hilton!! Perfect for me…part time work from home!!
I've given your site information to my friends and they are going to check you out too! Thank you again!! I GOT HIRED!" — Beth H.
"I got hired at Rev!!!!! Thanks so much for the lead!!!" — Tracey R.
"I was just hired as a Remote Medical Scribe with iScribes! Thank you so much for your hard work and dedication to offering an alternative to what's been laid out before us!" — Chrishelle R.
"Thank you so much! I just got hired on at U-Haul!" — Cathy M.W.
"Omg! That's amazing! Thank you! I also got a job with Transcom thanks to you guys!" — Janelle D.
"Not sure if this is the right place to send this, but I got hired through RRR to work for Transcom and I start tomorrow. Wish me luck. :)" — Joi B.
"Thank you ratracerebellion!! I just got hired with Concentrix full time after months of applications and then pursuing other candidates haha. There were jobs that I would have loved but it didn't work out for me and in a way, in the midst of it all, I'm glad it didn't work out and led me to where I am. My advice for others would be don't give up and keep pressing forward." — Thanh L.
"Thank you for posting the U-Haul position. I got hired yesterday." — Kia H.
"Got the position at Shipt. Thanx." — Reba J.
"Hey guys! I got hired on with Transcom to work as a customer service rep from home! So excited! Thank you for the information and links that helped land this position!! 😁 Thanks again." — Toni C.
"Just wanted to say thank you for all that you do with this newsletter. I have been getting the newsletter for a while but only since January 2019 did I start applying for the various leads that peaked my interest. I have received responses from many but the one that I accepted is with Amazon in their Work From Home division. I got my equipment this morning and training starts on April 8th! I tell anyone who asks and many that don't, to subscribe to Rate Race Rebellion. It is a such a great resource!" — Janice Y.
"As of today i am officially hired with Concentrix. Today is my first day of training. Thanks RatRace you guys are great!!!" — Yalonda W.
"I'm writing to let you know I've been working for TTEC for a month now. I just got hired on for Aspire Lifestyles!! Thanks so much!" — Dominecia R.
We'll look forward to sharing your "I Got Hired!" news soon! For new work from home leads, see our Newest Jobs & Gigs page. To be the first to hear about gigs like these, like our Facebook page. Good luck in your next work from home steps!
PLEASE SHARE this post – turn your friends into Rat Race Rebels!