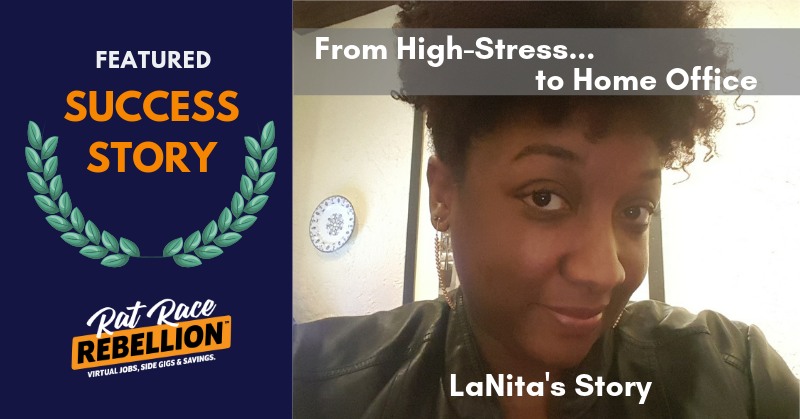 By Chris Durst & Mike Haaren – Founders, Rat Race Rebellion
Like many Rat Race Rebels, LaNita was stressed working in a traditional corporate environment and, when she'd had enough, she decided to create a more balanced work situation for herself.
In her own words, "I was in dire need of a better work-life balance."
Read LaNita's success story to see how this mother of three made the leap from a corporate office to a home office!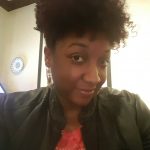 Name: LaNita
Job/Gig:
Rev – Captioner
VoiceLog – 3rd Party Verification Rep (started training today, 5/20)
LiveOps – Victoria's Secret Customer Service Rep (start training on 6/3)
Tell us a bit about your life before you landed this job/gig?
I'd been unemployed since last November. I have three children, so I've been keeping busy with life as a stay-at-home mom.
And your work history?
I worked as a Project Manager for two major corporations (in the food and healthcare industries) from 2008-2017. At that time, I decided to leave corporate America and work in a less stressful environment. I worked as a school secretary from 2017-2018.
Last summer, I decided to stay home permanently, and I started last fall, when I worked as a mystery coach, calling Customer Service reps to evaluate their performance.
What drove you to look for remote work rather than traditional?
I was in dire need of a better work-life balance. I found that my traditional jobs lacked the flexibility that I needed, and I had little time or energy for my family.
How long were you looking for work before landing this job?
I began looking for remote work in January 2019.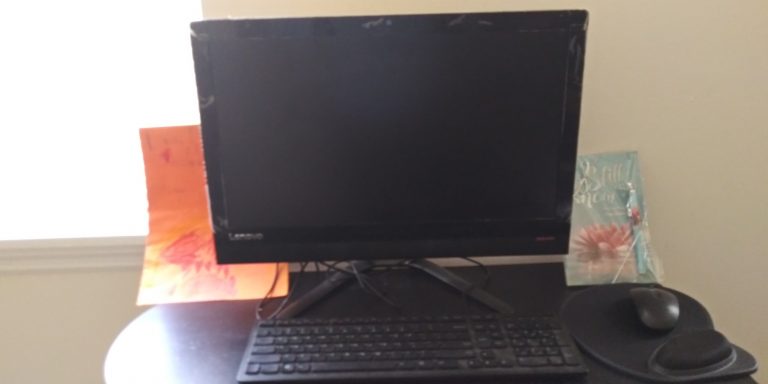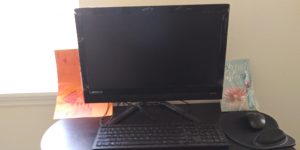 Tell us about your job search – what worked for you and what didn't?
RRR worked for me!! Seriously, before finding your site, I would search on YouTube and Google. I found several leads that way, but most of the companies had state restrictions, were scams, or required cold-calling, which I'm not interested in.
Did you have any "breakthroughs" that changed the way you hunted for and applied to jobs? What were those?
The breakthrough I found was using RRR's daily posts to seek remote work and using your big list of companies to literally scour the career page of dozens of companies to find work. I would dedicate a significant amount of time each day, in order to put myself out there and find the right fit for me.
What advice would you give to people who are currently looking for a remote job or gig?
Definitely use the RRR Big List and actually click on all of the links to see if that company works for you. It can be time-consuming, but it is totally worth it!
Can you share any insights into what your non-traditional application and interview process was like for you? Any surprises and/or tips to share?
One company used an automated chat format (Q&A) for the job application.
I've completed a phone interview with an automated system where I left recorded responses.
VoiceLog requested a script reading (voice assessment) as a part of their application process.
Almost all of the companies I applied to required a typing test and computer speed test.
Now that you're working from home, do you have any insights into the realities of home-based work and how you're making adjustments?
Depending on the time that I will work, I have to be aware of any sounds in my home. For instance, the requested availability for the VoiceLog job is 1-7pm CST. Once my children are home from school, it will be imperative that I ensure that my home office is free of any background noise.
Anything else you'd like to share with our readers?
Keep going! Yes, it takes time to find the job that is the right fit for you, but the right job is out there. Rat Race Rebellion has been a blessing to me, and it will be a blessing for you, too!
If you would like to work from home like LaNita, check our Newest Jobs & Gigs page. To be the first to hear about new leads on RRR, like our Facebook page and check your feed for our posts. Good luck!
PLEASE SHARE this post – turn your friends into Rat Race Rebels!