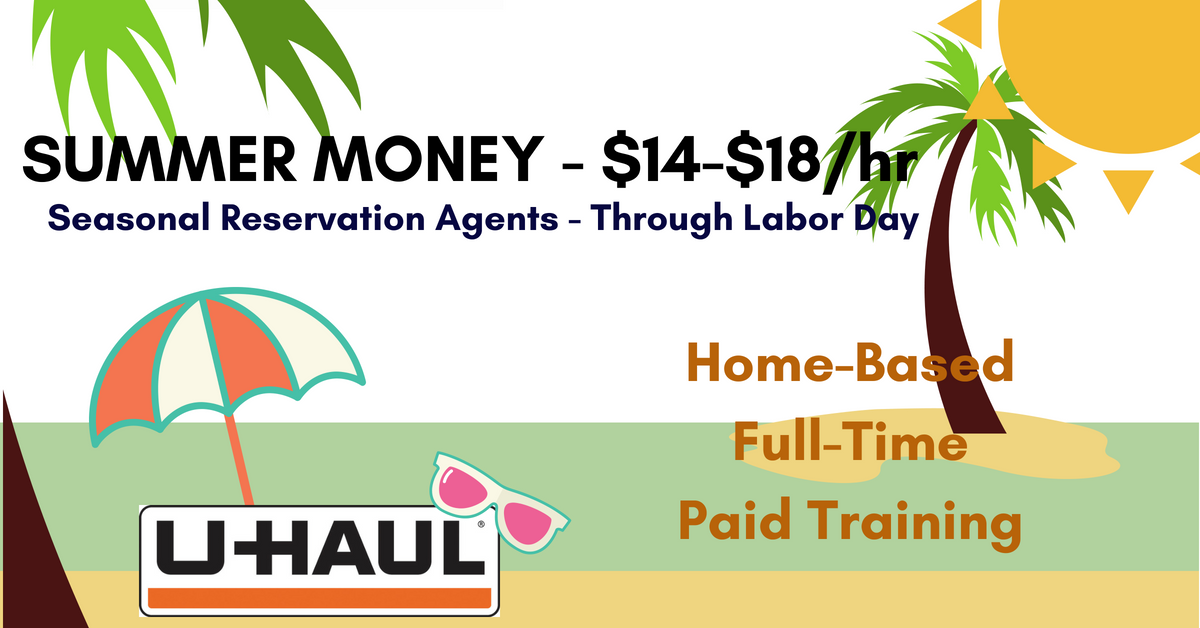 by Chris Durst         July 10, 2018
Many RRRebels are already working for U-Haul and report that they enjoy their roles with the company. So, we make sure we post here whenever they post new work from home openings.
"Great opportunity for students, teachers or anyone who wants a temporary/summer job!
Reservation agent – Incoming calls only.
40 hour per-week set schedule – No overtime.
Three weeks of instructor-led paid training/education.
Potential to earn $14-$18 per hour average (base plus bonus)*
Reservation agents take back to back incoming calls from customers utilizing both the U-Haul toll free 1-800-GO-UHAUL number and calling specific U-Haul Moving Centers across the U.S. and Canada. Agents answer general product/rental inquiries and secure/schedule reservations for U-Haul trucks, trailers, towing devices, hitches and storage rooms.
Seasonal Position – Positions is available through Labor Day, September 3, 2018.
Must be able to work at least 8 weeks after the initial education period.
Must be able to work 40 hours per week – No overtime.
Preferred background
Basic keyboarding and computer skills
Ability to navigate multiple programs at one time
Excellent verbal communication and listening skills
Clear speaking voice
General knowledge of U.S. geography
Positive business attitude
Enjoy working with people
Training/Education
Three weeks of instructor-led paid training/education.
After initial education work independently with additional education and counseling from the manager, assistant manager and team coach.
Performance Compensation Bonus*
Week 4 thru 8 of employment – Achieve 3.0 confirmed reservations per hour worked and be paid $2.05 per piece of equipment reserved.
Week 9 of employment and beyond – Achieve 3.25 confirmed reservations per hour worked and be in compliance with a weekly monitored call, and be paid $2.05 per piece of equipment reserved.
Payment of bonus is determined weekly by the employee's confirmed equipment reservation average per hour worked based on phone talk time.
Technical Requirements
Must have a non-wireless USB headset.
Must have broadband/high speed internet with at least 2MB upload and 5MB download with a ping below 70. 5MB upload and 10MB download is preferred for a better experience
Must have a PC or laptop that meets the following requirements.
Windows 7, 8 or 10 is preferred. A Mac is permitted if it meets all other requirements and you are proficient using a Mac. Due to compatibility a Mac may not be allowed for some positions.
Windows or Mac OS: You must have at least 8G of RAM, 5GB of hard disc space available.
Windows OS: You must have a processor with a CPU mark of 2500 or greater.
Mac OS: You must have a core i5 processor or greater.
The following are not permitted due to compatibility, performance, security or other concerns:
Installing Programs/Anti-Virus Requirement
Using a mobile hot-spot, tethering, satellite ISP or similar.
Using a compute stick, tablet or similar device.
Windows XP or Vista operating system.
A rental, rent-to-own or public computer/laptop.
Working in a public place.
A public internet connection.
Running any non-work related programs on your computer while working."
Click here for full details. For more jobs like these, see our Newest Jobs & Gigs page. To be the first to hear about jobs like these, like our Facebook page. Good luck in your work from home plans!
PLEASE SHARE this post – turn your friends into Rat Race Rebels!