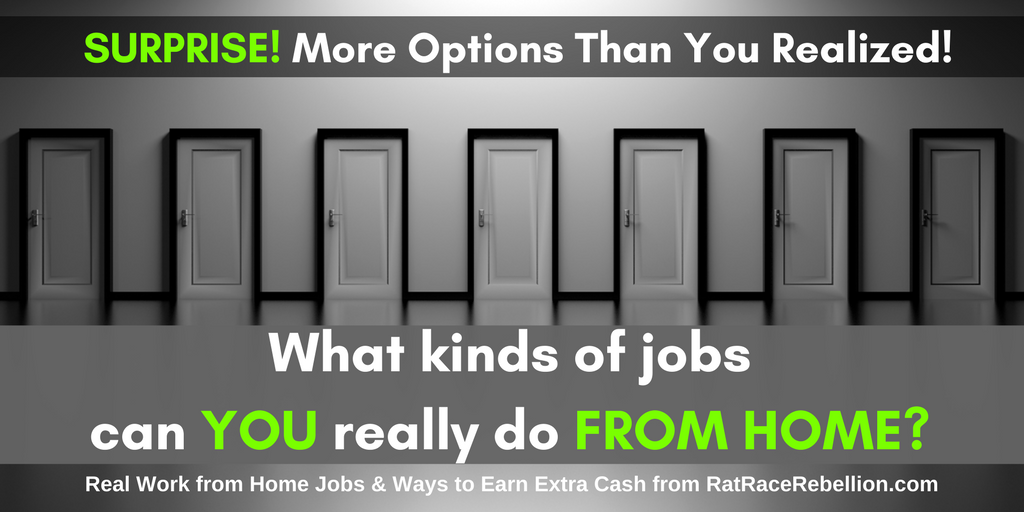 by Chris Durst   Jan. 18, 2017
When it comes to looking for home-based work, many people really don't know just how many different kinds of opportunities there are.
This list is intended to be a thought-starter that will stimulate your creative thought process and help you determine what direction you might want to take your search in.
Before you begin, please note that, while they are often used interchangeably, there IS a difference between work FROM home and work AT home.
Work FROM home means you have a home-base, but you may need to leave to perform certain parts of your job. For example, courthouse researchers do a good deal of their work at home, but they do need to leave the house to research documents at the courthouse.
Work AT home means that all of your taks will be performed from your home. For example, a work at home transcriptionist will receive audio files electronically, transcribe, and return files electronically — all from home.
With that said, here's a list of a wide variety of jobs that are currently being done FROM or AT home. If you have friends who are struggling with how to get started working from home, be sure to share this post with them too!

Note: When you find some you are interested in, please visit our BIG LIST of jobs to kick off your job search. Then, subscribe to our email newsletters and like us on Facebook to make sure you get the latest hand-picked legitimate job leads every day!
Some items are linked to related posts on our site!

Accountant
Administrative Assistant
Administrative Support Specialist
Advertising Account Executive
Animator
Answering Service Provider
Appointment Setter
Artist
Auditor
Benefits Manager
Billing Clerk
Blogger
Bookkeeper
Bridal Planner
Budget Analyst
Business Analyst
Business Plan Developer
Calligrapher
Cartoonist
Caterer
Child Care Provider
Children's Party Planner
Claims Processor
Collection Agent
Computer Animator
Concierge
Consultant
Content Provider
Copy Editors
Copywriter
Corporate Identity Designer
Corporate Procedure Writer
Corporate Program Writer
Corporate Recruiter
Counselor
Crafter
Creative Designer
Curriculum Developer
Customer Service Reps
CV/Resume Writer
Data Entry
Data Processor
Database Administrator
Database Analyst
Database Design Professional
Database Manager
Desktop Publisher
Direct Mail Specialist
Dressmaker
eBay Auction Professional
eBook Specialist
Editor
Educator
E-Newsletter Publisher
Engineer
Estimator
Event Planner
Executive Coach
Executive Recruiter
Ezine Publisher
Financial Advisor
Financial Analyst
Fund Raiser
Game Programmer
Genealogist
Ghostwriter
Gift Basket Designer
Grant Writer
Graphic Artist
Graphic Designer
Greeting Card Designer
Greeting Card Writer

Headhunter / Recruiter
Help Desk Consultant
Human Resources Specialist
Illustrator
Indexer
Insurance Agent
Internet Marketing Specialist
Internet Radio Show Host
Internet Researcher
Investigator
IT Consultant
Java Developer
Legal Assistant
Legal Word Processor
Life Coach
Market Researcher
Marketing Representative
Marketing Specialist
Medical Billing Specialist
Medical Transcriptionist
Merchandiser
Mobile Notary
Mock Juror
Mortgage Appraiser
Mystery Shopper
Nurse
Outsourcing Specialist
Paralegal
Party Planner
Payroll Specialist
Personal Assistant
Pet Sitter
Photographer
Podcasting
Probate Researcher
Product Assembler
Programmer
Project Manager
Proofreader
Public Relations
Real Estate Agent Assistant
Recruiter
Reminder Services
Reporter
Researcher
Resume Writer
Sales Representative
Secretarial Services
SEO Specialist
Software Developer
Special Events Planner
System Administrator
System Analyst
System Engineer
Teacher
Teaching English / Second Language
Technical Writer
Telemarketer
Telephone Surveyor
Telephonic Triage
Transcriptionist
Translator
Travel Agent
Tutor
Uber Driver
Video Game Designer
Virtual Assistant
"Virtual Worlds" Entrepreneur
Web Designer
Web Research
Wedding Planner
Word Processor
Writer
This list is the "tip of the iceberg," but it should give you a great sense of just how deep your options are!!
PLEASE SHARE this post – turn your friends into Rat Race Rebels!